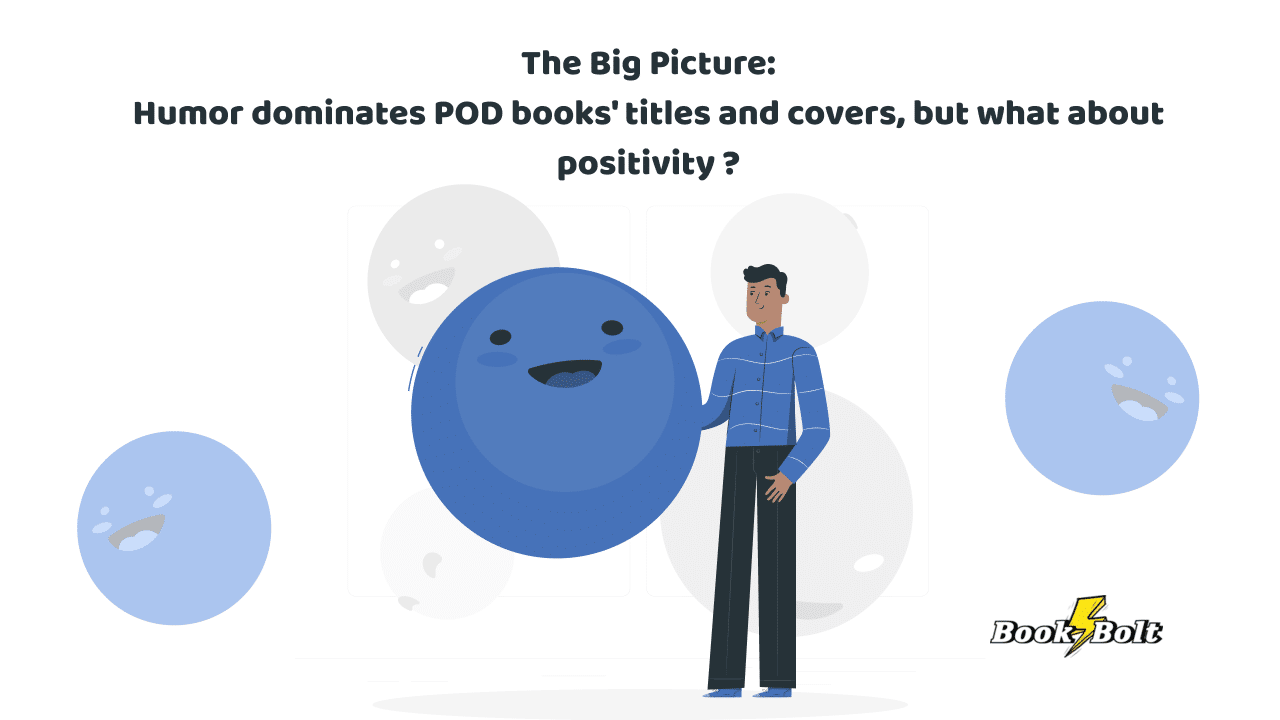 In a world where headlines often lean towards the grim and serious, a light-hearted touch can be a breath of fresh air.
This is especially evident in the world of POD books, where humor seems to be taking center stage. From quirky titles to whimsical cover designs, authors are tickling readers' funny bones more than ever.
But beyond the laughter, where does positivity fit in this literary landscape?
Let's delve into the nuanced arena of positivity vs. humor on Amazon KDP's no-content and low-content book space.
Differentiating two niches: Humor vs. positivity
Selecting a lucrative niche is one of the fundamental keys to success for Amazon KDP sellers.
To make the right choice, it's essential to fully understand the nature of the particular market.
Let's look at the content creation basics of the humor and positivity segments.
A browse through humor-related no- and low-content books will expose you to the following:
Joke and riddle journals – provide space for shoppers to jot down their favorite jokes and riddles, or even create their own. They might also include a few pre-filled sections to get the creativity flowing.
Comedy coloring books – consist of humorous illustrations, whimsical characters, and comical captions that are often a great way to combine relaxation with a good laugh.
Funny quote collections – offer blank pages with entertaining quotes, allowing readers to write their own reflections.
Silly sketching and doodling books – feature quirky prompts, hilarious scenarios, and simple illustrations that can encourage readers to unleash their inner artist.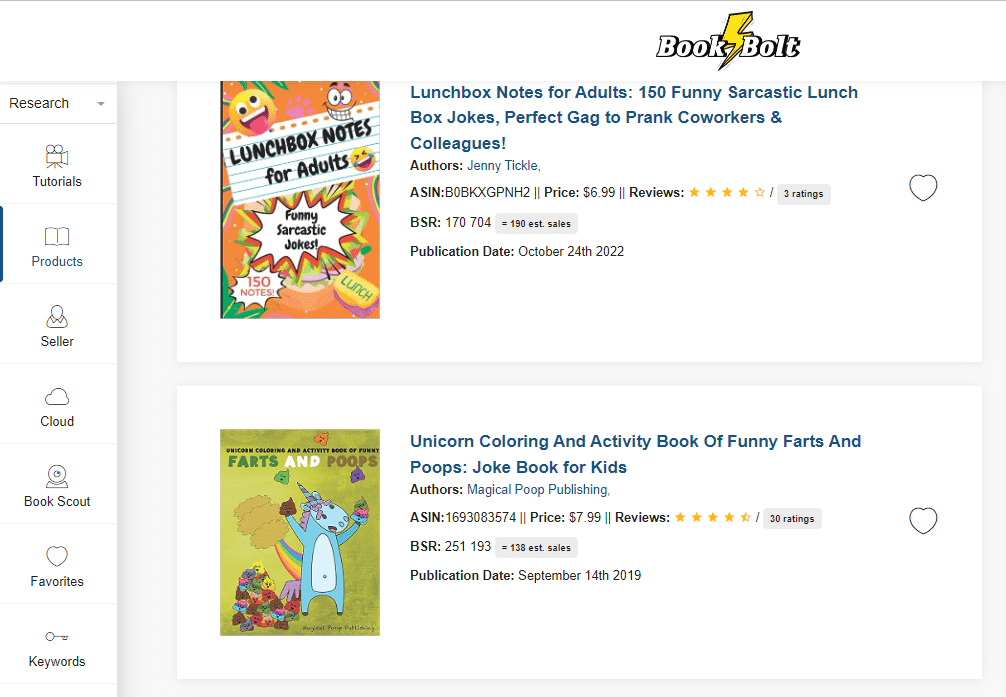 The positivity niche may often feature some of the above.
However, it differentiates widely in terms of core objectives and popular keywords.
For instance, in this segment, you're likely to discover these bestsellers:
Gratitude journals – offer users room to write down things they're grateful for each day. They might also include inspirational quotes or prompts to foster positivity.
Affirmation notebooks – consist of blank pages combined with positive affirmations that allow consumers to note down their own intentions and thoughts.
Mindfulness coloring books – feature intricate patterns and mindfulness-focused illustrations paired with calming quotes or prompts.
Self-care planners – merge scheduling with tracking self-care activities, goals, and moments of joy.
Daily inspiration journals – often include daily inspirational quotes and space for readers to reflect on their thoughts, feelings, and experiences.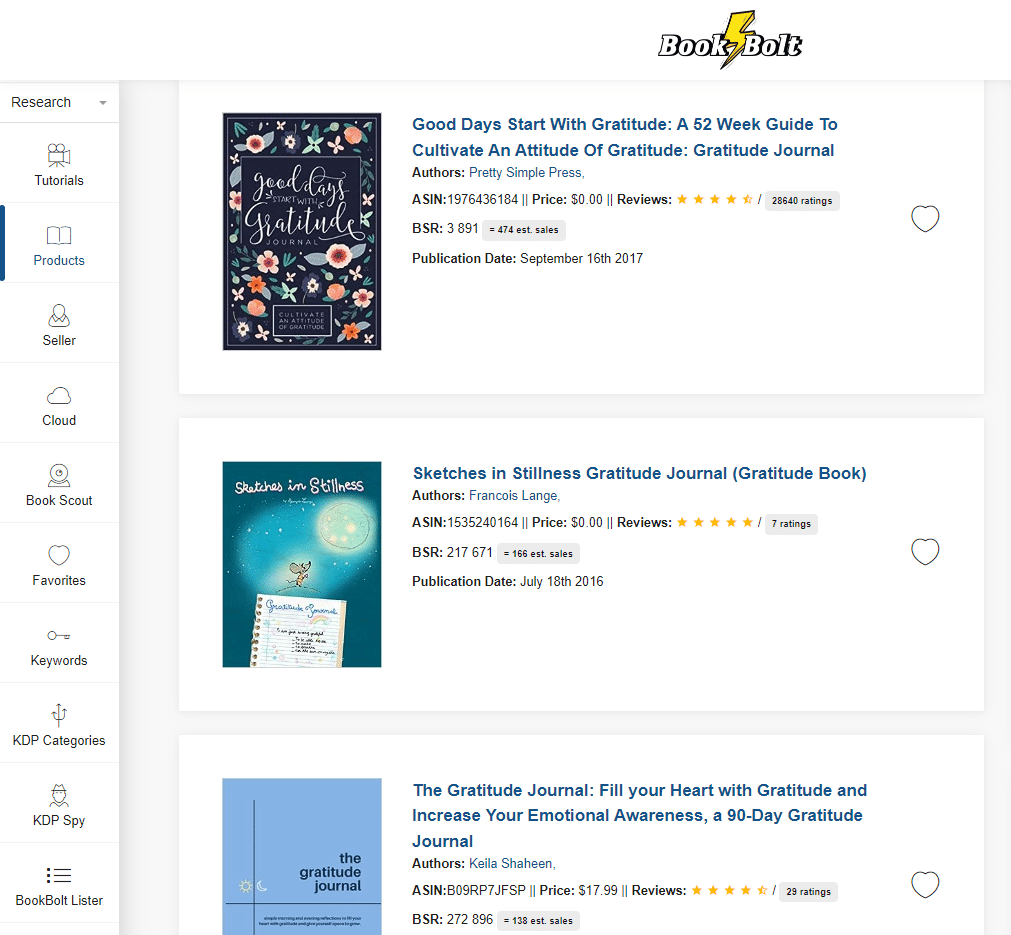 While humor certainly leads in certain book categories (the average BSR of funny coloring books is as low as 113,636), other positivity themes are also worth investigating.
To be able to create a bullet-proof strategic layer as a seller, you'll need all the insights you can get.
Luckily, Book Bolt provides exactly that.
Let's dive right in.
A bird's eye view of the positivity niche on Amazon KDP
Low- and no-content books such as journals, notebooks, or planners typically lack traditional written content.
In that sense, they might not contain words that explicitly convey positivity.
However, they can be marketed or designed with themes of positivity, mindfulness, self-care, or personal growth. Typically, these concepts are thoughtfully woven into the covers, titles, and product descriptions.
By analyzing Amazon KDP's top performers, we identified the following trending words in the segment:
Gratitude
Mindfulness
Affirmations
Inspiration
Wellness
Joy
Self-Love
Happiness
Meditation
Positivity
Balance
Reflection
Motivation
Strength
Peace
Well-Being
These are often used to attract readers looking to engage in practices that foster positive thinking, personal growth, or mental well-being.
The size of the positivity POD book market on Amazon KDP
Another discovery we made about the positivity domain is that certain categories outperform others.
Although there are plenty of successful notebooks, planners, and coloring books in the space, journals dominate the scene. For this reason, our market size and consumer behavior research only focuses on the journal category.
Now, let's figure out whether the positivity journal niche is lucrative.
We'll explore the size of the market, the search volumes of related keywords, and more.
The number of bestselling listings
As noted above, the positivity niche is not limited to "positive" as a main keyword. We used Book Bolt to examine the number of top-performing listings based on some of the most trending phrases.
We discovered that "gratitude" is the number one keyword, with more than 200 bestselling listings ranking for it. Affirmation, mindfulness and positivity journals are also creating waves on Amazon KDP, with nearly 100 chart-topping listings that appear in Book Bolt's Cloud tool.
At the same time, keywords like "peace" and "joy" don't generate a lot of interest, with only 16 and 14 listings in the Cloud's search results.
Average BSRs
The next metric to analyze is the average BSRs of successful listings. Unsurprisingly, gratitude journals stand out again with the lowest average BSR (144,513) from all researched alternatives.
This means that they're not only the most well-developed market, but they also land the highest sales volumes.
Based on our findings, we strongly recommend considering gratitude journals when penetrating this market.
For comparison, here are some of the other average BSRs based on niche-related keywords:
Joy – 330 221
Peace – 291 335
Affirmation – 262 492
Positivity – 261 872
Mindfulness – 261 476
Motivation – 256 750
Overall, we can say that these numbers are low enough to reveal an attractive niche.
Consumer demand for the positivity theme in low- and no-content books
So far so good. But are Amazon shoppers actively browsing for positive low- and no-content books?
Again, focusing on journals as the dominant category in the segment, we identified the following monthly search volumes:
gratitude journal gratitude journal – 38 536 – no data
a gratitude journal for – 10 152 – no data
be mindful a journal for wellness of body and mind – 6 569 – high
positive journals – 2 263 – no data
journal positive – 2 188 – high
What immediately rises above the water is that nearly 40,000 shoppers search for "gratitude journal gratitude journal" every month.
This is a significant demand that you can satisfy with an adequate strategy, unlocking astonishing money-making opportunities.
Next to each phrase's search volume from the list, you can see its competition level. Surprisingly, "gratitude journal gratitude journal" has a competition level of "no data". This usually means that there is not enough competition registered on the platform.
What does all of this reveal?
Phrases like "gratitude journal gratitude journal" are ideal to target as they're much easier to rank for (due to the high search volume and low competition levels). They're a top pick for both new entrants and experienced book creators.
Analyzing some of the bestsellers
In the previous sections, we depicted the diverse nature of positivity POD books. We also concluded that the niche is lucrative from the perspective of search volume and sales potential.
It's now time to dive into the top performers in the market.
Let's see what they're doing to score sales and what their profitability is.
The number one listing in the gratitude journal niche on Amazon is "Gratitude is My Superpower: A children's book about Giving Thanks and Practicing Positivity (My Superpower Books)".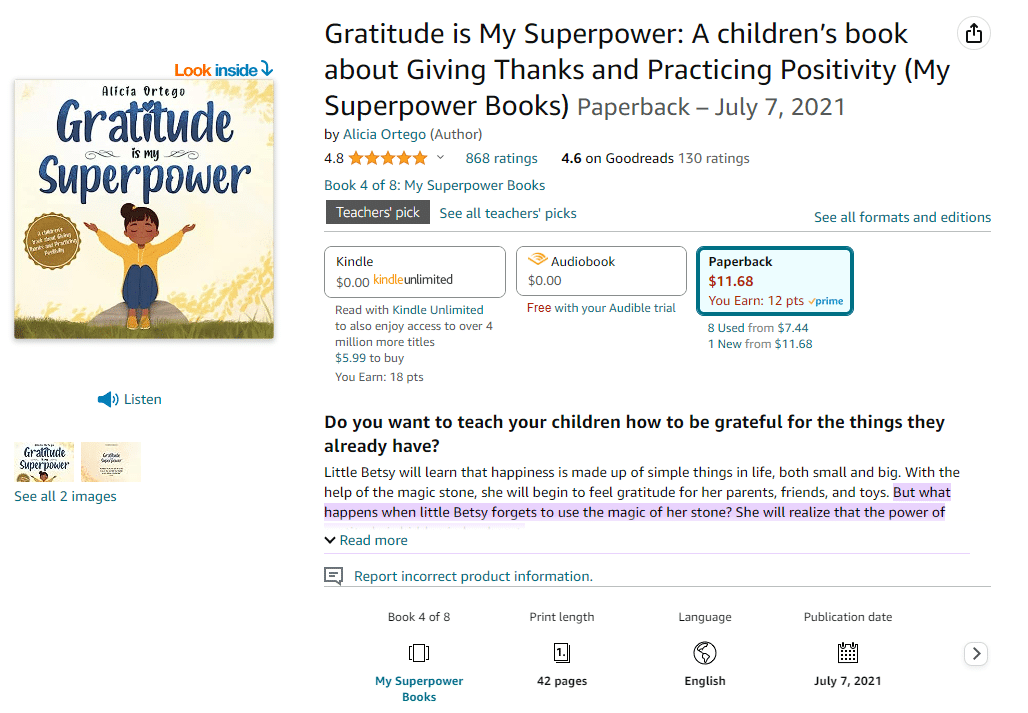 This item sells for $11.68 and has a BSR of 4,898, translating into roughly 456 sales per month. The cover design is minimal, featuring a girl on a clean background.
Using an Amazon KDP royalty calculator, we established that the seller earns $4.71 per sale. At 456 monthly sales, this equals $2,148 in revenue from this listing alone.
A similar scenario can be observed with another top performer – the "Better Every Day Journal: 365 Prompts and Daily Affirmations for Mental Health and Positive Thinking: Everyday Happier Life and Raise Mood Workbook".
Priced at $15.97, this item has achieved a BSR of 16,544, with 353 monthly sales. The cover design is simplistic, in this case, text-only. By putting these numbers into the Amazon KDP royalty calculator, we can see that the per-sale earnings here are $5.23.
Given the monthly sales volume, this translates into a revenue of $1,846.
Wrapping up
The insights we gathered from Book Bolt ultimately prove that positive low- and no-content books can be a real gold mine to explore.
They're an outstanding way to not only diversify your portfolio but also offer real value to consumers.
On your journey, don't forget that data-backed decisions are the key to success. Utilize the powerful features of Book Bolt and stay ahead of the competition.