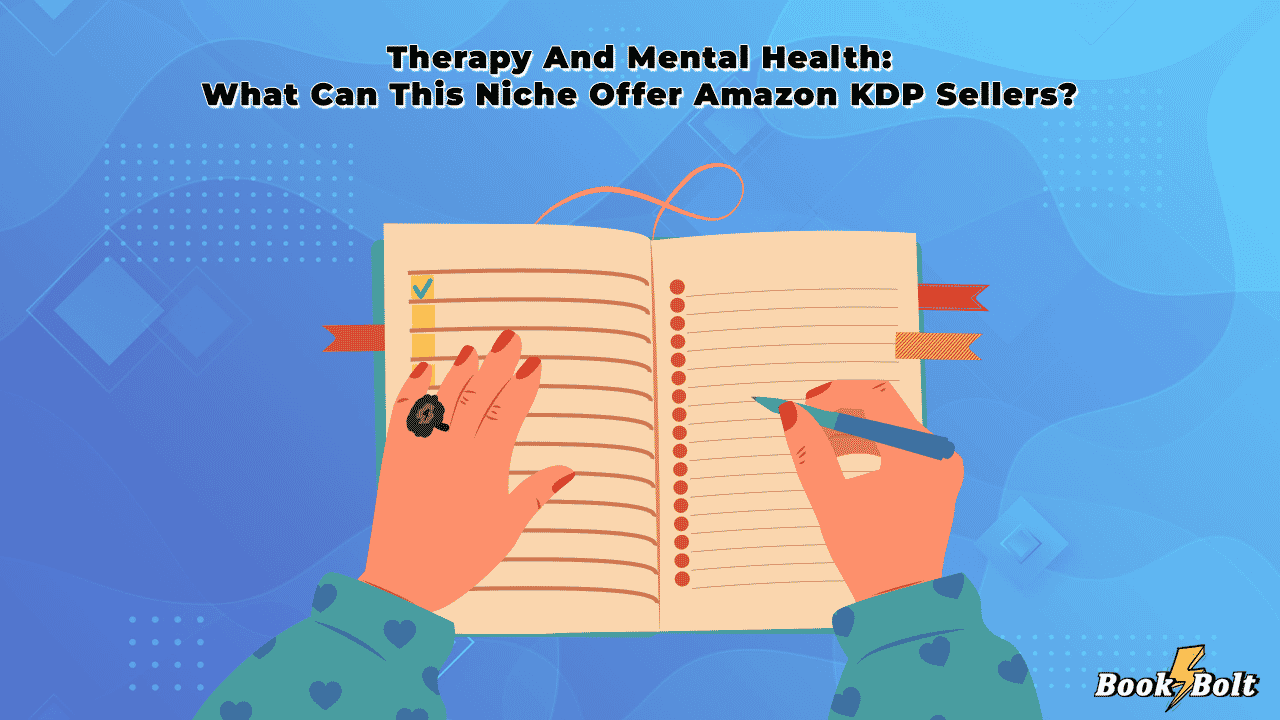 Selling print-on-demand low- and no-content books in a specific niche is your quickest route to success on Amazon KDP. This strategy enables sellers to outperform the competition by targeting a particular target audience with a definite demand.
One of those niches is no- and low-content books designed for therapy and mental health.
But like any niche, this market has its peculiarities. If you're hoping to tap into this vast potential, you'll want to be prepared.
The size of the therapy & mental health no- and low-content book market on Amazon KDP
Before deciding whether a market is worth entering, the first step is to determine the niche's size. This will give you an understanding of whether you can expect to make satisfying profits in the space. To answer this question, we went through several steps.
Types of therapy & mental health low- and no-content books sold
First, we used Book Bolt's Product Search tool to discover listings from the niche using niche-related keywords. We came across a wide array of diverse therapy and mental health listings. Some were easy to spot using "therapy" and "mental health" as the main keywords. However, others were concealed under words like "anxiety", "stress", "depression", "stroke recovery", "mindfulness", and others.

Here are some of the types of products we discovered:
Therapy journals (healing journals, self-exploration journals, communication therapy journals for couples)
Therapy coloring books (speech therapy, mandala coloring books, mental health coloring books, anger management coloring books)
Stroke recovery activity books (memory therapy for brain injury)
Therapy sessions journals
Mood tracking journals/notebooks
Mental health journals (for teens, for men, for women, for stressed adults, for anxiety, depression, PTSD, bipolar disorder, and others)

As you can see, these can be divided into two main sections. One section is targeted at individuals who are stressed or looking to improve their mental health. Others are designed specifically for patients with certain conditions. This diversification is important to note if you plan on selling similar low- or no-content books as it's vital for marketing and promotion.
Types of listings in the bestsellers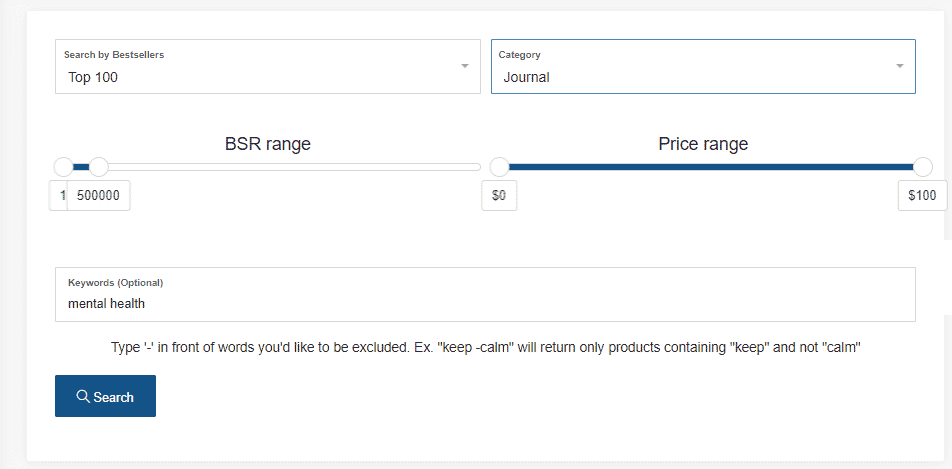 Next, we looked at the Cloud tool to analyze the market specifics by examining the bestsellers. We noticed that the dominant types of low-content and no-content book categories in the niche were journals and coloring books.
We found no listings in the niche for calendars, comic books, or trackers. And although there were some notebooks, planners, puzzle books, and activity books, journals and coloring books certainly prevail.
Buyer demand
Finally, we used Book Bolt's Keyword Research tool to analyze the search volume and the competition levels of niche-specific keywords.
We focused our search on coloring books and journals, considering our findings from above. The tool revealed that the most searched for keyword from the space is "mental health journals" with a search volume of 38,331. However, the competition for this keyword is extremely high. Why? Perhaps because it's very broad and general. Luckily, we also uncovered a list of highly searched for keywords with low or no competition: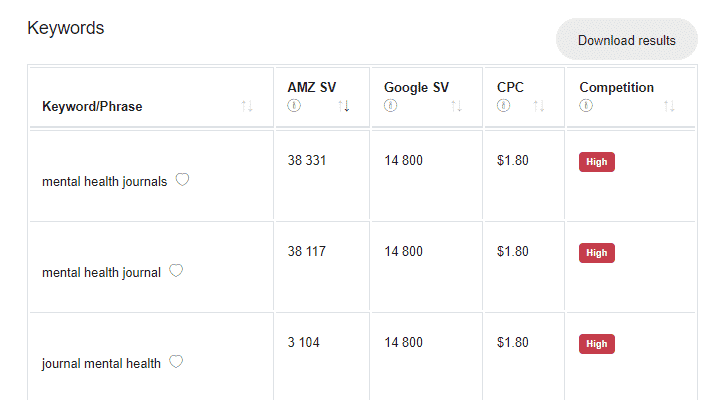 grief therapy journals – 4 196
therapy journals for women – 3 275
therapy journal with prompts – 3233
therapy journal for teens – 3194
therapy journal for depression – 2593
therapy journal for anxiety – 2580
therapy journal for kids – 2545
marriage therapy journal – 2092
couples journal therapy – 2047
All of these keywords are actively searched for on Amazon, yet not very competitive. Some of them also reveal interesting sub-niches, like teens, depression, kids, and women.
We noticed similar patterns for coloring books. Buyers certainly search for them, proving that the market is large enough to pique your interest. Here are some popular keywords with substantial search volume and high competition:

art therapy coloring book – 6309 – high
art therapy coloring book for adults – 4414 high
cat therapy coloring book – 3192 – high
therapy coloring books for adults – 2600 – high
therapy coloring books – 2486 – high
But let's say you want to quickly see things happen for you in the niche. Then the following low-competition, long-tail keywords will be more appropriate:
art therapy coloring books for teens 5382
art therapy coloring books for boys – 2935
therapy coloring books for kids – 2597
couples therapy treatment planner – 2140
child therapy treatment planner – 2105
zombie coloring book art therapy – 2101
women coloring book mental health – 1841
funny mental health coloring book – 1450
mental health coloring books for adults – 1338
Some of the entries in this list confirm our long-held conviction that you can enter high-competition niches via the least probable keywords. For example, we assume that zombies are not something many people find therapeutic. Yet, 2,101 shoppers have searched for "zombie coloring book art therapy" in the duration of a month. Let that sink in.
How profitable is this niche?
The second key question about a niche is how profitable it is. You can easily find this information using the Book Bolt Product Search tool. It will display the average, lowest, and highest prices in a niche. For mental health low- and no-content books, the average price is $9.39. The lowest price is $3.31, while the highest price is $29.99.

Researching the keyword "therapy", we found out that the average price in the space is slightly higher – $11.11. The lowest selling listing is $3.89, while the cap is much higher – $49.99. Having access to this information will allow you to plan your pricing strategy accordingly and predict your earnings.
We remind you that profits on Amazon KDP are earned via royalties, and those depend mainly on the volume of the book. To calculate your net profit, look at Amazon's Printing Cost & Royalty Calculator.
A look into the best sellers in the therapy & mental health market on Amazon KDP
Now that you have the basics of the market, it's time to explore what your competition is doing to score sales. Let's take a look at the top-selling listing from the journal book category and dig into the details to determine what makes it so successful.
The best selling therapy journal book is "Soul Therapy: A 365 day journal for self exploration, healing and reflection". It sells for $21.42 and has a BSR of 3 371. It generates around 485 sales every month, landing its sellers a decent profit.

Instantly from the title, we can see niche-related keywords and trigger words that attract attention. Some of these include "soul therapy", "self exploration", "healing", and "reflection".
It's also a book that you can rely on for the whole year. This becomes evident from the '365 day journal" description.
The listing grabs attention immediately, owing to its cover design. It's extremely simple and minimal, with a white background and black text. The only accent is pink, used for the divisional lines on the cover page.
Since we also mentioned that coloring books are the other big category in this niche, let's repeat the exercise. The bestseller in the coloring book space for mental health and therapy books is the "It's Okay Not To Be Okay: A Big Mental Health Coloring Book – Inspirational Art Therapy Adult Coloring Book for Self Help, Self Care, Anxious Thinking, & Calming Anxiety" listing.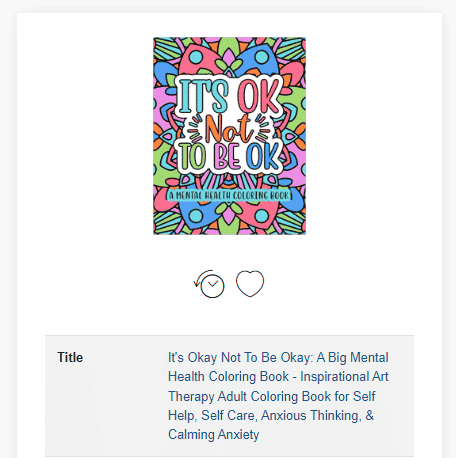 Priced at $12.99, the product has a BSR of 70 921 and estimated monthly sales of 249. Unlike the previous example which is focused on soul therapy, the target here is people who are experiencing anxiety and looking for a way to cope with it.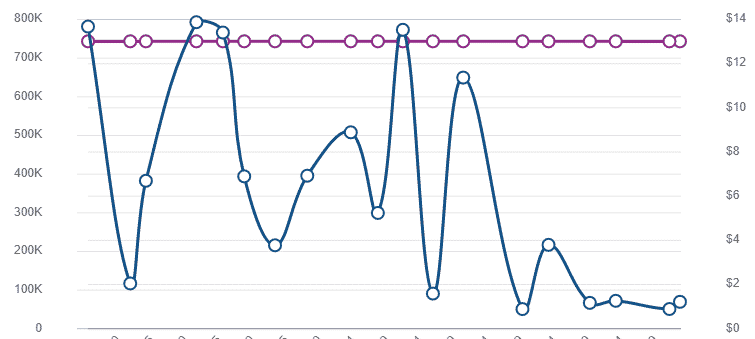 This is translated into the cover design, where vibrant and diverse colors are used. Why? Because color has the ability to uplift the mind and help us experience happiness and positive thoughts. Which is precisely what anxious people could use more of.
The choice of keywords is also strategic, with "mental health", "art therapy", "adult coloring books", "self help", "anxious", "calming", and others used in the title. Here, we can see a specific target audience, which is great for getting exposure to the right buyers.
Tips for creating a strategy for guaranteed profit
The two top-performing listings we looked at in the previous section can help you get an idea of some of the best practices in the niche. If you want to see solid sales in the mental health and therapy low- and no-content book niche, it's vital to know the market inside out.
To help you, we've prepared a list of practical and valuable tips that you can use to stay ahead of the pack.
Here is what you need to do to enhance your listings in the niche and gear them for success:
Be strategic about your keywords – the fact that keywords matter on Amazon is nothing new. But perhaps we can help you optimize your listings with the right keywords. From our look into the market in the previous section, we examined high competition and low competition keywords. Our advice is to always focus on low competition keywords with high search volume. In most cases, these will be keywords that are very specific, like art therapy coloring books for boys. The more specific a keyword is, the less popular it will be among other sellers.
Think about buyer intent – with the mental health and therapy niche, it's vital to consider the intent behind a buyer's purchase. Are you customers looking for a solution that will help them relieve stress? Are they searching for a way to cope with stroke recovery? Perhaps they want to find an activity that will help them say goodbye to communication problems, anxiety, or others. Think about this when you're creating your cover designs, writing your product descriptions, and promoting your product.
Target a specific audience – just because you've landed on the mental health and therapy niche doesn't mean your sales are guaranteed. You can maximize your listing's potential by targeting specific audiences. For example, these could be men, women, teens, adults, parents, couples, people suffering from speech disorders, lack of concentration, and more.
Promote your listings outside Amazon – few people realize the importance of promoting your low- and no-content Amazon KDP books on external channels. If you successfully manage to do this, you'll certainly be at an advantageous position. Create a community by relying on a personal blog, make your listings more popular via affiliate marketing, use social media channels to your advantage, and be active and consistent. This will dramatically increase traffic to your listings and will double the likelihood of generating more sales.
Final thoughts
Entering a new niche could seem like a nightmare, especially for new or intermediate sellers. However, research like the one we've just conducted together can help you stay on the right track and make informed decisions.
You're now equipped with enough insights to tap into the mental health and therapy niche on Amazon KDP.
Don't forget that there's a lot more to discover about the niche on Book Bolt. Use it to your advantage and turn your seller performance around for the best.