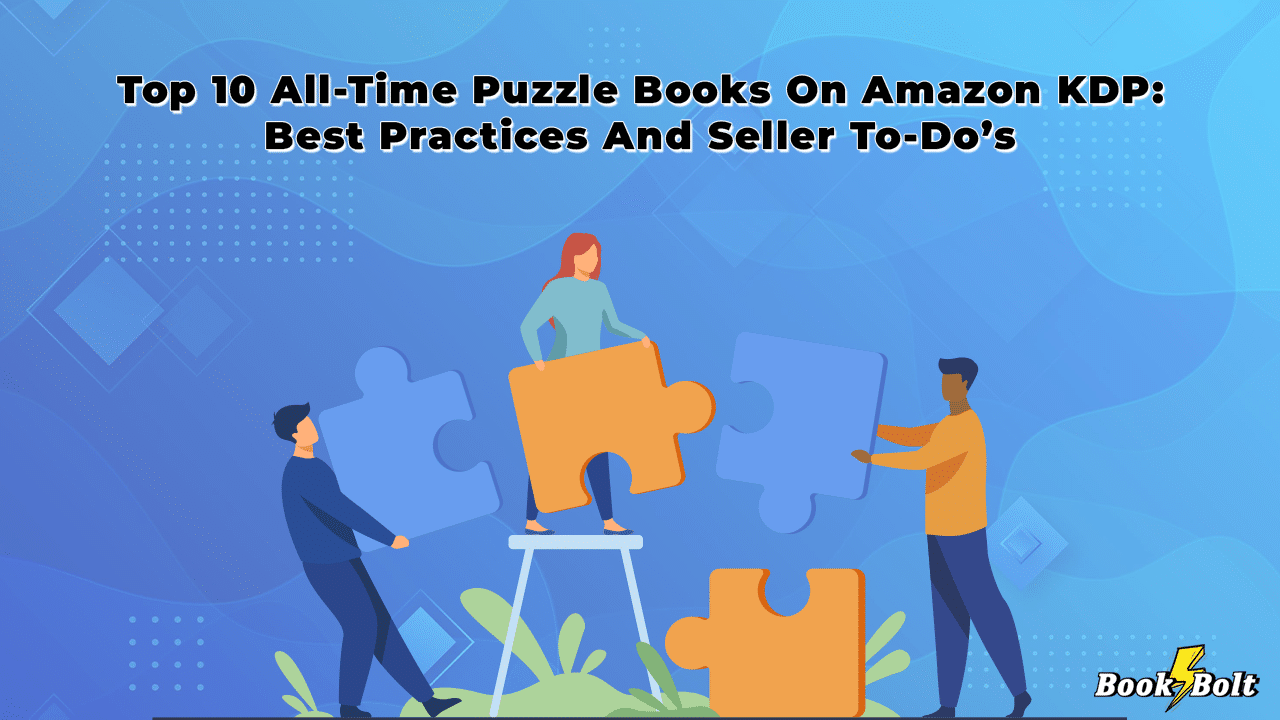 Puzzle books are among the most popular low-content book categories on Amazon KDP. They're always in demand, they take very little time to create, and can be sold for attractive prices. However, the fact that they're so popular also makes them extremely competitive.
To create a strategy that stands out and generates sales, it's key to first look at what other top Sellers are doing. To help you with the journey, we used Book Bolt's Cloud tool to reveal the top 10 puzzle books of all time.
Let's look at what they have in common and how they can be of use to your Amazon KDP sales strategy.
A Sneak Peek Into The Top 10 Puzzle Books On Amazon KDP
1. Variety puzzle book for adults: 90+ Large-Print Puzzles Word Search, Sudoku, Word Scramble, Number Search, Trivia, Mazes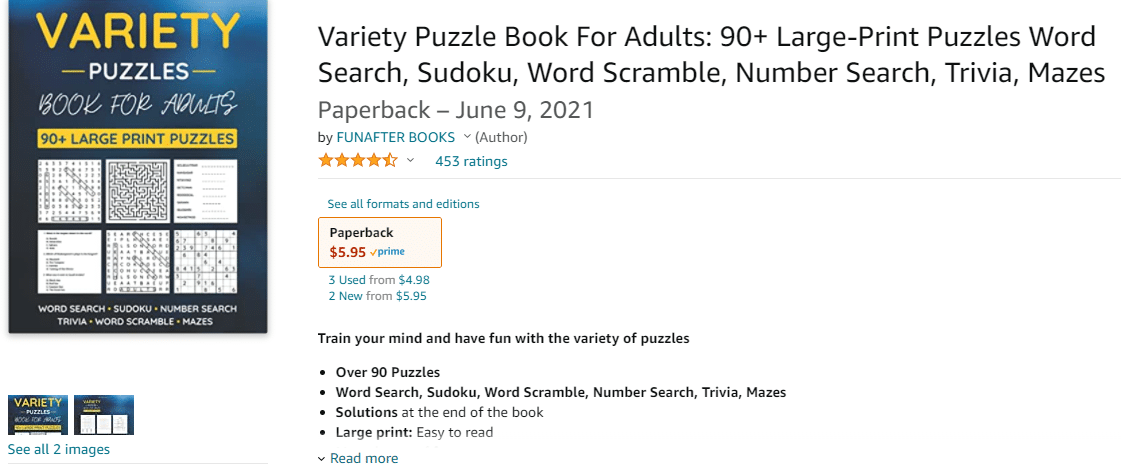 On top of our list of best-sellers is a combination of more than 90 puzzles by FUNAFTER BOOKS. You can get a pretty good idea of what you can expect from the product just by reading the book's name. The Seller has cleverly used highly searched keywords, like "sudoku", "word scramble", "trivia", and others in the listing's title. There's also one detail about the title that you'll notice recurring in other listings from this list – large print.
But let's go back to the basics and see how this product actually sells. Currently, the Variety Puzzle Book for Adults sells for $5.95 and has a BSR of 1,811, which is outstanding. Its estimated monthly sales are 541, meaning that the Seller enjoys a decent profit.
2. 2021 Word Search Large Print Puzzle Books for Adults Vol #3: 100 Puzzles Word Finds Puzzle Book For Puzzlers Adults & Seniors, Wordsearch, Activity, Seniors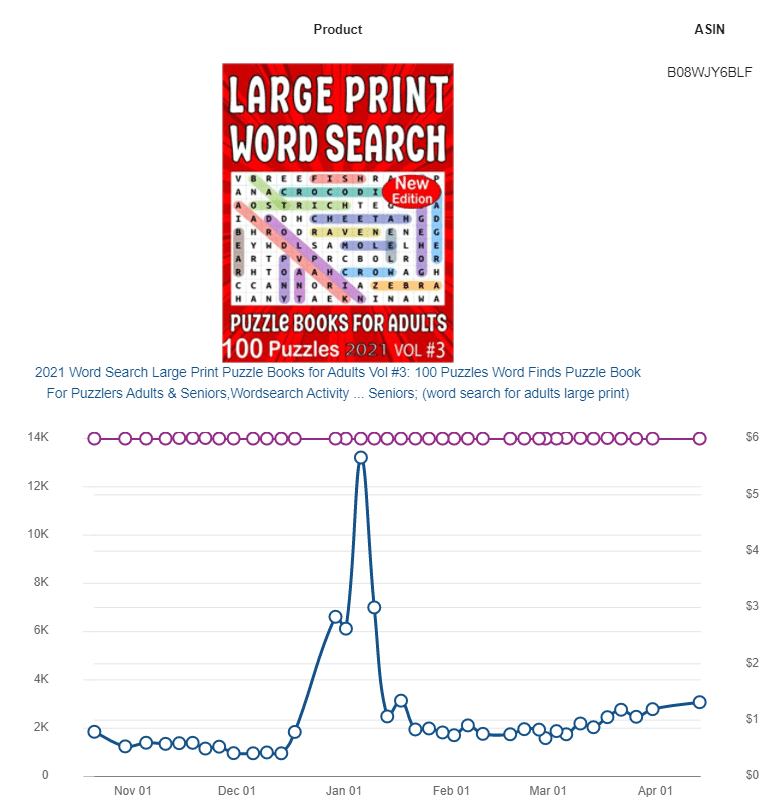 Next up on the list is a large-print word search puzzle book with a catchy and vibrant red cover that certainly grabs attention. A product by Word Press, this puzzle book has more than 800 ratings by customers, sells for $5.99, and has a BSR of 3,015. Its estimated monthly sales are 485 and it was only released at the beginning of 2021, meaning that it has quickly gained traction among buyers.
This product is part of a series of similar puzzle books, and it's targeted at adults and seniors. It's large print, making it easy to read.
When we looked into the BSR history of the product, it was interesting to find that there are no price fluctuations here. However, the sale numbers dropped dramatically during the first days of 2022 only to rise again from the middle of January. Perhaps this is due to the fact that a lot of people bought the product as a gift before Christmas and New Year's Eve.
3. Large Print 8,000 Words Word Search Puzzle Book for Adults: Over 400+ Puzzles, Big Large Set 4 in 1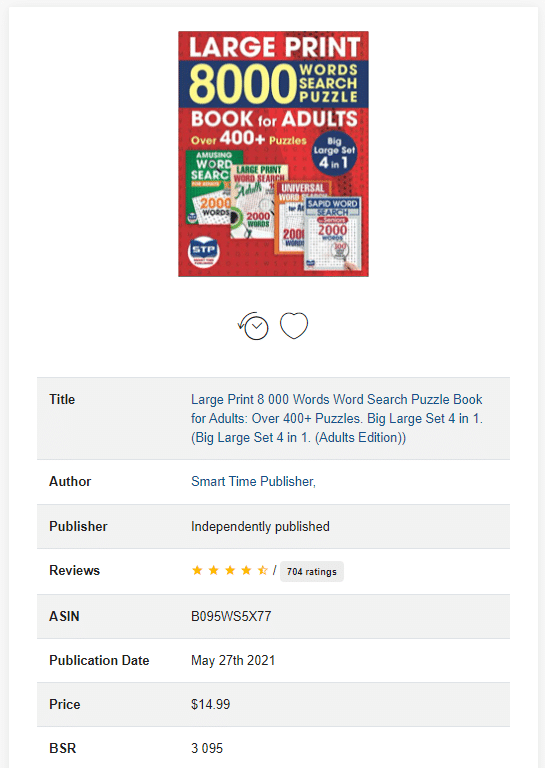 Number 3 is dedicated to yet another adult-targeted puzzle book created by Smart Time Publisher. This one is rather highly priced at $14.99. However, this doesn't stop buyers as its BSR is 3,095 and it's expected to generate 485 sales per month. With a four and a half star rating from a total of five and nearly 704 ratings from customers, it's definitely a loved and appreciated product.
The title shows that there are 400+ puzzles available in the book, that it comes in a big large set of four in one, and that it's a large print format. In a similar pattern to the one discovered in the second listing from our list, the price of the product is consistent, but the BSR is not. We can see a BSR of 671 on December 14 and a BSR of 11,644 on January 6. So why is the price still the same? One of the main reasons is the holiday shopping surge that diminishes after the start of the year.
4. Inspirational Word Search for Adults, Teens & Seniors: Large Print Word Search Puzzle Book to Keep the Brain Active & Mind Relaxed with Positive, Uplifting & Good Vibes Words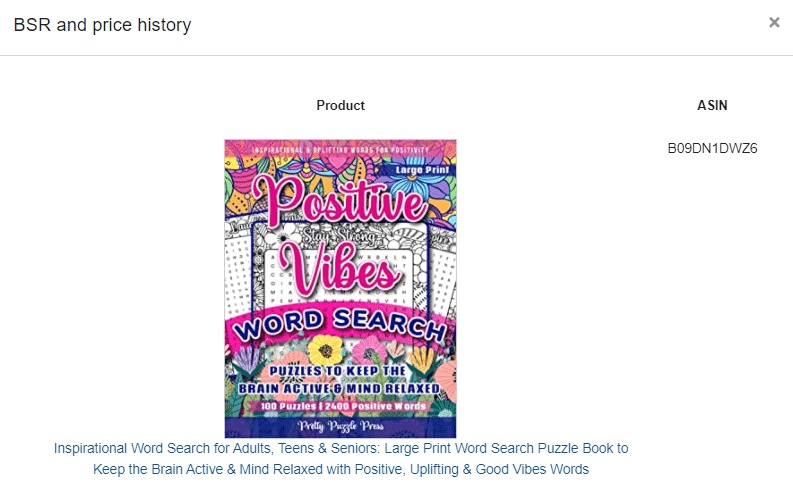 Next up is a puzzle book targeted at adults, teens, and seniors – three different target groups. It's a best-seller priced at $7.95 with a BSR of 3,244. Created by Pretty Puzzle Press towards the end of 2021, the book now has been rated by nearly 400 buyers and has a four and a half star rating. Its estimated monthly sales are 485, proving to be a reliable product for the Seller.
The cover of this puzzle book truly stands out with a colorful design sporting pink, blue, yellow, and green colors. The listing title is also detailed and includes keywords like "good vibes", "relaxed", and "positive" to increase its visibility for users searching for these terms. This is yet another large print puzzle book that has made the list of top Sellers.
5. 1000+ Sudoku Puzzles Easy to Hard: Sudoku puzzle book for adults With Full Solutions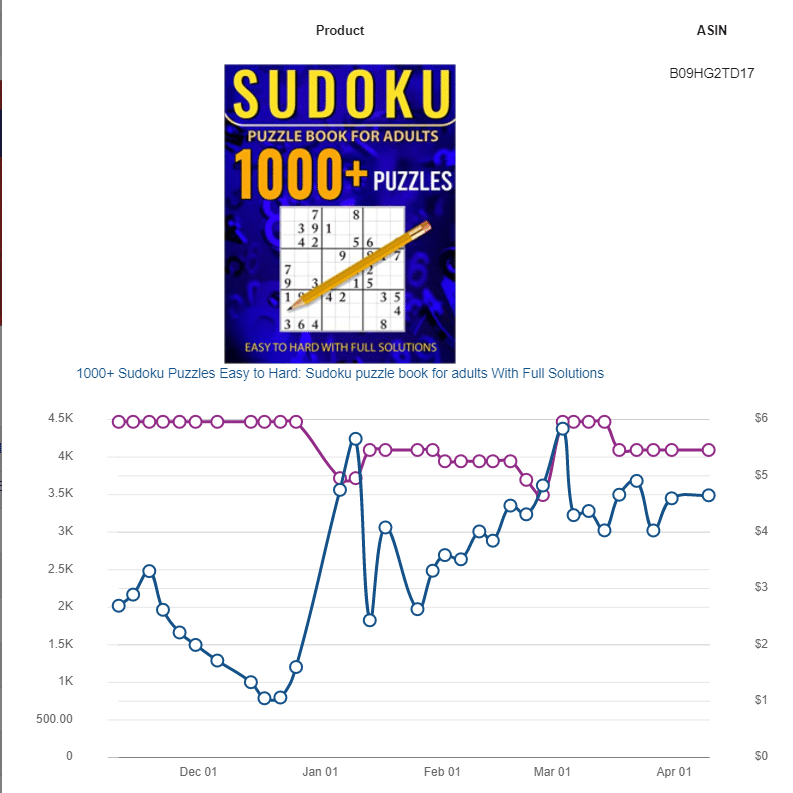 Similarly to the first product we observed, this puzzle book's cover only contains blue, yellow, and white colors and represents utter simplicity. Created by Brain Puzzles Book, the product is sold for $5.45, has a BSR of 3,484 and has an estimated monthly sales number of 485. It's another mix of different sudoku puzzles, 1000+ to be exact, and is targeted at adults.
The listing title focuses on the puzzle category – sudoku, the level – easy to hard, and the target audience – adults. We wanted to find out how its price and BSR compared over time and found that there were some fluctuations in both. For example, from a price of $5.95 on December 26 and a BSR of 1,198, the Seller dropped the price to $4.95 on January 6 after the holiday period to enjoy a BSR of 1,820 a few days later.
6. 8000+ Words Word Search Puzzle Book for Adults: Over 400+ Puzzles for Real Fun & Relax. Big Large Set 4 in 1 (Adults edition)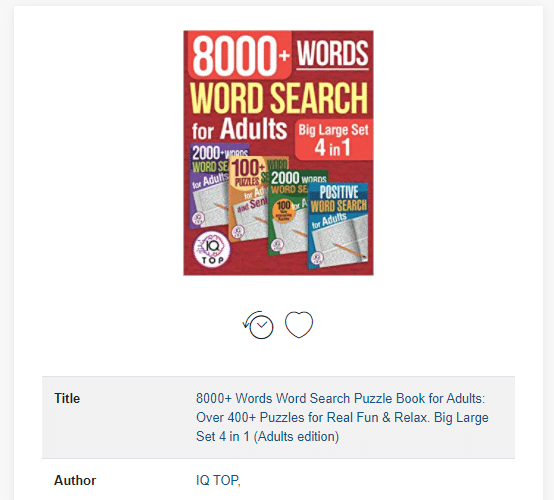 Here is another huge compilation of more than 400 puzzles. Created by IQ TOP, the product sells for $14.99, has a BSR of 6,046, and estimated monthly sales of 437. The design uses the color red and plays around with different shades, along with yellow and white. It's a large set of four in one and again – designed for adults.
Created towards the end of 2021, the puzzle book is now on the list of top-sellers, with a four and a half star rating and an average BSR of 5,805 for the past month.
7. 101 Fun Word Search Puzzles for Clever Kids 4-8: First Kids Word Search Puzzle Book ages 4-6 & 6-8. Word for Word Wonder Words Activity for Children 4, 5, 6, 7 and 8 (Fun Learning Activities for Kids)

This puzzle book stands out from the rest on this list so far as it's designed for kids. It offers 101 fun word search puzzles for clever kids aged between 4 and 8. It has a creative and kids-friendly cover with a number of different animals, and a focus on the color green. Created by Jennifer L. Trace, the book has more than 1020 ratings from customers, sells for $7.90 and has a BSR of 6,341. On the market since the start of 2020, the book has an estimated monthly sales volume of 437.
What's interesting is that there are no price shifts for this product, but slight changes in BSR over time. For example, as with most products from this list, the biggest peaks were before the Christmas holidays.
8. 50 Logic Puzzles: Full of Fun Logic Grid Puzzles! (Brain Teaser Puzzle Books)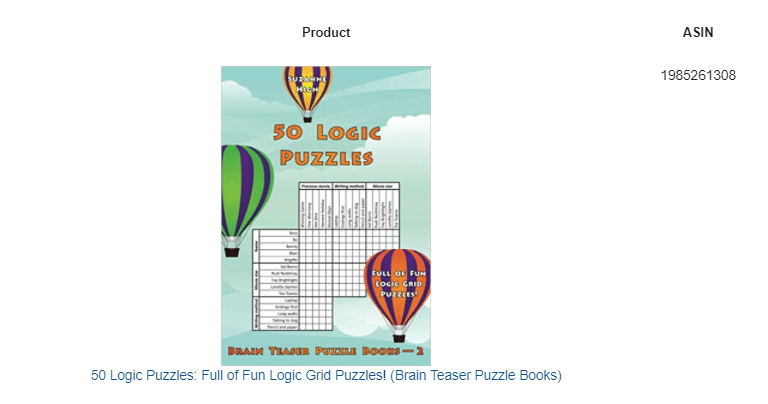 The 50 Logic Puzzles book stands out with another creative cover featuring hot air balloons up in a baby blue sky. The book is designed to provide puzzles that can tease the brain and the design is cleverly synchronized with the theme. Created by Suzanne High, this product sells for $5.79, has a BSR of 10,260, and an estimated sales volume of 389. It entered the market in 2018, receiving a whopping 1400 ratings since.
There are no price fluctuations here. The book has a consistent price that buyers are comfortable with.
Book Bolt NOTE: Do NOT DO THIS!
The next 2 examples that we have included in this article should not be considered. They are playing with fire, and this is the type of thing that will get a KDP account shut down unless the right licensing is obtained.
9. The Unofficial Friends Crossword Puzzles (Friends TV Show Word Puzzle Books)

The last two top-sellers from our list are based around the same theme – one of the most popular TV series of all time – Friends. They're both created by Miranda Powell, who has enjoyed tremendous attention from buyers on Amazon KDP. The Unofficial Friends Crossword Puzzles listing sells for $7.96 and has a BSR of 10,801. Launched towards the end of 2020, the product now enjoys more than 2,100 ratings by customers. It's a book specifically dedicated to crossword puzzles and comes in a cool Friends-themed cover. The estimated monthly sales volume is 389 and the price is consistent over time, with no ups and downs.
This just displays that infringement can get you far, but at some point, this will come crashing down on this seller.
10. THE UNOFFICIAL FRIENDS WORD SEARCH, JUMBLES, AND TRIVIA BOOK (Friends TV Show Word Puzzle Books)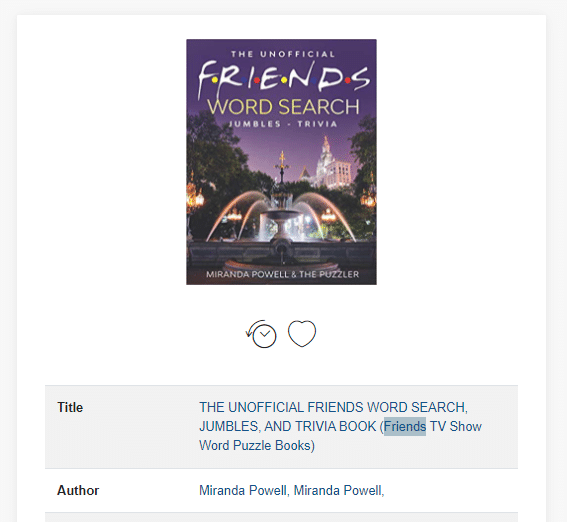 Finally, a second puzzle book created by Miranda Powell and themed around Friends – the unofficial Friends word search, jumbles, and trivia book. With a price of $7.96 and a BSR of 11,062, this product enjoys nearly 4,000 ratings from customers. The majority of the ratings must be positive as the overall rating is a four and a half stars from a maximum of five.
It would appear that the Seller has found the golden balance in terms of price as both Friends-themed puzzle books cost exactly the same, with no changes over time.
It will be interesting to come back to this article in a year or two and see if Amazon has kicked her off the platform yet.
The Best Practices That Other Sellers Can Follow
By now, you've probably seen some recurring practices and techniques that Sellers use to turn their puzzle books into best-sellers. Here are a few of the points that we deducted from our research that other Sellers can use for their own puzzle book strategies:
Large print – A large-format offers convenience and comfort when solving puzzle books.  This is why the majority of the products in our top 10 list are large-print puzzle books.
Target audience – The majority of best Sellers on this list reveal their target audience from the get-go – in the listing's title. This helps make the product more visible to those searching with keywords like "adult", "kids", "seniors", and others.
Design – Most best-seller designs are simple or tailored to the target audience. We saw frequent use of the colors red, blue, and yellow.
Keywords – Most importantly, successful Sellers know how to use keywords to their advantage. Highly searched for and relevant keywords are included in the product title and descriptions.
How To Get Into The Puzzle Book Market On Amazon KDP
If you're wondering whether the puzzle book market is a profitable one, our answer is yes. Entering a competitive low-content book category will be stress-free as long as you're geared with the right insights. When creating your first puzzle books, we strongly advise to focus on the following:
Keyword research – search for less competitive keywords but ones with high search volumes to make your products more visible
Niche it down – choose a specific niche to go into. The more specific, the more competitive advantage you'll gain.
Tailor your cover to your audience – speak to your audience via your book cover's design, colors, use of imagery, and more.
Set the right price – make sure you choose a reasonable price that makes you competitive, yet profitable at the same time.
Making decisions when it comes to all of the mentioned above points could be a pickle, especially for beginner Sellers. However, using business intelligence tools like Book Bolt can certainly help become informed and confidently create a puzzle book strategy that sells throughout the whole year.
As an added bonus, it's worth mentioning that the Pro-level subscription of Book Bolt unlocks access to the Puzzle Interiors, which allows you to create your own puzzle book with a few clicks of a button.
You can get it for a mere 10 dollars extra per month.