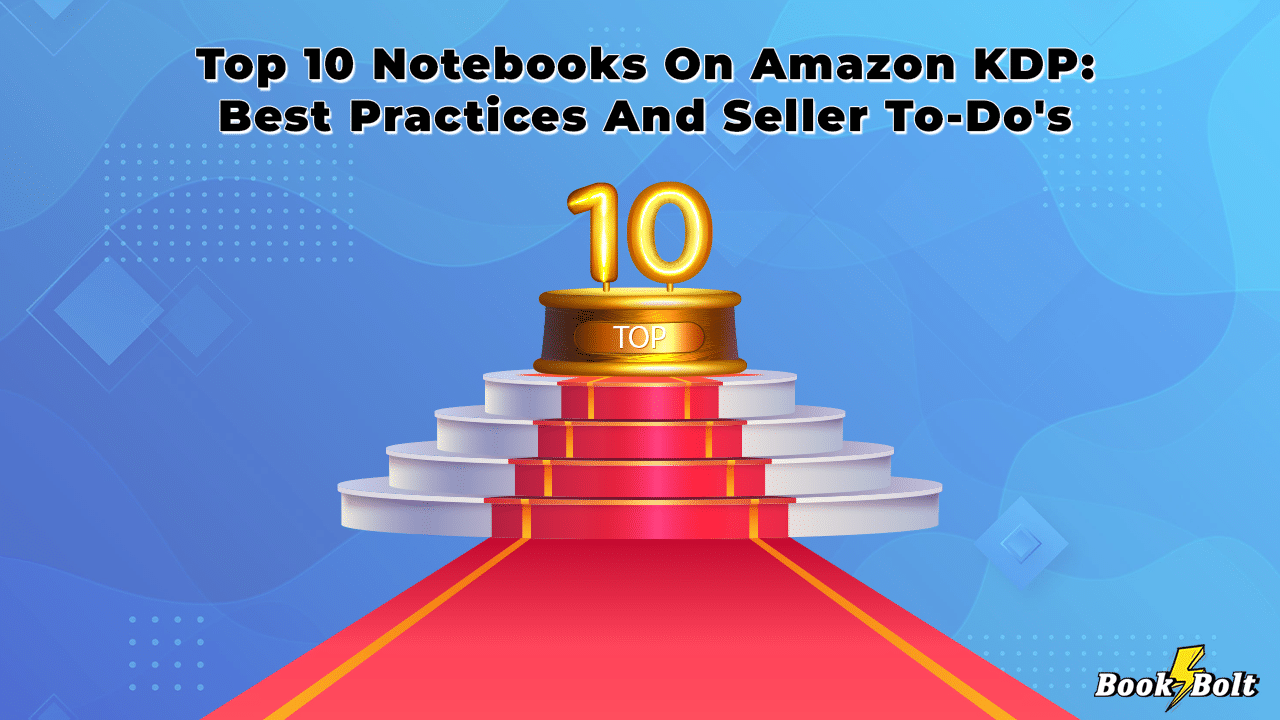 Amazon KDP offers Sellers a wide variety of no- and low-content books, and notebooks are consistently ranked among the most profitable formats. They are great for journaling, doodling, keeping important information in one place, etc.
But what are the top 10 best-sellers? And what strategies did these Sellers use to help them get to the top? Let's take a closer look!
What Are The Top 10 Notebook Listings Of All Time?
We know that the BSR's are constantly moving (as are the sales). But if you're looking for the top 10 notebook listings of all time and what top Sellers are doing to get in front of an audience, you should check the following entries:
1. "Shit I Can't Remember: Organizer, Log Book & Notebook for Passwords and Shit Paperback"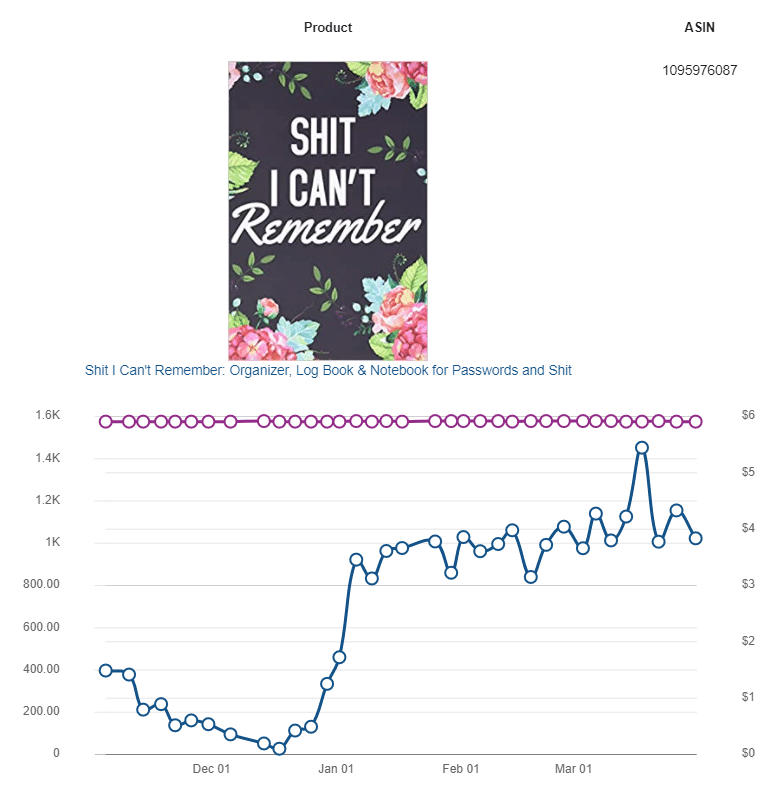 Author Phil D. Organizers published a notebook for storing passwords on April 26th 2019. This book has an estimated monthly sales and estimated moving average sales of 573. The paperback goes for the low price of $5.90 and has 4.6 out of 5 stars with an impressive total of 6,243 ratings.
The best-sellers (BSR) rank for this notebook is 1,153 with an average BSR for the past 30 days of a low 1,122. Although this Seller's description has not been optimized, only saying "Organizer & Notebook for Passwords and Shit", its high volume of sales proves why it is a best-seller. With dimensions of 6" x 9" and 100 pages, this is a typical notebook size and is possibly one of the reasons that customers choose it.
The cover's heading is quite catchy and it directly speaks to female users due to its floral patterns. Ideal for multiple age groups because we all need to store our passwords somewhere, it can make for a great gift, as well.
2. "Sketch Book: Notebook for Drawing, Writing, Painting, Sketching or Doodling, 120 Pages, 8.5×11 (Premium Abstract Cover vol.4)"

This paperback notebook, published on July 26th 2019 by Spark Drawing, has an estimated monthly sales and estimated moving average sales of 573. It comes in two versions: paperback and spiral-bound. While the former is priced at $4.58, the latter goes for $17.95. It has a rating of 4.6 out of five stars and 10,041 ratings. The BSR for this particular item is 1,263 and the average BSR for the past 30 days is 1,341.
Interesting to note is that this Seller, possibly seeing the good results through high rankings and sales, employed a strategy of bumping their price up to $13.30 on January 17th. With this came a rapid slump in BSR rankings forcing the Seller to revert to the original price of $4.58 just four days later. Luckily, this strategy seemed to work as the Seller's BSR started to improve once again.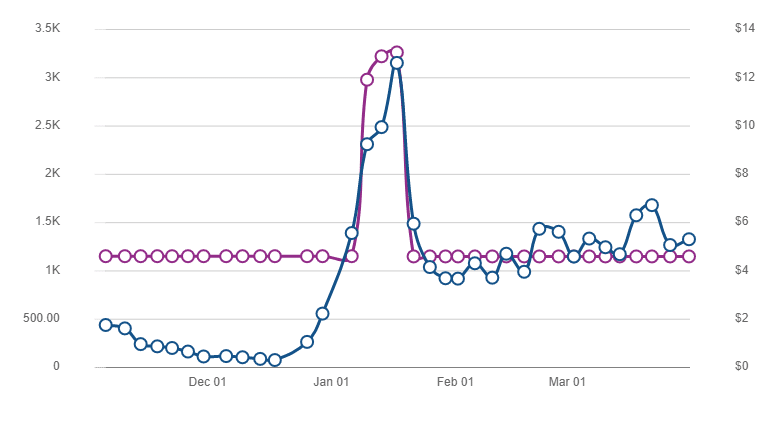 Spark Drawing has made this item broad, indicating in the description that it's ideal for drawing, doodling, painting, writing, school, class, and home. Also included in the description is the fact that this sketching notebook is best for crayons, colored pencils, watercolor paints, and very light fine tip markers. It comes in an extra-large size of 8.5″ x 11″ and has a total of 120 pages.
The cover is abstract, and this is probably what appeals to a variety of audiences including adults, kids, artists, and students.
3. "Graph Paper Notebook: Grid Paper Notebook, Grid Paper for Math and Science Students, Quad Ruled 5×5 (110 Pages, 8.5 x 11)"

Here, the title says it all. It immediately specifies that it's a graph paper notebook with grid paper for math and science students. It's a paperback published by Ken Malone on November 26th 2019. This quad ruled notebook has 456 estimated monthly sales and estimated moving average sales. It's been rated pretty high with 4.7 out of five stars. Although it doesn't have as many ratings as number one and two above, the 222 ratings are mostly positive with most customers praising the price (of only $3.99), the fast delivery time, and the quality of the notebook. It is considered the number one best-seller in Mathematical Infinity and its BSR is 4,860, with an average BSR for the past 30 days at 4,147.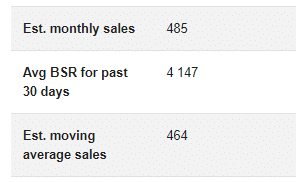 From February 6th to the 18th, this Seller tried a new pricing strategy, raising the price by one dollar to $4.99. This did not affect the BSR too much, although there was a slight slump before returning to the low BSR rates previously seen.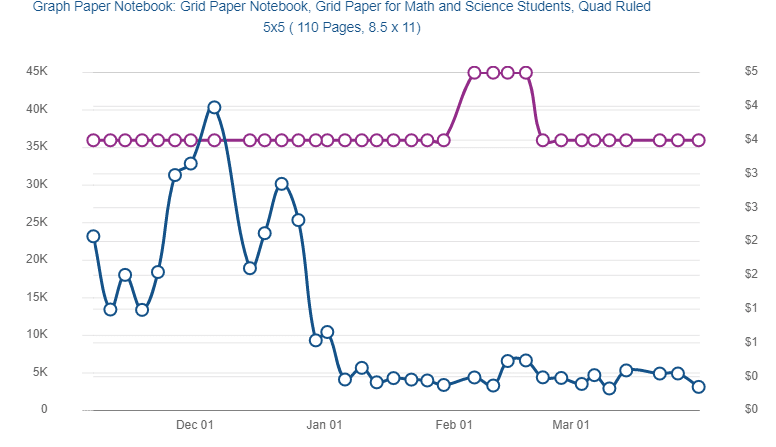 The cover speaks volumes about what's inside, specifying the nature of the notebook, the size, number of pages, and the type of interior. Its design is very simple and straightforward and uses a deep checkered blue to give the customer a preview of the interior.
As for the description, the author uses an interesting strategy of encouraging customers to view their profile for more information about other notebooks, which reportedly come at a good price. The Seller has also approached a relatively wide niche by specifying that this notebook is perfect for all office, school, and home applications.
4. "Shit I Can't Remember: password book, password log book and internet password organizer, alphabetical password book, Logbook To Protect Usernames and … notebook, password book small 6" x 9""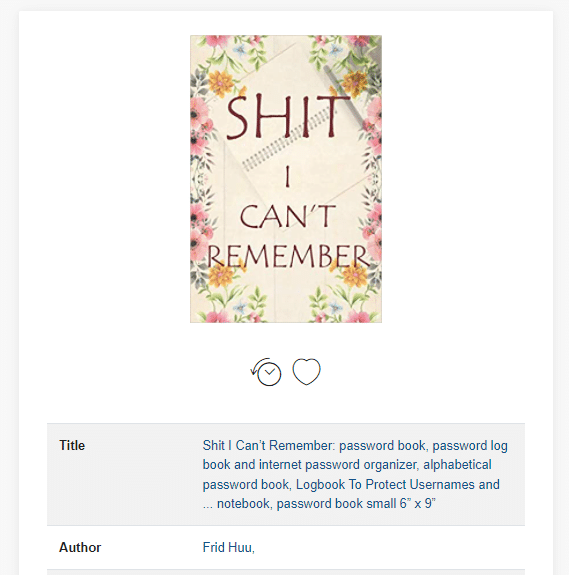 This notebook, published by Frid Huu on December 5th 2019, appears to be a copycat of the first one we presented above. However, a couple of things stand out.
For example, it has a BSR of 5,811 and an average BSR for the past 30 days of 5,663. It comes in both a paperback version, priced at $6.95, and a hardcover version priced at $13.99. It also has quite a high likeability with 4,6 out of five stars and 1,785 ratings. It's considered a best-seller as it has an estimated 443 monthly sales.
This Seller has stuck to their strategy, maintaining one price since publication and the BSR ranking has been consistently high.
The description, however, seems to be a bit misleading. Due to the floral pattern of the cover, one would assume that the target audience is ladies. But this Seller has listed "friends, colleagues, office employees, mothers, daughters, sons, dads, seniors, wedding planners, and florists" as the intended audience. Ultimately, quite a broad range of buyers.
One perk of the book that the first notebook above doesn't have is that the pages are arranged in alphabetical order. This means that one can better plan for and manage website addresses, usernames and passwords, phone numbers, email addresses, software license keys, etc. It comes in a 6×9" size and has 120 pages.
5. "Graph Paper Composition Notebook: Grid Paper Notebook, Quad Ruled, 100 Sheets (Large, 8.5 x 11) (Graph Paper Notebooks)"

A number one best-seller in the trigonometry category, this is a large print paperback published as far back as August 2nd 2018 by Joyful Journals. The notebook has 4.7 out of five stars and a nice sum total of 2,551 ratings. It sells an average of 420 pieces per month, with a BSR of 7,557. Although the price for the paperback is a low $3.99, the hardcover goes for $13.87.
Joyful Journals has certainly played around with their pricing strategy, asking for $5.87 on December 31st. However, the price was even higher, at $6.77, on October 13th. The price then dipped back to $5.87 on October 16th, where we see a corresponding hike in the BSR, and even further down to $3.87 on November 10th. Prices then went back up to $4.87 and $5.87 with corresponding dips in the BSR, while on March 10th, the Seller brought the price down to the current amount, where the BSR has been hovering at a relatively stable high.
The cover itself is a striking red with a title that says exactly what the notebook is for.
However, the description goes further and reaches a wider audience by saying that it's a notebook to draw, write, journal, take notes, make lists, school notes, and capture ideas. Furthermore, the Seller has indicated that apart from its uses for architects and artists, it can also be used as a notebook, journal, diary, or composition book. With a size of 8.5"x11", it has a soft, matte cover and has 100 quad ruled pages.
6. "Handwriting Practice Paper for Kids: Bumper 200-Page Dotted Line Notebook (Handwriting Practice Paper Notebook / Blank Handwriting Practice Books For Kids)"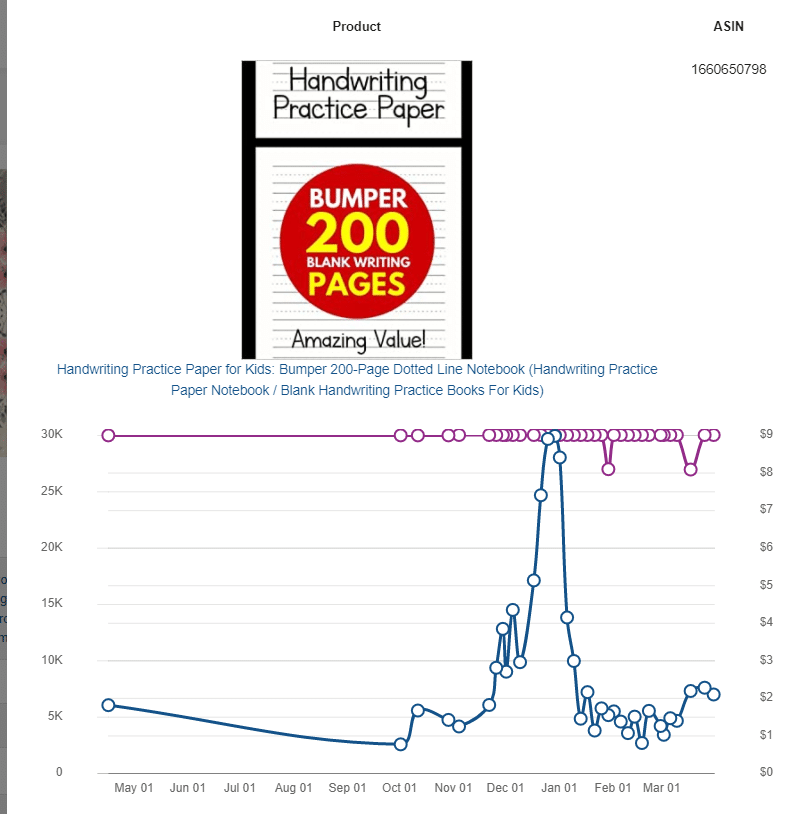 Made available on Amazon on January 14th 2020 by Creative_Kids_Inc, this value-pack notebook gets 4.8 out of five stars with 1,686 ratings. The paperback goes at $8.99, resulting in around 420 estimated monthly sales. With a BSR of 7,569 and an average BSR for the past 30 days of 5,546, this Seller has only very mildly played around with the pricing, although this has had little to no impact on the BSR rankings.
So, what makes this notebook so special? It's a 200-page handwriting practice notebook ideal for children who need to practice their letters and numbers. It comes in a large size of 8.5"x11".
7. "Graph Paper Notebook: Grid Paper Notebook, Grid Paper for Math and Science Students, Quad Ruled 5×5 ( 110 Pages, 8.5 x 11)"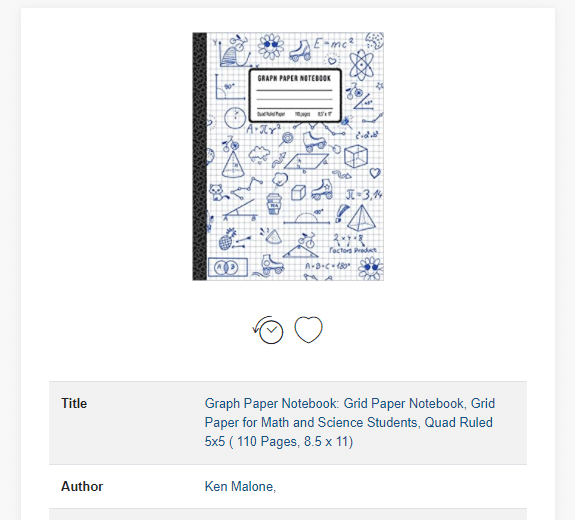 Seller Ken Malone strikes again. This time publishing a grid paper notebook on November 25th 2019. This book again reached the number one spot on Amazon in the Vector Analysis Mathematics section. It is only available as a paperback and costs $3.99. The BSR for this particular notebook is in the region of 9,537 although the average BSR for the past 30 days is at 14,106. The estimated monthly sales made are 399, while the estimated moving average sales are 360. Ken Malone has employed some minor price change strategies, although this has not affected the BSR of this notebook much.
The cover is interesting with a unique design of mathematical drawings and the title tells you exactly what's inside, that being checkered paper. It reaches a wide audience as it's suitable for math, note writing, sketching, writing ideas, or keeping a personal journal. The Seller indicates that it's perfect for all office, school, and home applications. It comes in a large 8.5″ x 11″ size, offering 110 pages.
8. "Password Book Organizer Alphabetical: 8.5 x 11 Password Notebook with Tabs Printed | Smart Black Design"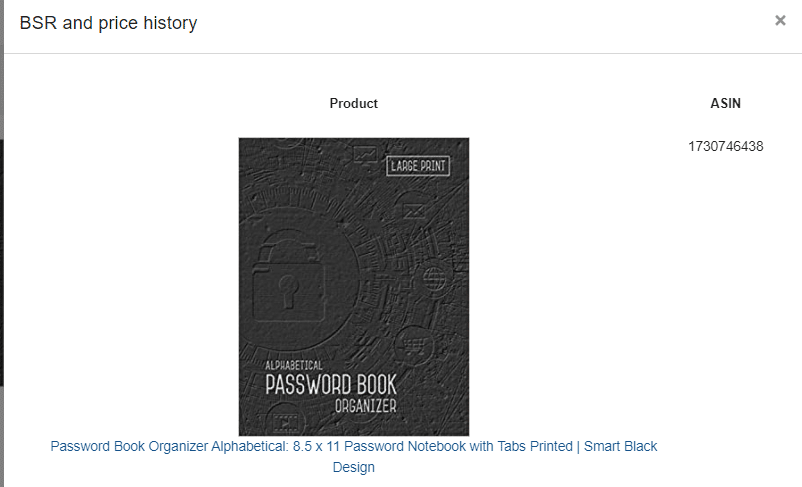 Another password organizer but this time with a twist. This one is a large size that offers a more sophisticated interior in alphabetical order with printed tabs. It was first published on November 1st 2018 by Emily Grace and has so far received 4.5 out of five stars with 1,385 ratings. Priced at $5.97, this notebook sells around 399 copies per month and has a low BSR of 9,594. Although the Seller has not employed any tactics with regard to price differentiation, the description is very detailed and provides a lot of information.
Essentially, the target market for this item is seniors who may struggle with forgetting their passwords easily, even though it mentions that it's suitable for people of all ages. The cover design is interesting as it's all black with an underlay of a padlock that indicates exactly what the notebook is for. It comes in a large 8.5″ x 11″ size and it is indicated that it's meant for home use as opposed to being portable. The text is extra-large and easy to see with 106 pages. The book contains areas to fill in login information with three sets per page.
9. "How To Cope With A Massive Penis: Inappropriate, outrageously funny joke notebook disguised as a real 6"x9" paperback – fool your friends with this awesome gift!"

Let's start with the disclaimer for this notebook. It indicates that this is an empty notebook designed to fool people that it's an actual book. Published by Novelty-notebooks.com on March 18th 2019, this is an original notebook with a funny cover that gets 4.6 out of five stars.
Although it has 243 ratings, it makes an average of 382 monthly sales with a BSR of 11,341 and an average BSR for the past 30 days of 65,500. The paperback is priced at $7.99 and this Seller has not changed prices to get a higher BSR, which has fluctuated depending on demand.
"Guaranteed to raise eyebrows", this is an "inappropriate and downright rude" novelty notebook that makes for an ideal and original gift as it enables you to play a practical joke on them. It's sized as the typical 6" x 9" and offers 150 pages which are college-ruled.
10. "Composition Notebook: Cute Axolotl Aquatic Pattern. Blank Lined"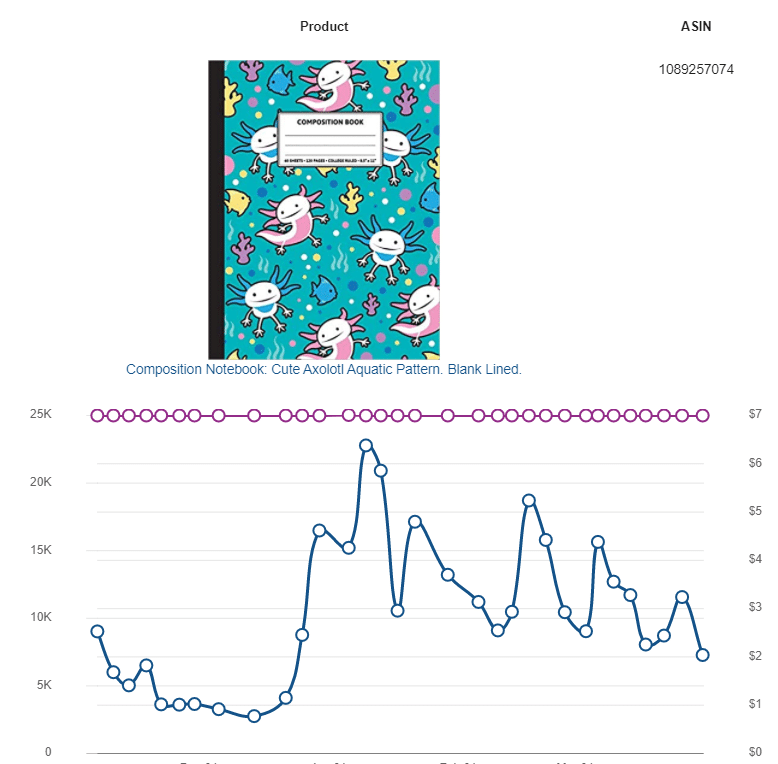 And last but not least in our top 10 list is a cute cover with an axolotl aquatic pattern that was published on August 9th 2019 by AugustSmiles Press. The paperback is priced at $6.99 while the hardcover goes for $16.9. It makes around 382 monthly sales on average and the BSR hovers in the region of 11,535. No price changes have been implemented by this Seller.
This notebook comes in a large format (8.5" x 11"), it is college-ruled, and consists of 120 pages. It's quite a niche product although the Seller indicates that it can be used to take notes in the office, at college or school or when you are out and about.
Closing Remarks
Looking for the top 10 notebooks of all time can be a seriously time-consuming process. But no longer with Book Bolt's Cloud tool. It gives you absolutely everything you need with literally a click of a button. The powerful platform enables users to create and scale their KDP publishing business as it's intuitive and extremely helpful.
Based on the top 10 best-selling notebooks above, you now have some ideas as to what works well and what doesn't. Being helpful with password notebooks or just plain funny is a good strategy to follow. While not all of these Sellers have played around with pricing, it's one strategy to follow. Also important is the accuracy of the description and the design of your cover. And, of course, we can't end without mentioning the importance of using accurate keywords.
You can get all the help you need to build and grow your no- and low-content publishing business with a mere $9.99 monthly subscription to Book Bolt.