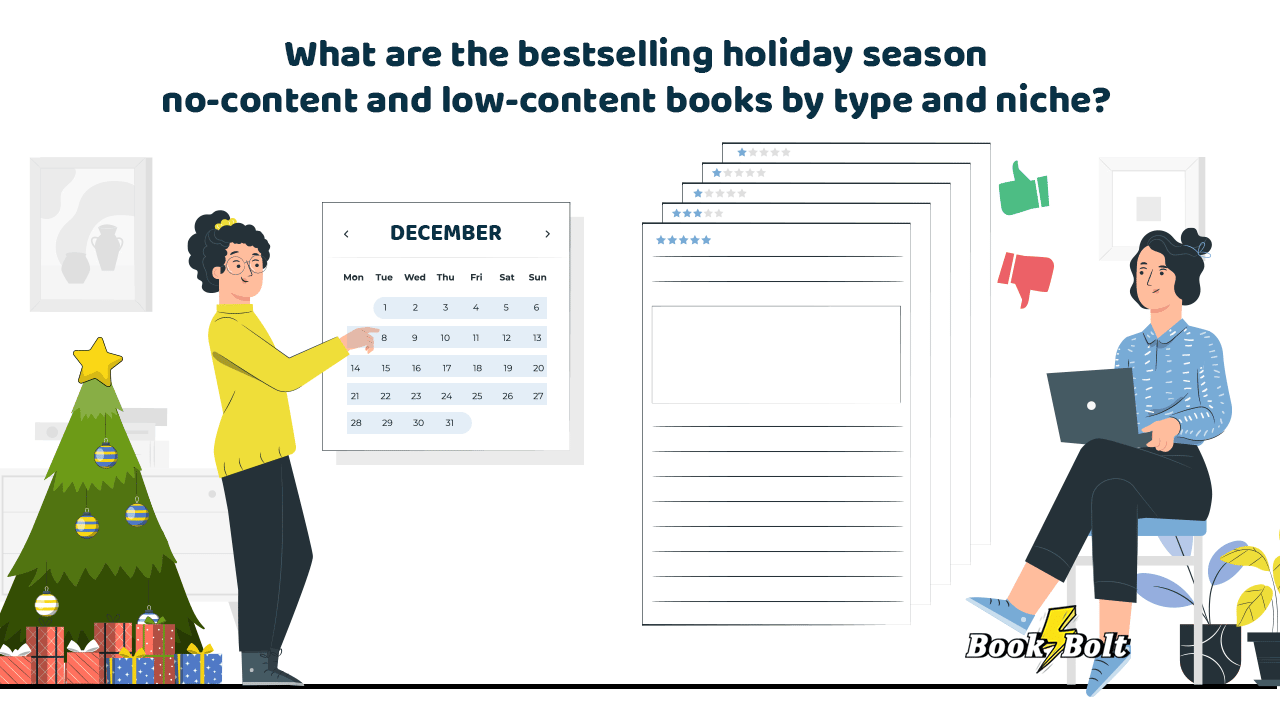 The year's final month is marked by one of the most competitive periods on Amazon – Christmas. Most Amazon KDP sellers rely on this occasion to rake in some serious profits. But if you're relatively new and less experienced, you may be feeling uncertain as to how to achieve this.
To reach the summit and outperform your competitors, you'll need a ballistic-resistant strategy. This includes selecting the right niches and category types in the low- and no-content book space.
To that end, we've extracted some valuable insights from Book Bolt that we're ready to share with you.
Exploring the bestselling niches this Christmas season
No matter what time of year it is, one factor is critically important to your performance on Amazon KDP – niching down. We've emphasized the importance of niches in most of our other articles and have always advised our readers to create print-on-demand book designs with a clear-cut theme.
When it comes to the festive season, we can already see a few niches standing out as highly attractive for shoppers. How do we know? By analyzing the bestselling listings in different low- and no-content book categories. We also examined the changes in BSRs for individual listings from these themes to confirm that sales numbers started rising around the end of October.
Most Amazon consumers begin Christmas shopping towards the end of October or early November. Therefore, a drop in BSR around this time indicates that the listing is performing well due to the approaching holiday.
So without further ado, here are the top-performing niches this Xmas season:
Funny
Gift
Christmas
Religion
Would you rather
Kids
But why these niches specifically?
Funny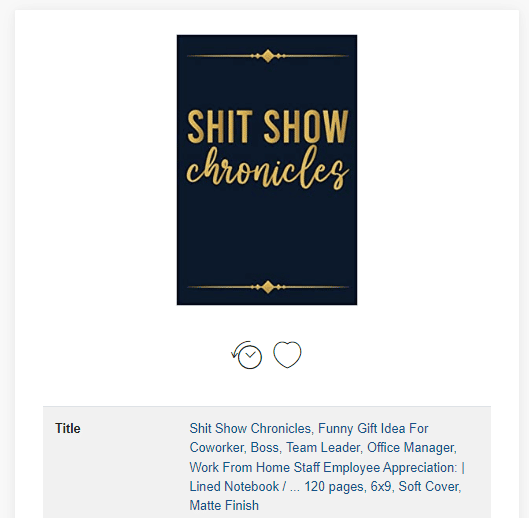 Comedy is at the heart of best-performing listings in different categories all year round. Funny messages and images are a popular choice for a gift for friends and family. They're also a nice way to show how well you know someone without making them feel bad or uncomfortable. It's no surprise that the majority of bestselling listings on Amazon KDP include a funny slogan, humorous messaging, or comical image on the cover.
Gift
The gift niche is another money-making niche around Christmas. The word "gift" is one of the most popular ones when exploring the keywords that successful listings rank for. An explanation is a rising demand for presents around feast day. We noticed that the majority of sellers optimize their titles and descriptions for this word. This enables them to attract more customers browsing for Christmas gifts.
Christmas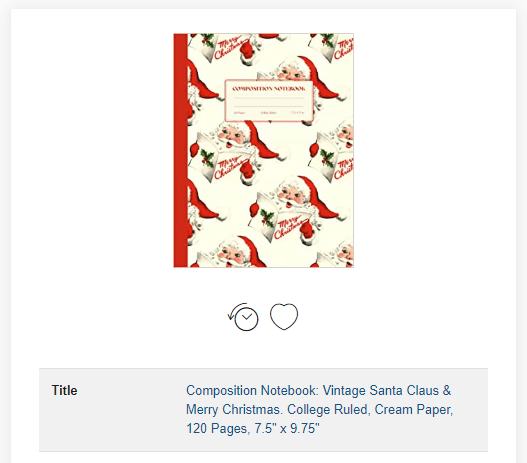 Unsurprisingly, the Christmas niche also makes it on the list of most attractive niches near the end of the year. The theme can be represented by different keywords, like "Santa", "Merry Christmas", "Christmas gift", "festive spirit", "holiday", and others. It can also be displayed by related cover designs, including candy canes, Xmas trees, lights and decorations, gift boxes, reindeer, and more.
As one of the most popular holidays of the year, Christmas is certainly a niche that you want to take advantage of before the year comes to an end.
Religion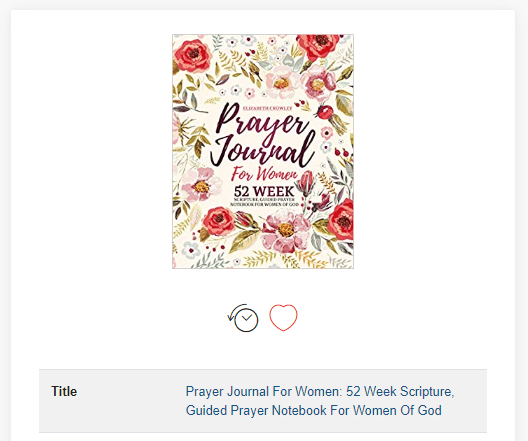 With Christmas being a religious holiday, adding faith to the catalog of flourishing niches around this time of year is only natural. For example, we noticed a lot of prayer journals that saw dramatic falls in BSRs towards the start of December.
Looking into a real case scenario, the "Prayer Journal For Women: 52 Week Scripture, Guided Prayer Notebook For Women Of God" listing is among the best-sold products, shifting from a BSR of 4,832 on September 9th to a BSR of 655 on December 5th. The price has remained the same throughout this period. This means that it has not played a role in the change in clients' purchase behavior. Instead, the explanation is that a rising number of Amazon users are Christmas shopping and this product fits their criteria.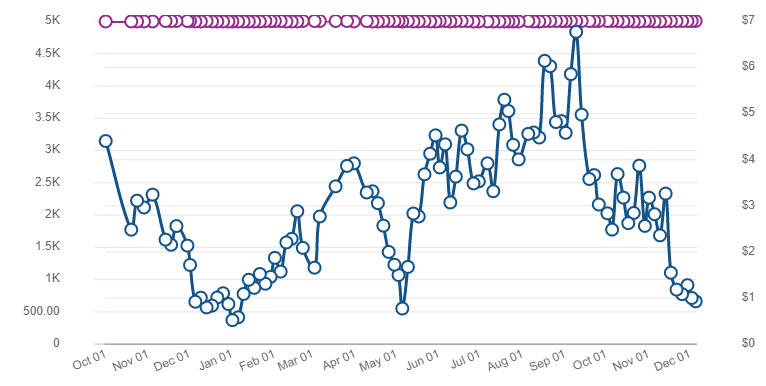 We confirmed this theory by analyzing the customer reviews of the listing. A multitude of them displayed information that the notebook was indeed purchased as a Christmas present.
Would you rather
The final niche that we'd like to draw your attention to is "would you rather". Would-you-rather activity books are incredibly popular around Xmas as they make the perfect entertainment solution for Christmas parties, family gatherings and dinner blasts. They're also ideal for kids, who are one of the most popular target audiences and frequent recipients of Christmas-related print-on-demand books.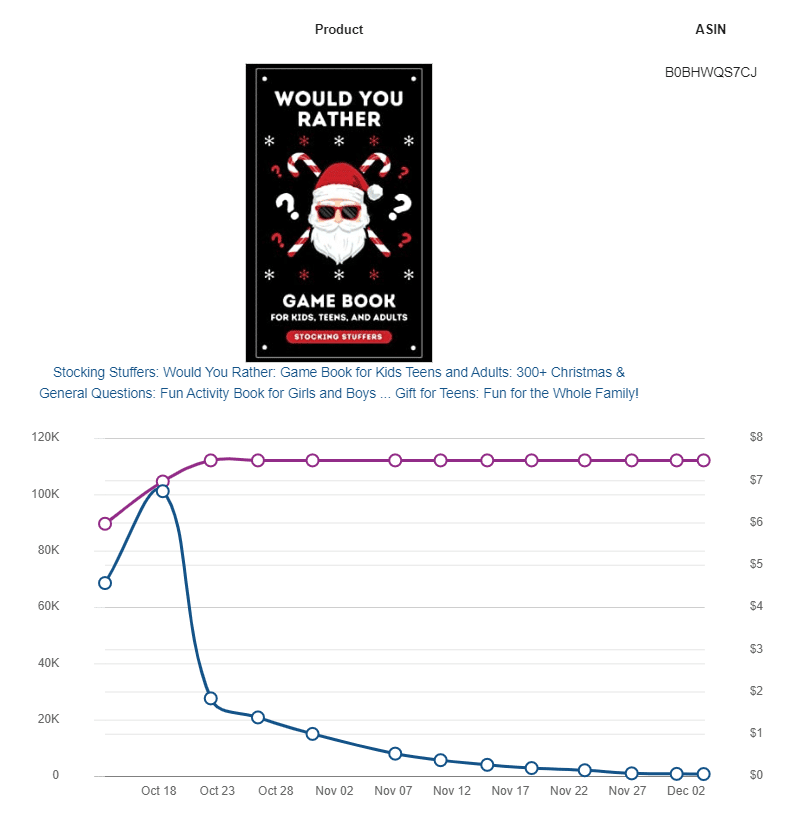 Let's examine this trend using the following example – the "Stocking Stuffers: Would You Rather: Game Book for Kids Teens and Adults: 300+ Christmas & General Questions: Fun Activity Book for Girls and Boys … Gift for Teens: Fun for the Whole Family!" listing.
Although the product's price actually increased from $5.97 to $7.47 in the month of October, its BSR dropped from 101,111 to 692 by the beginning of December. This clearly shows the big bucks change in the niche.
Top-performing no- and low-content book categories this holiday season
Now that we've identified the most appealing niches, let's establish the product categories that will further help you strike gold this Christmas season.
Even if you've selected the ideal niche, a poor choice of category could ultimately leave your listings in the shade. This is because a lot of Amazon users search by category. Furthermore, certain keywords like "notebook", "journal", or "log book" are also fundamentally important to your listing's discoverability and relevancy.
We used Book Bolt to determine the print-on-demand book categories with the lowest average BSR around Christmas. We only assessed the bestsellers to offer more relevant findings.
Our discoveries show that the following categories rank in the top five according to average BSR:
Coloring books – 2,229
Journals – 8,200
Activity books – 12,227
Puzzle books – 20,221
Notebooks – 21,101
However, we made an interesting discovery. By digging deeper into the Book Bolt tool, we were able to see how the BSR or individual listings from different categories changed over time. This exploration revealed that some categories started generating much more sales around November and December when compared to the rest of the year. These include calendars, log books, and planners.
Calendars make a wonderful gift for a Christmas or New Year's party. Naturally, consumer demand rises for these products around December. On the other hand, log books are a great product for personal shopping. A lot of people start working towards new goals as the  year draws to a close.
And what better way to monitor progress than with a niche log book? Finally, planners are another present idea that many adore, making it a common Christmas surprise and a must-have gift-shopping item.
Diving into the most successful listings
So far so good. We've lifted the curtain on the mystery regarding profitable niches and categories around Christmas. But what can real-life examples tell us? Are our Book Bolt findings leading us in the right direction?
To find out, we looked into the bestsellers on December 5th. Let's inspect two of the most frequently sold listings together.
CAUTION: Listing titles contain profanity.
First, we have the "You Fucking Got This : Motivational Swear Words Coloring Book: Swear Word Colouring Books for Adults: Swearing Colouring Book Pages for Stress Relief … Funny Journals and Adult Coloring Books)". With a BSR of 84, the listing generates around 885 sales per month. As a comparison, in July its BSR was 313. It wasn't until December 2 that the listing started generating such a high number of sales.

The listing is positioned in the journal category but also contains coloring book keywords. It's part of the funny niche and is targeted at adults.
The second listing has the title "Things To Do While You Poo On The Loo: Activity Book With Funny Facts, Bathroom Jokes, Poop Puzzles, Sudoku & Much More. Perfect Gag Gift" and also has an incredibly low BSR of 89. Towards the end of September, its BSR was as high as 10,279. However, from November, the listing started performing much better, potentially as a result of the upcoming Christmas holiday.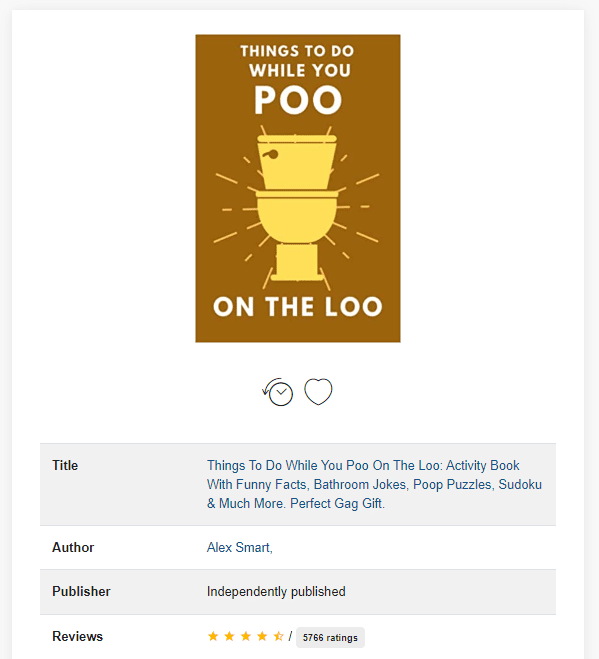 Again, the book is positioned in the funny niche but also contains the keyword "gift", making it relevant for this niche as well. It's officially part of the activity book category, although words like "puzzles" make it discoverable for Amazon users looking for puzzle gifts.
These two examples perfectly demonstrate that the extracted niches and categories from our research are applicable to real life.
How to approach the festive period as a seller on Amazon KDP
To make the most of this holiday season, you must take into consideration both the low- or no-content book category and the niche that you will be selling in.
As a conclusion from our extensive research, we can recommend the following award-deserving combos:
Would you rather activity books
Christmas coloring books
Funny notebooks
Puzzle book gifts
Religious journals (prayer journals)
By finding the most precise blend of niche and category, you can rest assured that your listings are headed towards record-making sales.
Wrapping up
Geared with all of this data, you can enjoy Christmas earnings that are as big as all outdoors. Best of all, Book Bolt can provide a lot more in terms of business intelligence, putting you several steps ahead of the competition this festive season.
Don't waste another second. Your time to shine is now.