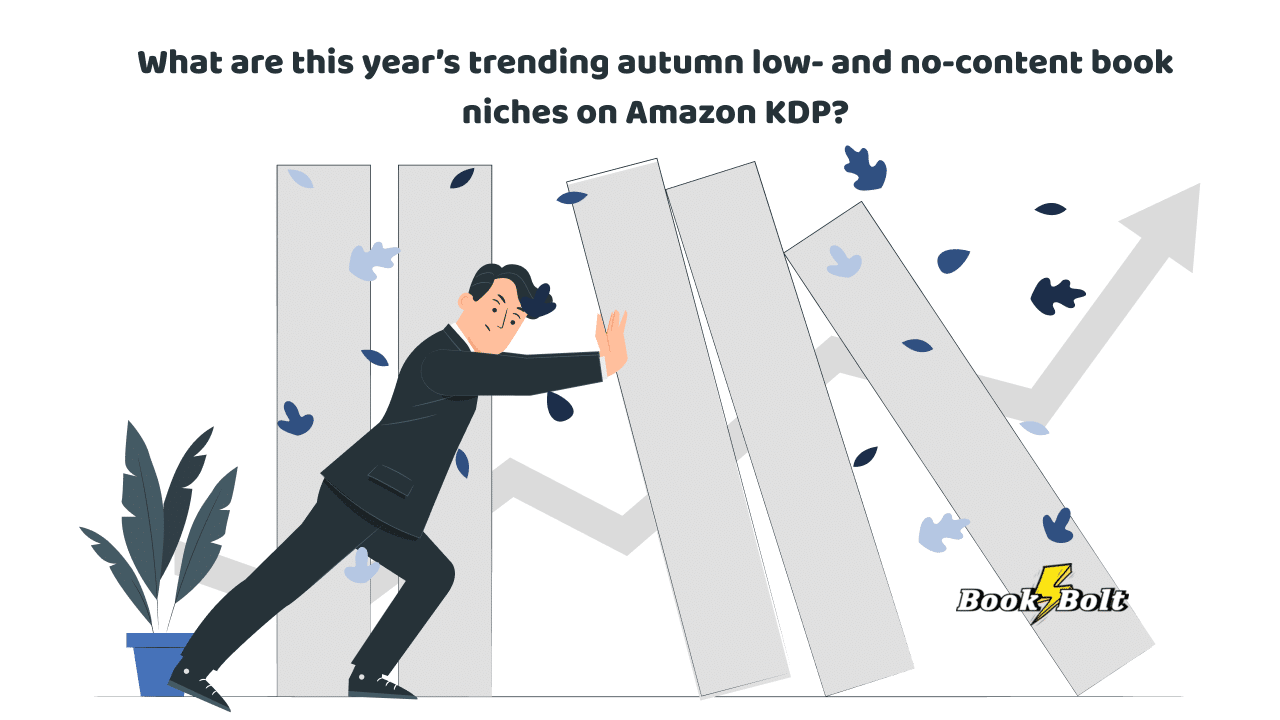 Autumn is a season of warm hues, cozy sweaters, and pumpkin-spiced everything. But in the ever-evolving world of Amazon KDP, it also marks a period of fresh trends and budding opportunities.
Just as the leaves change, so do the preferences of no- and low-content book enthusiasts.
If you're curious about which niches are taking center stage this fall, you're in the right place.
Let's dive deep into this year's most sought-after autumn themes and discover which ones are ripe for the picking.
Autumn puzzle books
The first lucrative category to explore this fall is puzzle books.
While this low-content book type performs well throughout the whole year, sales start picking up towards the end of September.
Why?
Because as the long summer days come to an end, we find ourselves spending more time indoors. And what better way to stay occupied and mentally active than with an engaging puzzle book?
But to confirm our theory, we used Book Bolt's features.

We analyzed the autumn puzzle book niche and identified the size of the segment, bestsellers' average BSRs, the most frequently used keywords, and the market prices.
According to the tool, there are only thirty top-performing listings ranking for the word "autumn puzzle books". These bestsellers have an average BSR of 159,430, suggesting lucrative sales numbers.
The minimum, maximum, and average prices in the space are as follows:
Lowest Price – $3.83
Highest Price – $9.99
Average Price – $7.97
The good news is that there is just a $2 difference between the average and the highest prices in the niche. Why is this encouraging?
One of the best pricing strategies is to ask for a price close to the average in the market. This helps sellers position listings competitively.
At the same time, a higher listing price means more substantial royalties.
In this scenario, pricing your product close to the average will generate returns comparable to those of the most expensive listings.
But selling successful autumn puzzle books isn't just about the price. It's about themes and keywords.
Analyzing the bestsellers, here are the words that are most often used in titles and descriptions:
Word
Search
Adults
Large
Autumn
Seniors
Fall
Relaxing
Thanksgiving
Halloween
Cozy
Challenging
Entertaining
Seasonal
It instantly becomes clear that word searches are a trending autumn puzzle. The results above also indicate that top sellers are describing their target audience (for example, "adults" and "seniors").
In addition, you'll notice a few holiday-related keywords, like Halloween and Thanksgiving. This suggests that festive puzzle books are also attractive.
Optimizing your listings for popular keywords will help you score higher rankings and win more traffic. As a result, your chances of landing sales will double.
But are the bestsellers applying this method?
Let's look at the number one listing in the space – "4000 Word Search for Adults Large Print: Big Multi-Themed Word Search Puzzle Book for Adults & Seniors | 200 Themed Puzzles (Autumn, Christmas, Summer, Animal & More)". It sells for $7.99 (very close to the average price in the market) and has a BSR of 9,415.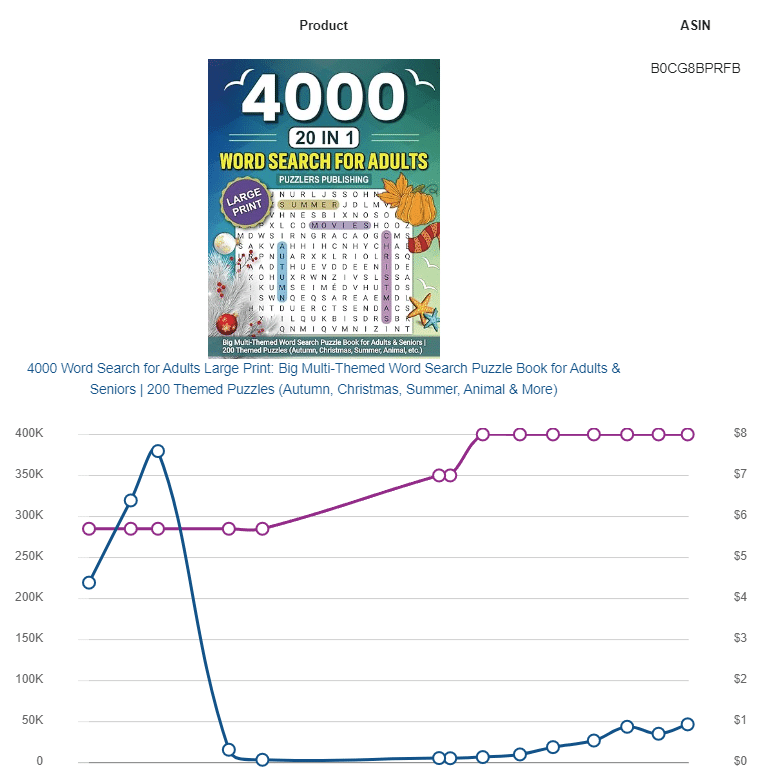 This translates into roughly 400 sales per month.
By looking at the title it becomes evident that the seller uses some of the keywords mentioned above, like "adults", "puzzle book", "seniors", "themed", "autumn", "word", and "search".
This is a perfect example of how these phrases can deliver fruitful results.
Apart from examining the listing's current performance, we also looked at historical data. This enabled us to confirm whether this product performs better during the autumn season.
Unsurprisingly, we discovered that on September 3 the listing's BSR was 379,171. On October 6, it dropped to 4,784.
Halloween coloring books
The second wave-creating low-content book niche on Amazon KDP this autumn is the Halloween coloring book segment.
Taking place on October 31st, Halloween is one of the most loved holidays of the year. Naturally, it has enabled more than 500 coloring books to climb up to the bestsellers list.
This special day is associated with ghosts, pumpkins, witches, and monsters, opening the doors to a pool of creativity in terms of book covers.

But things get even more exciting as we analyze the performance of Halloween coloring books.
According to Book Bolt, the top-performing products in the space have an average BSR of 40,018. This incredibly low result screams high sales volumes.
And what about profitability?
Our research into the niche led us to the following market prices:
Lowest Price – $3.99
Highest Price – $15.77
Average Price – $7.51
Although price is not the only factor that will dictate your royalties, it plays a crucial role.
In this case, if you price around the average, you'll be earning $2.21 per sale for a 100-page Halloween coloring book. Multiplying this by 500 sales per month (what some bestsellers are achieving), you'll be receiving royalties of around $1,000 for a single listing.
What are the keywords that can help you achieve these sales numbers?
In this specific niche, some of the popular words sellers are utilizing (apart from "Halloween")  include:
Kids
Cute
Spooky
Adults
Toddlers
Cats
Pumpkins
Creepy
Witches
Horror
Bats
Funny
Haunted
Monsters
Most of these keywords represent sub-niches or themes. Others, like "adults", "toddlers", and "kids" are associated with target audiences.
When entering the Halloween coloring book domain, you can use words like "spooky", "cute", "pumpkins", "cats", "creepy", and "witches" to craft your designs and optimize your listings.
They'll help you position your product in front of the right consumers, leading to higher sales volumes.
This is the technique that the top performers are implementing.
For example, the "Jumbo Halloween Coloring Book For Kids: The Big Book Of Halloween Coloring Book For Kids Featuring 105 Pages Of Halloween Themed Fun And Cute Spooky Scary Illustrations To Color For Kids!" listing sells for $5.99 and has a BSR of 2,014, scoring around 500 sales per month.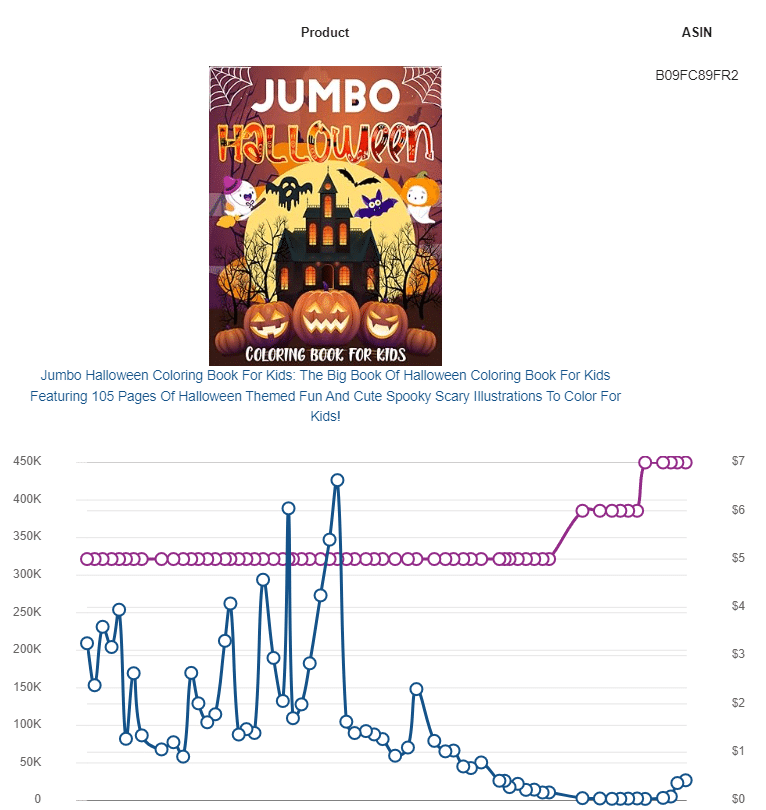 The product title features keywords like "kids", "cute", "spooky", and "fun". All of these words (together with an attractive cover design) gear this product for success.
Looking at the historic performance of this item, we noticed a similar pattern to the previous example.
On May 23, the listing had a BSR of 425,860. On October 13, it dropped to 2,014. This data proves that sales are picking up during the fall season.
Thanksgiving coloring books
Thanksgiving is another awaited holiday. It takes place on the 23rd of November and creates opportunities for growth and popularity on Amazon KDP.
According to Book Bolt, the dominating category for this theme is coloring books. There are nearly 50 chart-toppers in this niche with an average BSR of 201,768.

The prices in this market are very similar to autumn puzzle books:
Lowest Price – $3.60
Highest Price – $9.99
Average Price – $7.05
This signals that your royalties per sale will likely be nearly identical.
Looking at the dominating words used for listing title optimization, we uncovered the following:
Kids
Fun
Fall
Cute
Turkeys
Toddlers
Leaves
Pumpkins
Adults
Apples
Preschool
Kindergarten
Right off the bat, we can see that kids' Thanksgiving coloring books prevail. This conclusion is based on the frequency of words like "kids", "toddlers", "preschool", and "kindergarten".
At the same time, words like "cute", "turkeys", "leaves", "pumpkins", and "apples" give food for thought in terms of cover design and coloring elements.
Analyzing the bestsellers, we came across the "Fall and Thanksgiving Coloring Book For Kids: 30 Big and Fun Design: Autumn Leaves, Turkeys, Pumpkins, Apples, Acorns and more! Best Coloring Pages For Kids Ages 4-8." listing. It sells for $5.95 and has a BSR of 29,400, which translates into 314 monthly sales.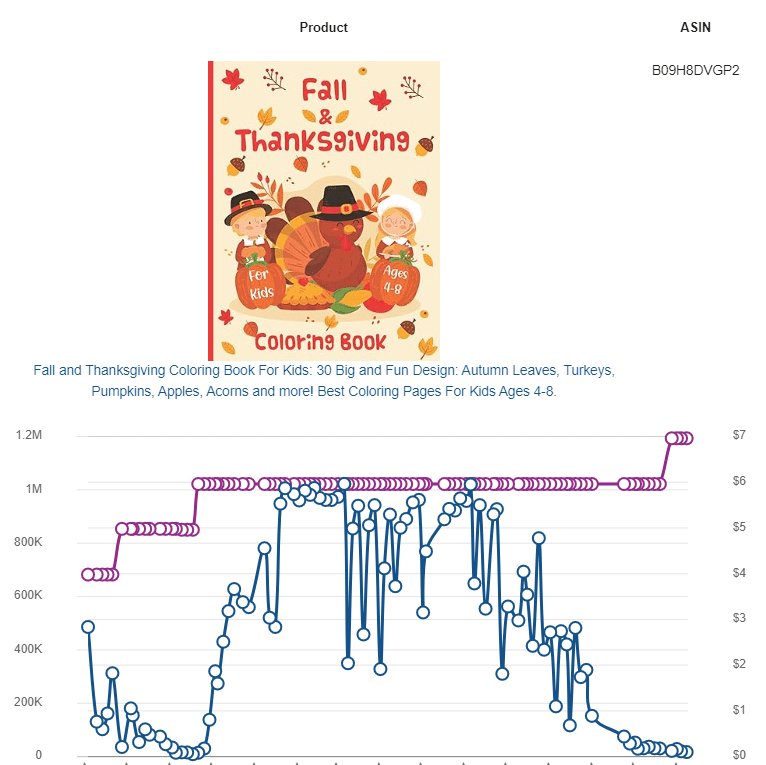 Just like in the other two examples, the seller has taken advantage of trending keywords like "fall", "kids", "fun", "leaves", "turkeys", "pumpkins", and "apples".
Another similarity we discovered is the drop in BSR during the autumn season. This listing's BSR was 12,604 at the start of November 2022. During March 2023, it jumped to 1,020,410 and dramatically dropped to 27,691 at the start of October 2023.
This confirms that Thanksgiving coloring books sell like hotcakes during the fall.
Gratitude journals
The final niche that we identified as a money-maker during this year's autumn season is gratitude journals.
Similarly to puzzle books, gratitude journals deliver big bucks throughout the whole year. However, sales tend to pick up with the approach of autumn, as we'll see below.
Book Bolt displays a total of 203 results in this category, with an average BSR of 270,365.
What's peculiar here is the significant difference between the lowest and highest market prices:
Lowest Price – $1.47
Highest Price – $22.44
Average Price – $8.76
However, the average price in the gratitude journal domain is close to that of the other three niches analyzed in this article.
Therefore, given that you price around this rate, you'll likely accumulate a similar return per sale.
When it comes to prevailing themes and audiences, we identified the following:
Daily
Kids
Women
Prayer
Mindfulness
Positive
Girls
Inspirational
Selfcare
Grateful
Minute
Reflection
Quotes
Affirmations
As expected, women are the prevailing audience in this niche. In addition, words like "prayer", "mindfulness", "positive", "inspirational", and "quotes" reveal top-selling sub-niches worth exploring.
Surprisingly, a look into the most successful listings suggests that creating simple titles with catchy cover designs does the trick in this market.
For example, the "The One-Minute Gratitude Journal" listing is one of the top performers, with a BSR of 6,768 and 431 monthly sales. At $7 (again, close to the market average), this seller is enjoying fruitful returns.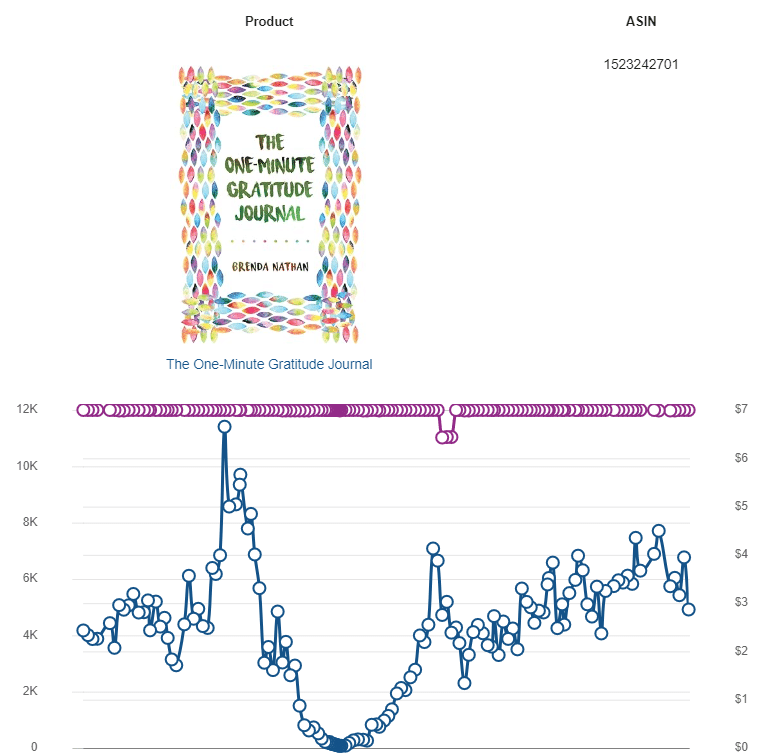 When making a comparison between BSRs over time, we identified another dramatic drop towards the autumn months. Last year, the listing's BSR was 11,407 on September 9 and 808 on November 17.
Just like in all of the other examples above, this confirms our theory that gratitude journals sell best during the fall.
Final thoughts
The autumn season offers exciting opportunities to diversify your portfolio and boost your sales on Amazon KDP.
By tapping into the niches we identified above, you can guarantee solid returns this fall.
Don't forget that the competition is high, regardless of the season. Make sure to use Book Bolt to make data-backed decisions that will guide you to profitability.