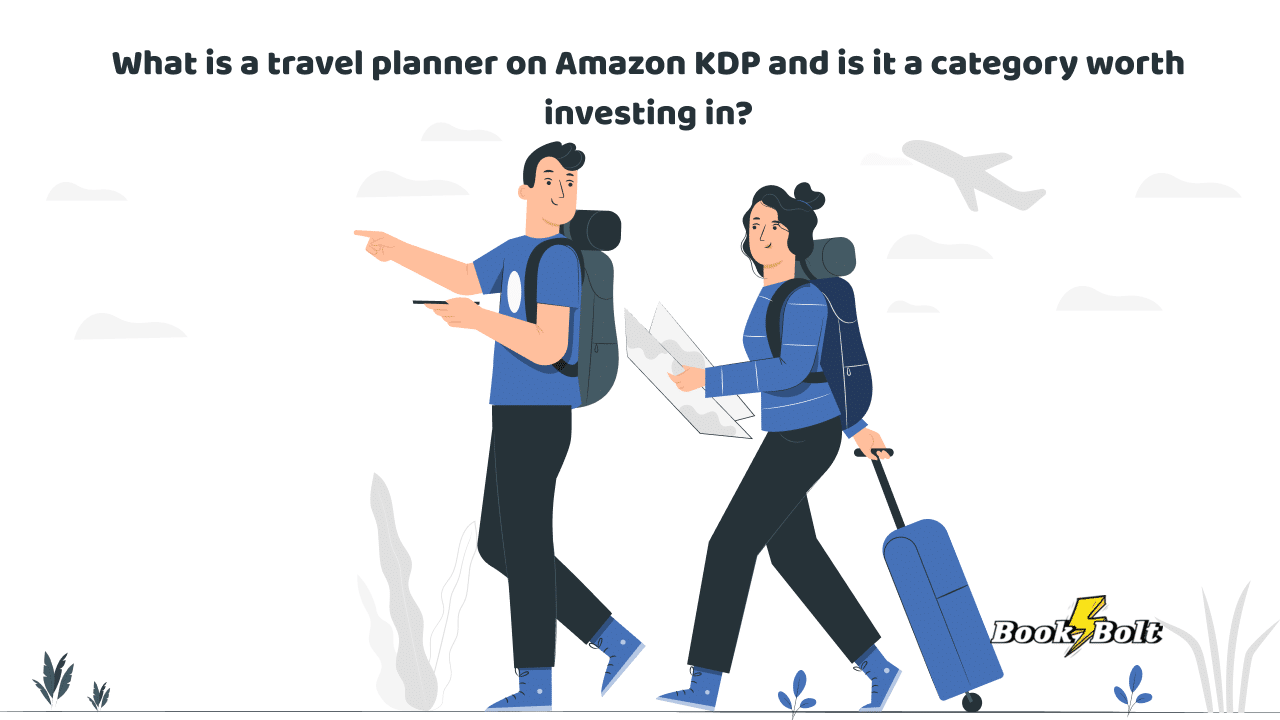 After a long time of global travel restrictions, the world is once again embracing the joy of travel. And what better way to make the most of your trip and stay organized than using a travel planner?
Through itineraries, checklists, and a whole lot more, low- and no-content travel planners on Amazon KDP can make one's journey more seamless than ever.
In this article, we explore the market for travel planners in detail and conclude that it's a category worth investing in.
Here are all the reasons why.
What is a travel planner?
Before we dive into the sauce, it's worth taking the time to describe all that a travel planner is. This will shed light on all of the creative opportunities sellers have to design the ultimate solution for consumer demand.
A travel planner is your artistic cartographer, sculpting a personalized symphony of destinations, accommodations, and adventures into a harmonious journey. It's the mastermind behind your unforgettable escapades, intricately weaving moments of discovery and joy.
Some of the most popular features of this product include:
Custom itineraries
Accommodation selection
Activity curation
Local insights
Budget management
And more.
How big is the market for travel planners?
From an initial glance at market insights, we can see that travel planners are unquestionably a tempting segment.
Why? Because the top five bestsellers in the niche are making combined monthly sales of over 660.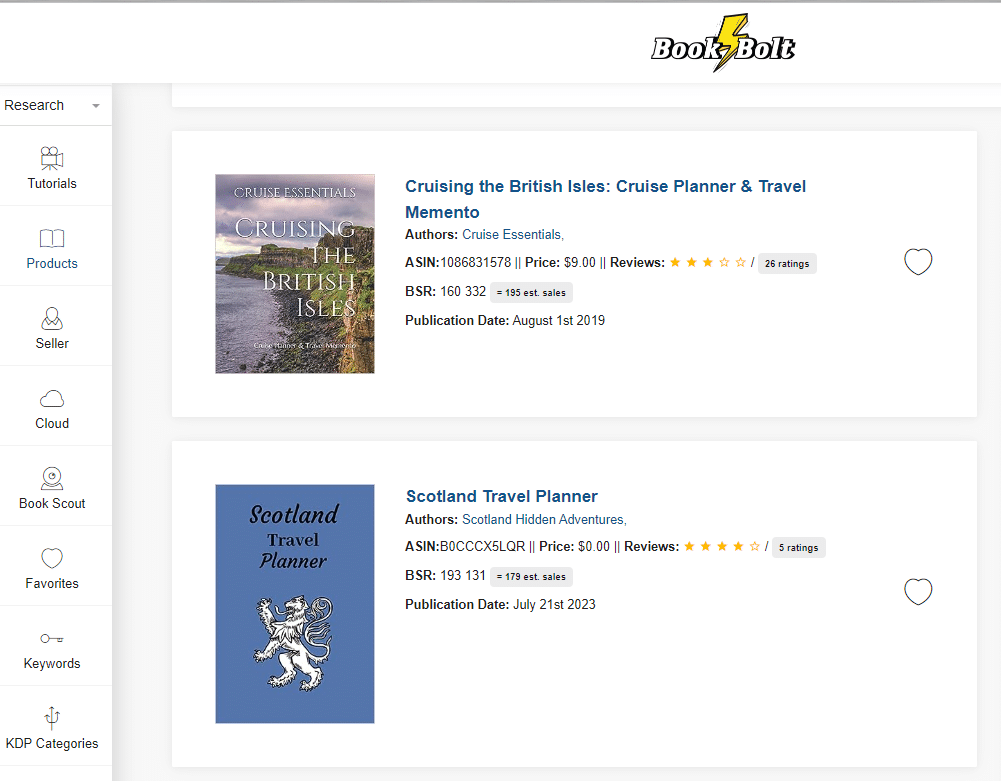 Plus, the average best-seller's rank (BSR) of all listings in the space is 2,327,779. Although this number seems high at first, it represents hundreds of items.
A more granular view uncovers that there is significant sales potential to be exploited.
We deepened our research by utilizing Book Bolt's Products Search module. This feature helped us determine the buyers' search volumes, sellers' keyword saturation, and average prices in this niche.
Here's what we found.
Keywords and search volume
Analyzing around 50 of the top-searched keywords that resonate with the travel planner audience, we pinpointed the essential words in this niche.
These phrases should be a staple in your listing optimization strategy as they receive a high search volume, resulting in serious chances of landing sales.
Here are our keyword discoveries along with their search volumes:
"Travel": search volume – 2,620,000
"Travels": search volume – 211,819
"For travelers": search volume – 7,903
"For traveling": search volume – 7,757
"For travel": search volume – 5,848
"Travelling": search volume – 3,467
"Travellers": search volume – 3,401
There are a couple of things that we can deduce from this data.
First, there is an immense demand for the seed keyword "travel", with over two million monthly searches.
Second, it's critical to make a distinction between the UK and US English writing conventions. By comparing "travelling" and "traveling," it becomes evident that both are garnering significant search volumes.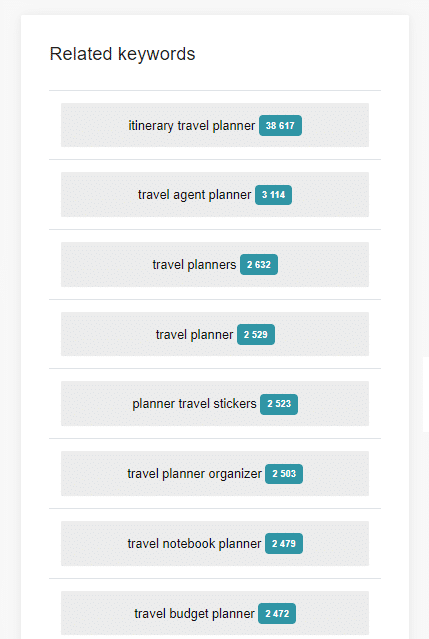 Overall, the total search volume in this niche goes up into the thousands. This is a clear sign that there is serious buyer intent here.
As such, we can conclude that this is a niche worth investing in.
Keyword saturation
Next, we looked at keyword saturation. This relates to the number of times certain keywords appear in seller titles on Amazon KDP.
Once more, we employed the assistance of Book Bolt to aid us in deciphering the type of phrases that prosperous sellers are focusing on within the category.
Below are the main results, grouped by themes:
Type of no-content book: travel (136), planner (122), book (23), notebook (22), organizer (18), log (17), record (8), logbook (6), tracker (6)
Adjacent keywords: trip (36), guide (28), list (26), vacation (26), bucket (20), budget (20), itinerary (19), adventure (18), traveling (12), plan (12), destination (8), checklist (8), trips (7), planning (7), notes (5), memento (5), memories (4), destinations (4), checklists (4)
Audience: travelers (16), agent (16), women (10), family (9), client (9), men (8), agents (4)
Locations: Italy (12)
Types of trips: cruise (12), road (7), camping (6), van (5), parks (4), cruising (4)
This list brings us to more conclusions.
The first one is that sellers aren't always using the term "travel planner" to get in front of an audience. They also use words like "notebook", "organizer", "logbook", and even "tracker".
Keywords that are associated with traveling are also included to help customers receive a more detailed overview of the book's purpose.
Another conclusion is that while the main audience is travelers, it's not the only one. Travel agents may also purchase these books to help their clients better plan their trips.
Moreover, it's essential to consider the wide variety of trip types, including cruises, camping, and others. Such keywords can further help strengthen the listing and make it more visible to shoppers.
Finally, in terms of locations, it's unpopular to specify countries or regions in listing titles. The research shows that only one seller has indicated that their travel planner is specifically designed for Italy.
Pricing
Next, our analysis delves into the spectrum of lowest, highest, and mean prices attributed to travel planners.
Here is a breakdown of the rates in this niche:
Lowest price: $4.99
Highest price: $20.00
Average price: $8.77

According to the data, the majority of sellers ask for somewhere around $9 for a travel planner. This will help you identify the earning potential of this category by calculating per-sale royalties.
What are some of the best-selling merchants doing right?
What are others in the space doing to attract sales?
Putting theoretical concepts into practice, we explore two bestsellers' listings on Amazon KDP with Book Bolt.
Below is a brief introduction to each seller and a breakdown of their sales strategy and listing optimization process.
Seller 1
Title: Travel Planner Workbook
Authors: CRW Designs
Price: $12.99
BSR: 203,188
Sales: 166
Seller 2
Title: Travel Planner: 14-day vacation organizer
Authors: Ilene Modica
Price: $6.49
BSR: 200,676
Sales: 166
Keyword usage
When it comes to keywords, both sellers rely on short and simple titles. They also feature the words "travel planner".
However, one calls their planner a "workbook", which doesn't get a high search volume. On the other hand, the other refers to their product as a "14-day vacation organizer".
These sellers are targeting the right keyword in their titles, which pays off with impressive sales.
Although the titles can be enriched with many other keywords, their current version still fulfils the purpose and function of accurately describing these no-content book products.
Pricing
Analyzing the numbers, it quickly becomes apparent that there is a drastic difference in terms of the pricing strategies used by the two bestsellers.
Whereas seller one prices at $12.99, which is higher than the average, the second seller asks for a price below the average ($6.49).
Later on in this article, we explain which seller's pricing strategy is more effective.
Cover design
Traveling is about unearthing foreign lands. And the cover designs of both sellers captures this excitement by featuring maps, magnifying glasses, cameras, hats, and more, expressing what travel is all about.
The titles and cover designs of these no-content travel planners are in perfect symbiosis, both approached with professionalism.
What is the profitability of this niche?
We now reach the most interesting aspect of our market research – profitability.
Looking at Amazon KDP's royalties calculator, we were able to determine the earnings of both sellers.
This sheds light on which of the two pricing strategies is more effective.
Seller 1
Price: $12.99
Sales: 166
Profits: $911.34
Seller 2
Price: $6.49
Sales: 166
Profits: $263.94
Naturally, the closer a seller charges to the average, the more profits they are likely to earn.
This is made evident in the dramatic difference in profitability between seller one and seller two. While seller one is earning nearly $1,000 for their book, seller two is barely making $300.
This all boils down to the selected pricing strategy. In a nutshell, pricing around the average is strongly recommended for this niche.
Our recommendations
Following a top performer's strategy on Amazon KDP is vital. It can help you save time and effort by testing unproven techniques.
To help you tap into the travel planner space, we've extracted the most worthwhile practices from the two bestsellers above.
The following tips will empower you to carve out your own strategy and reach sky-high sales.
Keywords: Make sure you target high-search-volume keywords in your listing title. The word "travel" is a must as it gets over two million searches. Combining this with the type of book (such as "planner", "organizer", "tracker", or "logbook") in the title is another essential best practice. It helps the audience understand what they're getting and makes it easier for shoppers to find your product. In addition, despite the two bestsellers above using very short titles, make the most of the space for listing headings that Amazon offers. Add words such as "vacation" or "trip" and the travel experience type, like "flight", "cruise", or even "camping".
Pricing: There are few better examples of the need for a solid pricing strategy than the two bestsellers examined earlier. In their case, they both sold approximately 166 books but the difference in terms of profitability is in the range of $500. This significant range underscores the necessity of strategically pricing your no-content book to prevent substantial losses or underwhelming financial outcomes. It is imperative to align your pricing closely with the average of $8.50 to mitigate these risks.
Cover design: While your cover design can be as creative as you want, it's worth considering the specifics of the niche. In this case, the audience mostly consists of adults who are planning a trip for others or themselves. This means that you'll need to cater to their needs and grab attention with the right theme. For this purpose, use maps, binoculars, hats and other travel-related items, and present them in an aesthetically pleasing manner.
Final remarks
In summary, the travel planner niche has the potential to earn you nearly $1,000 in monthly profits. However, you need the right pricing, title, and cover design strategy to achieve this.
And nowhere is studying the competition and making all the right choices made easier or more accessible than on Book Bolt.
At a monthly subscription of only $9.99, it's an incredible bargain that can help you up your sales and perform well in your Amazon KDP side gig.