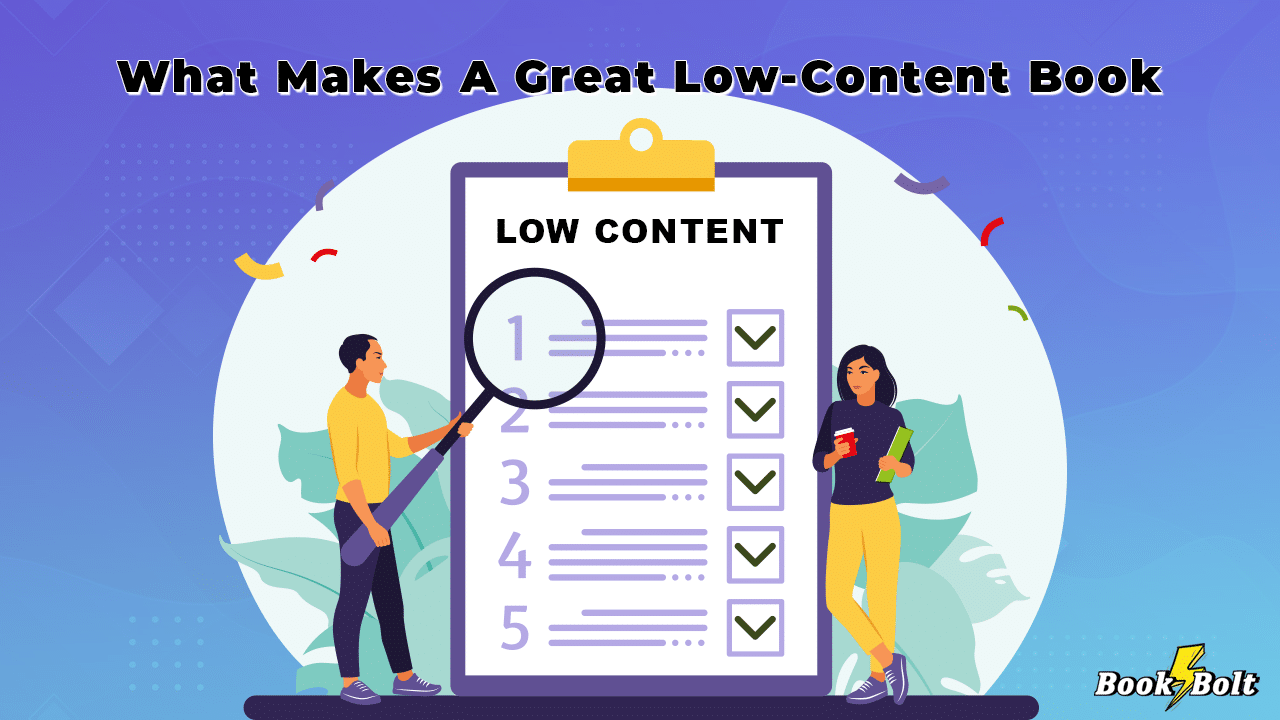 Perhaps you've dabbled in some low-content book publishing, dipping your toes in to test the waters? Smart move. But now that you've got a taste of it, do you find yourself lost like a ship at sea wondering where to begin and how to make your passive income business a success?
Here, we present the ultimate low-content book checklist to ensure you make the most out of your time and resources. Don't worry, they're simple tips to implement. The important thing is to follow them.
Ready? Let's go.
Key Elements Of A Great Low-Content Book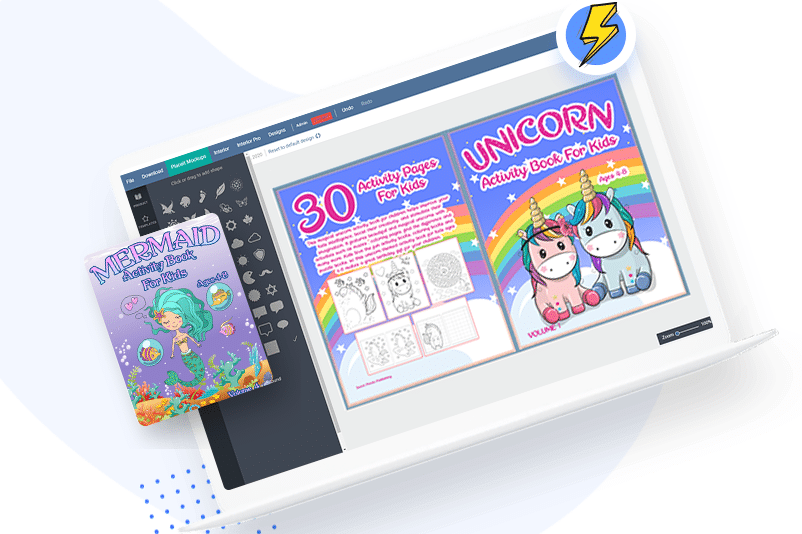 Although there are millions of low-content books on Amazon KDP, some of the most successful ones share similar features and implement strategies that have proven to be successful. Here are the most important ones:
Page numbers: When it comes to the size of your low-content book, try not to go beyond 200 pages. Doing so will make the spine larger and the physical low content book will be harder to work with and use.
Here's a caveat though. Giant notebooks usually go over 400 pages, but the size of the book itself is large, which means that the spine can accommodate the pages. So, it would be handy to keep this in mind.
Prices: This can be a tricky one. On the one hand, customers are unlikely to go for a low-content book that's priced higher than the average simply because of all the competition out there. But that's not to say that cheaply priced books will be purchased simply because of the low price. The opposite is actually true – customers view books that are on the cheaper scale as being of low quality. So, ideally, what you should be doing is not pricing higher than the average. And once again, there's an exception; prices for special events like weddings, which tend to occur once in a lifetime, can be priced a bit higher. People are expected to pay more money for wedding-related items.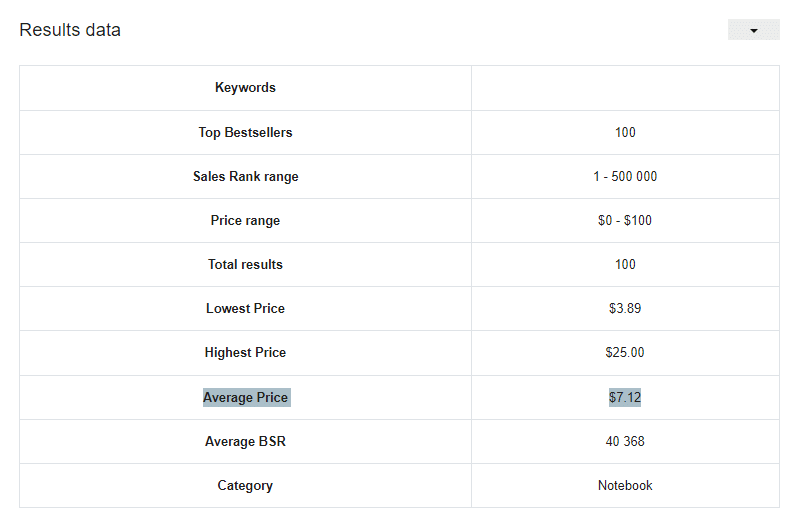 Interior and exterior quality: Let's start with the interior. You need to use the right interiors, graphics, fonts, and even jargon when creating your low-content book. As for the exterior, go for unusual or striking covers. Be original and even humorous to attract attention. One of the worst mistakes to make is to attack a niche with a generic cover. This is a big no-no. How can you overcome this? Well, think about different design ideas, motifs, themes, and "hooks" that might interest your audience. Since the book cover will give the customer their first impression, it has to look good. Consider 5 to 10 layout options and play around with them.
Think about the main elements that you want to use – the title, subtitle, and images. Experiment with design hierarchy, meaning, which element stands out first to your audience followed by the remaining elements. Remember that you need to use high quality images. For photography, you'll need a minimum of 300 dpi. As for fonts, choose high quality, time-tested fonts and you won't go wrong. Look at classic font pairings or fonts that contrast each other such as sans serif with a serif font. Aim for more harmony and less tension.

Finally, make sure that the front, back, and spine of the book are created as a single file. And once this is done, be sure to print the cover at home to get a real sense of what it will ultimately look like when it's actually printed and shipped to customers.
Keywords: Keywords are primarily used for getting traffic and rankings. Keywords will appear in the title and subtitle of the book as well as in the seven keyword boxes on Amazon (Amazon KDP). There's a double benefit in looking at Amazon's suggested keywords: they help to see what people are actually searching for, or give an idea of user intent, and help act as a shortcut to a user's search.
Typing in a keyword in the search results can give you an idea of the competition for a particular keyword – the lower the number, the better. Why? Because it means there's less competition out there. If you're on the fence about a particular keyword and it appears on Google's first page and on Amazon, then try to favor that keyword and use it. Also important: don't stuff keywords in the title, generate keyword strings, and remember – longer-tailed keywords work best.
Tips And Tricks For Low-Content Books
It goes without saying that there are tips and tricks of the low-content book trade; it's just a matter of hunting them down. To make it easy for you, we've prepared some of the key things to focus on when preparing low-content books. These will help you get in the game, stay in it, and excel.
Niche down: You'll hear this over and over again when it comes to low-content Amazon KDP but it's something essential: niche down as much as possible. The market does seem saturated, yes, but there are some underserved niches to get into. Research is required for this and it will help you get good ideas, especially if you're feeling completely blank or stuck in a rut. Some ideas here: look at average BSR's because these move every hour; look for cult followings like Japanese Kawaii designs; drill into sub-niches; check out synonyms of words to describe your book. And finally, get to know your target audience. The more you know them, the better and more appropriate lingo you'll use to target them.

Pin the timing down just right: The question of whether you can sell all-year-round or on holidays and special days only is an important one to tackle. The ultimate answer is that it depends on your low-content book and who you're ultimately targeting. One interesting fact is that people start buying planners for the following year as early as September. This is why although the idea-to-product can take place in less than 24 hours, you need to have a clear vision of where you're taking your low-content book and when to ensure it is relevant.  
Stay ahead with complaints and reviews: Make sure you're reading these for several reasons. Firstly, the complaints will help indicate areas where you can improve low-content book offerings, whereas positive reviews will show you what strategy a successful Seller is following. Complaints and reviews are also a great indicator of a Seller's history and seller authority, especially with higher numbers of reviews written about your competitor's products.

Don't run ahead with marketing just yet: Remember that Amazon spreads the word about your books and markets aggressively if you do well. This is why it's suggested that you invest in ads when you want to amplify your existing success, and not try to get success out of thin air. This means doing your research beforehand and getting your book ready for the market.
Master your mindset: When you start with low-content book publishing, it might be easy for you to give up quickly if you don't see less than stellar results after the first or second book you've published. This is where the importance of mindset kicks in. As the great Greek philosopher Socrates once said, "know thyself". You need to know what you're good at, what your strengths are, as well as have clear goals to work towards. Don't get overwhelmed by those that are selling many books. Focus on the low-hanging fruit. Set income goals.
Here is an interesting fact to hammer home that notion: those who claim to make money on Amazon KDP usually have thousands of books but only around 10% to 20% of these sell. The key takeaway? It takes time for the momentum to build. So, be sure your head is in the right place from the beginning, while setting clear expectations for yourself.
Wrapping Up
There are many opportunities to break fresh ground and sell low-content books like hot cakes. You simply need to dig down into what's working and what isn't.
Here is a quick rundown:
First, focus on the niches and sub-niches, the low-hanging fruit.
Then, make sure you provide a compelling enough cover design that has the appropriate hierarchy of elements.
Next up, price your low-content book effectively. Remember that too low or too high is a mistake.
And most importantly, set your mind on it and give it your all. Low-content book publishing is a marathon, not a sprint.