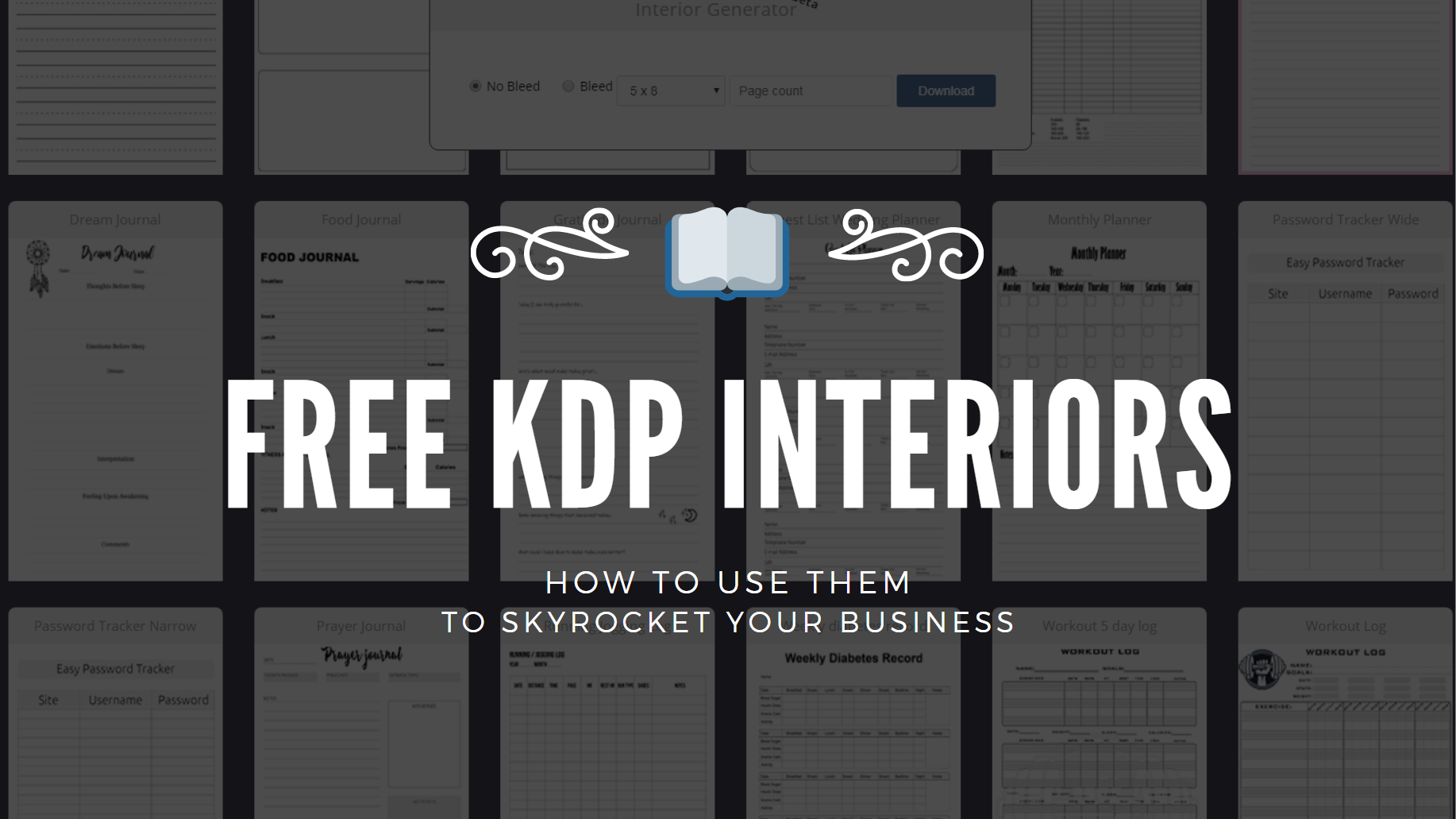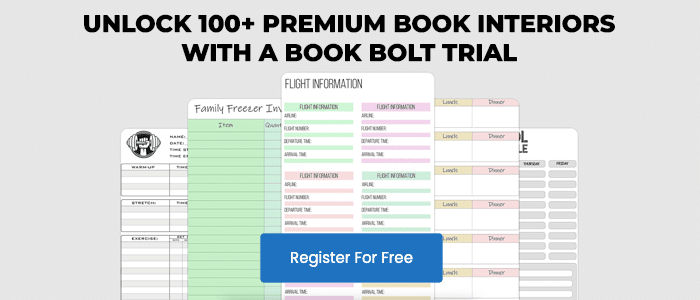 When it comes to uploading low content books to KDP (Kindle Direct Publishing) there are two ways to differentiate yourself in a sea of books on Amazon. You can either have different covers for your books (in any kind of niche you can imagine), or you can niche down via your interiors.
You can also combine both of these for some really unique products that you can put up on Amazon without ever touching the product and get paid every time someone buys them.
But today, I want to talk to you all about interiors, and how these can be used to blow up your KDP print on demand business with the right research and execution.
Let's get into it!
The "Easy" Path In KDP Print on Demand
I am willing to bet when you heard about jumping into KDP and selling low content books on Amazon, you heard EVERYONE talking about journals and notebooks.
All journals and notebooks are are lined PDFs for the interior. Anyone can create lined pages with a multitude of tools available with a few minutes of work. These require almost zero effort and you are left differentiating your business against other sellers on your cover.
With the release of the Book Bolt Mass Cover Converter, pumping out all your covers became as easy as clicking a single button. This made the entire process of getting your lined page books up and selling fairly quick.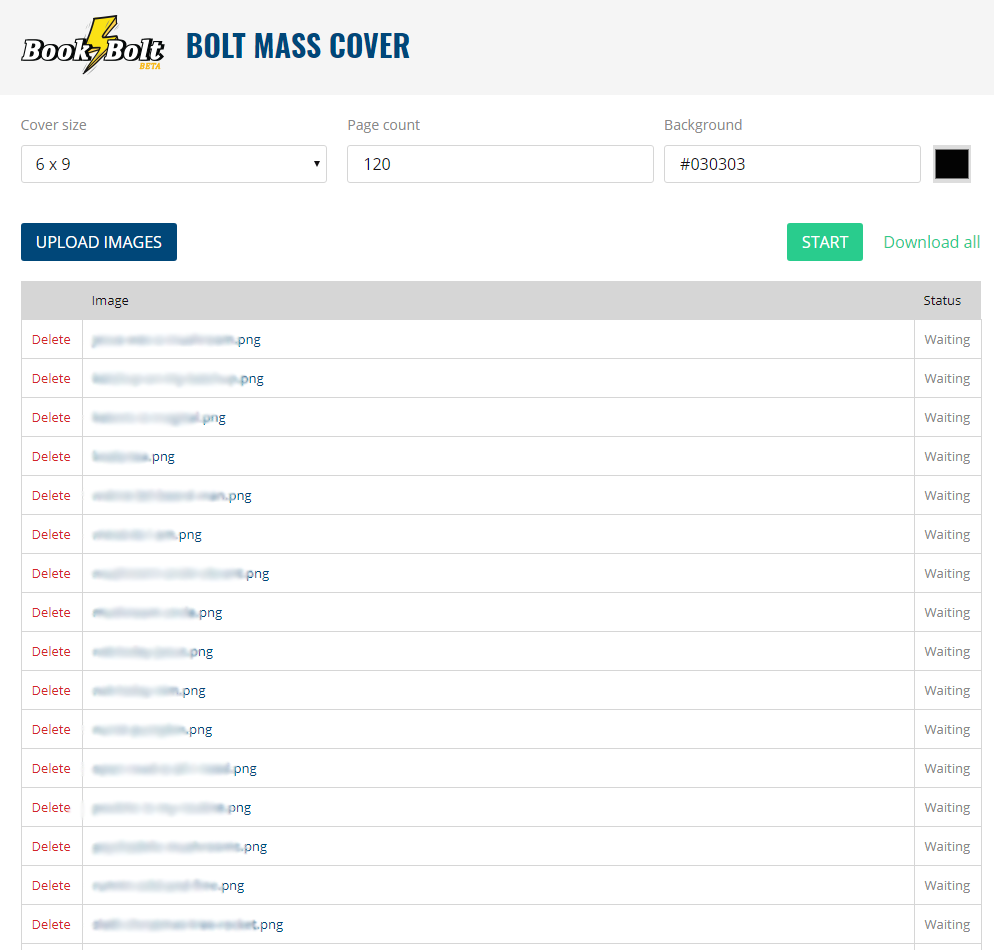 The only issue is…
That is all everyone was doing! The only thing you had over other sellers is that you have a different cover with art you probably were using on shirts on Merch by Amazon. What takes time and effort and that other sellers were NOT doing, was custom interiors!
The fact is, many of the low content book creators who have been around for years are not part of the Facebook Groups or read this blog so they are sticking with the same old lined notebook and journal pages.
We decided to change the game and make it easier for you to expand your business!
Free KDP Interiors – Book Bolt Interior Wizard
When Book Bolt started, we offered 5 different interiors: blank, college ruled, journal, wide ruled, and music sheets. These were just lined pages, and served the audience well.
However, it soon became apparent that if we were going to help people grow their businesses, we had to provide a way for people to scale up quickly by creating much more complicated interiors for their books. After all, no one else selling low content books on KDP was going much outside of the lined pages.
If low content KDP sellers had a way to quickly expand their catalog to people who WANTED different products and were willing to pay, it could open up a brand new market.
So we set out to build a dynamic interior generator which will automatically scale out interiors to any size book you are uploading to KDP and put in the work so that sellers could benefit. We decided to give this all away for free!
Book Bolt Interior Wizard
The Book Bolt Interior Wizard got a MAJOR facelift and is completely free. You can get to this resources by going to the resources tab in the top menu, and clicking on the interior wizard button: https://designer.bookbolt.io/interior-generator.php.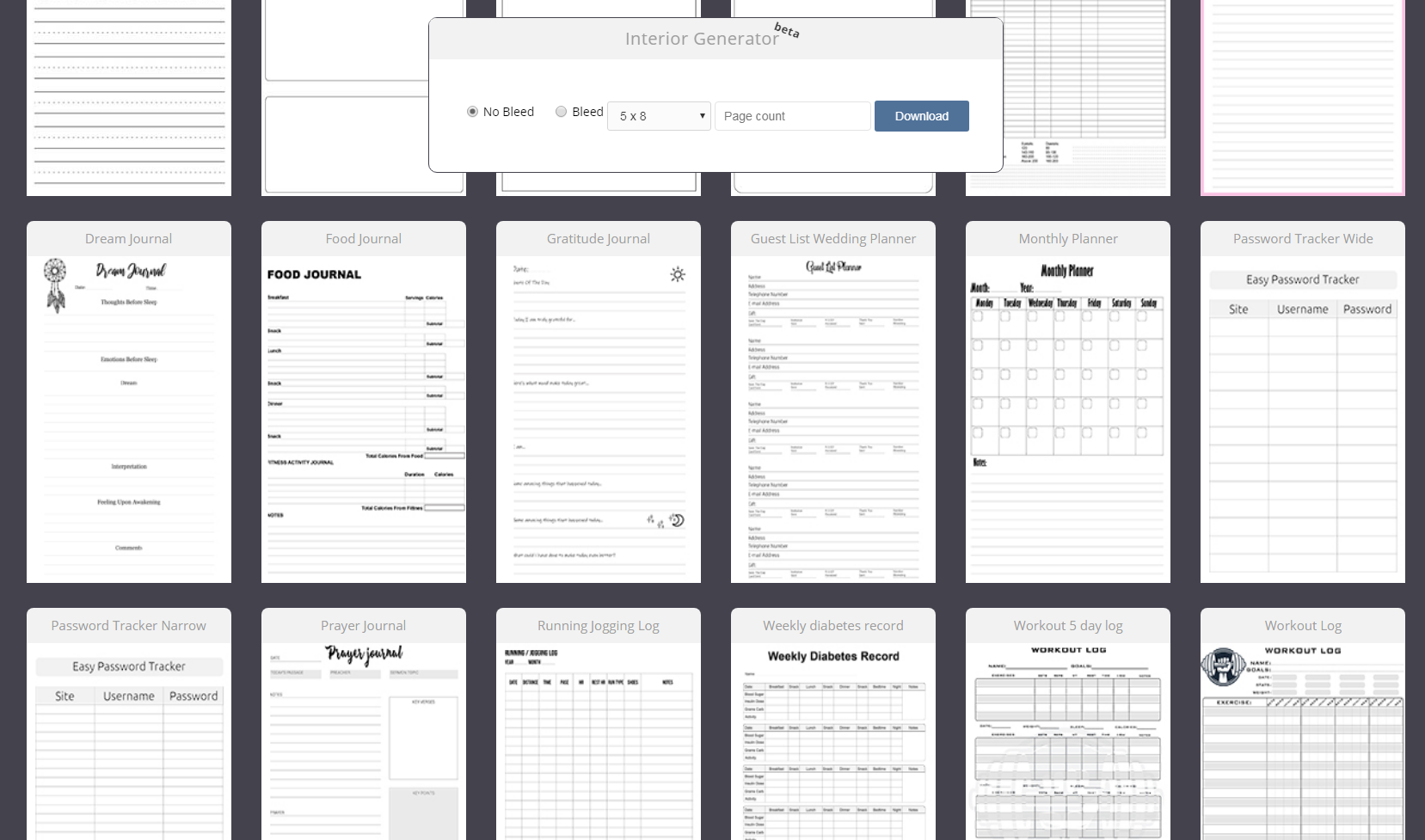 All of these templates are a lot more complicated than just your simple lined journals and notebooks that everyone is used to creating.
To use the generator, simply select bleed or no bleed (I always select bleed), select the size of book you want to create, and the page count. After you have filled in the specifications box, select a template and then click on download!
Your PDF will open up in a new tab which you can download to your computer and upload straight away to KDP without doing ANY design work or wasting hours trying to come up with your own unique interiors yourself.
Currently the interior wizard offers 48 templates (and we plan add about 10 per month to this resource):
Blank (with page numbers)
College Ruled
Journal
Music Sheet
Wide Ruled
Recipe Book
Scuba Diving Journal
Hexagon Paper Large
Hexagon Paper Small
Fishing Log Book
Dot Graph Paper
Comic Book #1
Comic Book #2
Graph Paper 1cm
Graph Paper 4X4
Graph Paper 5X5
Graph Paper 1cm/0.5cm
Guitar Tabs
Mileage Log
Polar Coordinate Paper
Personal Expense Tracker
Pitman
1/2 Picture 1/2 Wide Ruled
1/2 Picture 1/2 College Ruled
1/2 Graph 4×4 1/2 College Ruled
1/2 Graph 5×5 1/2 College Ruled
1/2 Graph 4×4 1/2 Wide Ruled
1/2 Graph 5×5 1/2 Wide Ruled
1/2 Picture 1/2 Graph 4×4
1/2 Picture 1/2 Graph 5×5
Hand Writing Paper
Storyboard
Sketch Book #1
Sketch Book #2
Blood Pressure Log
Blush Notes
Dream Journal
Food Journal
Gratitude Journal
Guest List Wedding Planner
Monthly Planner
Password Tracker Wide
Password Tracker Narrow
Prayer Journal
Running Jogging Log
Weekly Diabetes Record
Workout 5 Day Log
Workout Log
As you can see, this list is extensive and will only get bigger over time!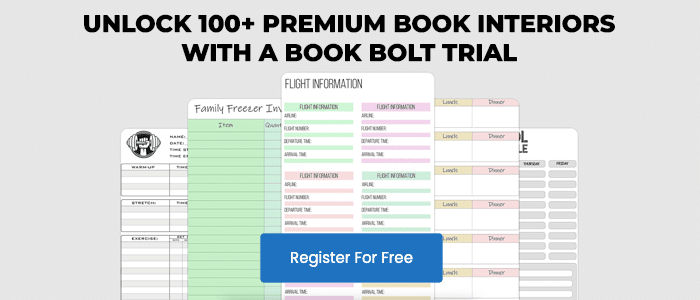 How to Use These KDP Interiors In Your Business
At first glance, it would be really easy to simply take these interiors, grab your covers, and upload them the way they are.
After all, if you had 1,000 covers, using all of these interiors, you would have 48,000 books up for sale on Amazon!
…that may not be the best idea though! You want to make sure you are doing your research.
Take a look at the Guest List Wedding Planner. These of course could be used for any type of wedding planner, but it is primarily a guest list that involves gifts given: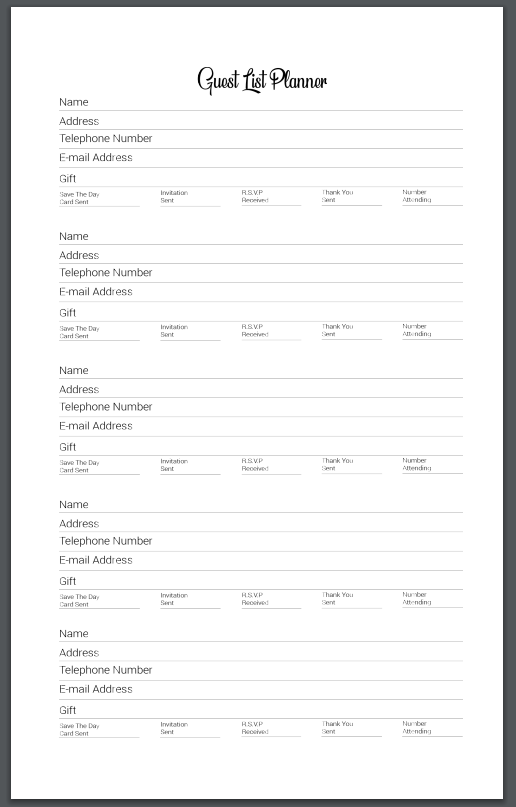 So instead of just putting up a wedding guest list planner right away, think to yourself, how else can this be used?
The first thing I did was check out other type of parties where people give gifts. The first thing I checked was "baby showers":

This has a LOT of results, so this is something I do not want to go into right now.
Let's check out engagement parties!

This is a LOT better. There are only a few hundred results, and would fit perfectly with our interior guest list!
The next thing you would do is head over to the keyword tool inside of Book Bolt and check out what keywords you could fit into your book (backend keywords as well as fit into the subtitle when you upload to KDP).
These can all be used when uploading to make sure you are ranking for the right keywords. You can read about how that works here:
What jumped out to me right away was ANOTHER way to use this interior: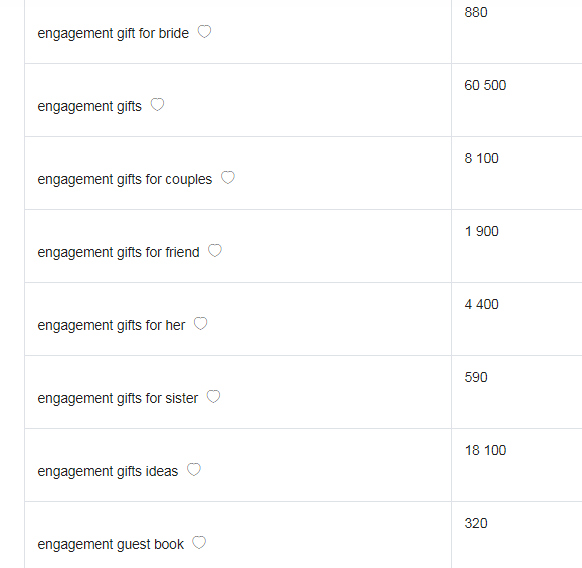 See that first keyword up there: "engagement gift for bride"?
You could upload this interior as a wedding guest list like it is labeled. There are a LOT of wedding guest lists already up on Amazon though I can hear you say.
Well, you then use the keyword "engagement gift for bride" in your back end keywords or in the subtitle of your wedding guest list book you put up. After all, people who get engaged are….going to get married. More than likely, the bride will be the one keeping track of the guest list and gifts received so these could work hand in hand to get your book ranked on Amazon!
Wrapping It Up
The interiors that are provided in the Book Bolt Interior Wizard are not a magic bullet. You will need to put in the work and do some research on how to best use these like we laid out above. However, if you put in the work, you will soon see there are a LOT of angles you can take with these interiors to grow your KDP business. Each interior can have multiple uses, and it makes the entire process so much easier to not have to create all of these by hand.
If you want to get even more advanced, you can download these interiors and even edit them to make your own personal touches that someone might be looking to purchase from Amazon. That is an article for another day though!
Good luck growing your KDP print on demand business!