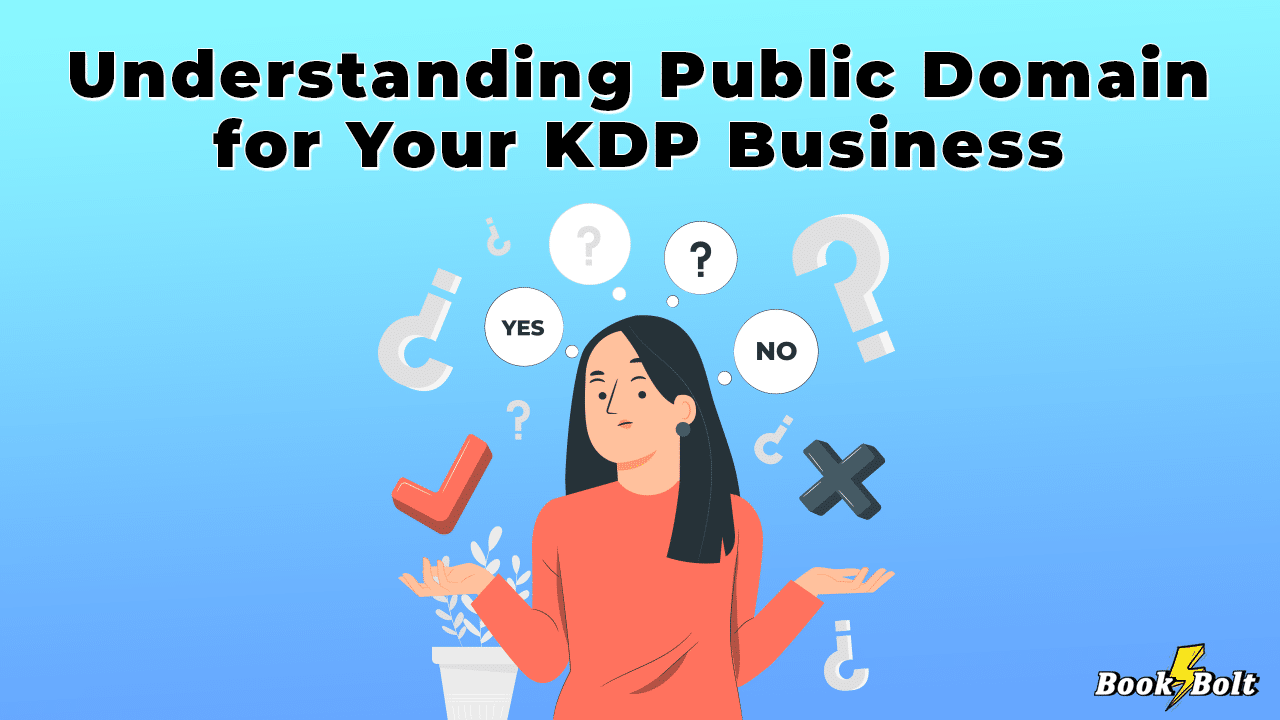 Note: This is a guest post from our friend Kyle over at EZ Pub Profits. We asked him to share his knowledge and experience in a value packed article taking a deep dive into copyright, public domain, royalty free, and creative commons which is CRUCIAL for your KDP business. He delivered and there is something we can all learn in the article below!
Copyright. Public Domain. Royalty Free. Creative Commons. 
As a low-content book publisher, you have no doubt come across these terms. Probably when searching for designs, images, or illustrations for your book covers and interiors. But, what do these terms actually mean?
If you have ever been confused about copyrights, what creative works you are allowed to use, or where to find free downloadable design resources, then this article is for you.
What is a Copyright?
When you create an original work – e.g., a book, a painting, a movie, a sound recording – you are granted an exclusive legal right to reproduce, publish, or sell your work. This is called a "copyright" because, well, you are granted the right to make copies and sell them.
Copyrights are subject to a time limit; in the United States, they generally expire 70 years after the author's death or 95 years after publication. Thus, in the United States, all works published before January 1, 1926, are in the public domain.
What is The Public Domain?
Once a creative work enters the public domain it becomes "copyright free" and so is free for all to use and build upon for any purpose (including commercial) with no attribution necessary.
For example, this wonderful lithograph, A Stag at Sharky's, by George Bellows is in the public domain: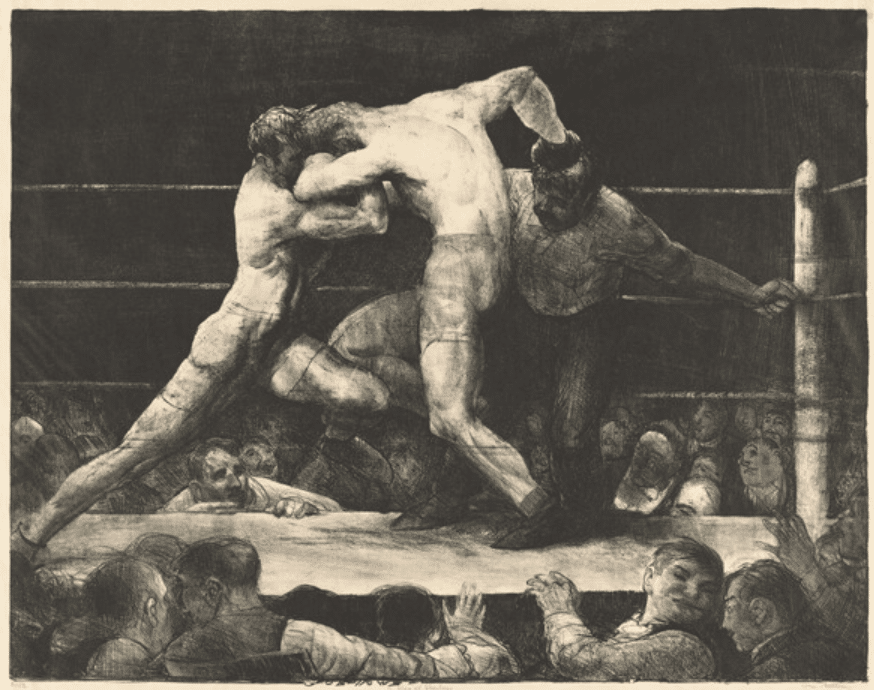 This means I could make it the cover of my fitness journal (for example) and sell it without having to pay anyone or even credit where it came from. I could even write "George Bellows is the worst and boxing is dumb" in large letters over the image and still sell it freely.
There are a few ways creative works enter the public domain. The first, is just by being OLD, as already noted. In the US, copyrights generally expire 70 years after the author's death or 95 years after publication (the George Bellows lithograph was created in 1917).
Creators can also explicitly waive their copyright when they create a work. This is often done with the Creative Commons CC0 license, which was designed as an easy, modern way to dedicate a work to the public domain. More on this later.
Finally, some works automatically enter the Public Domain by virtue of their origin. Most notably, in the US, works created by federal employees are automatically in the public domain. This includes:
Pamphlets
Documents
Maps
Images
Reports and Studies
For instance, this includes all the incredible imagery from the folks at NASA. rawpixel.com has a nice curated set: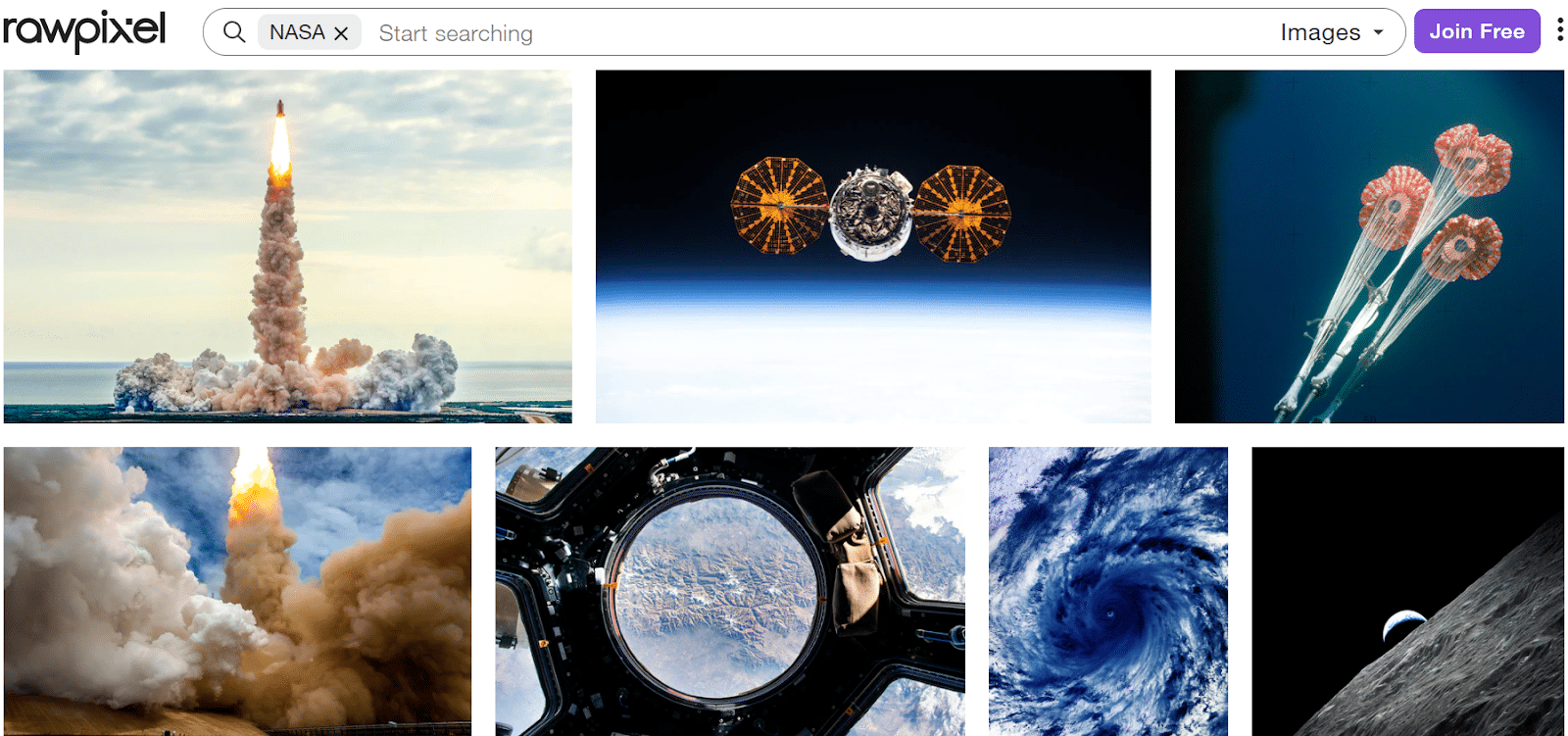 What is Royalty Free? 
A creative work is "royalty free" if it is free from royalties, meaning you can use it as many times as you like without having to make a payment for each use.
This is not the same as public domain since royalty-free work is typically still under copyright and you will often make a one-time payment to secure usage rights. This is how most stock-imagery websites work – you pay once and then are free to use the work as much as you like.
However, many stock websites provide free royalty-free imagery, meaning you don't have to make any payments at all. But, since the designs on these sites are still under copyright, they are provided with a special license that specifies what usage is allowed.
The key thing to watch out for is the language they use in these licenses.
If a stock website does not explicitly state that the images are in the Public Domain or under the CC0 license, then you should check the license to see what usage is allowed. 
For example, the stock image site Unsplash states that they have "freely usable images." This does not say "public domain" or "CC0" so you should check the details of the Unsplash license.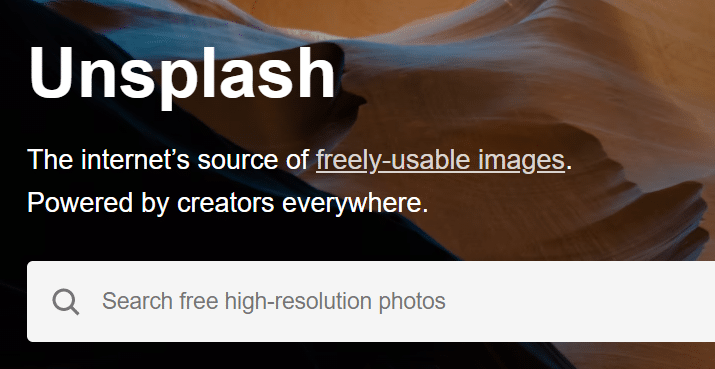 Similarly, Vecteezy states that they have "Free vector art, stock photos and stock videos." Again, they don't use the words "public domain" or "CC0" license, so you should check the Vecteezy license for what usage is allowed.
Compare this to the site that specializes in public domain images like stocksnap. Their site states specifically that they use "CC0 images, free from copyright restrictions."
Example Royalty Free Licenses
Let's look a couple of royalty-free licenses to get a feel for what they look like.
Let's start with Unsplash. I've used their images several times on websites and for book covers, but you have to be careful not to violate the Unsplash license: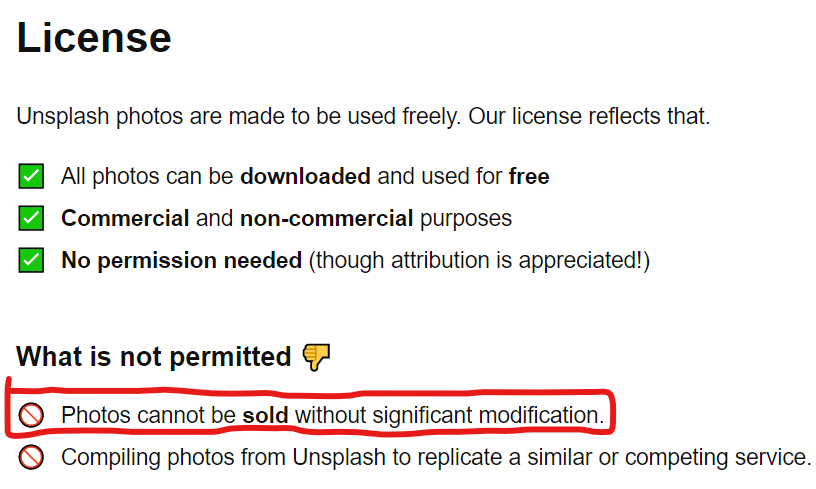 This makes it seem like you can use their images for anything, but the key point is, "Photos cannot be sold without significant modification." At first, it's not clear what this means. But, digging into the FAQs gives some context.
In particular, Unsplash gives these examples of images that have not been modified enough to allow use in products for sale: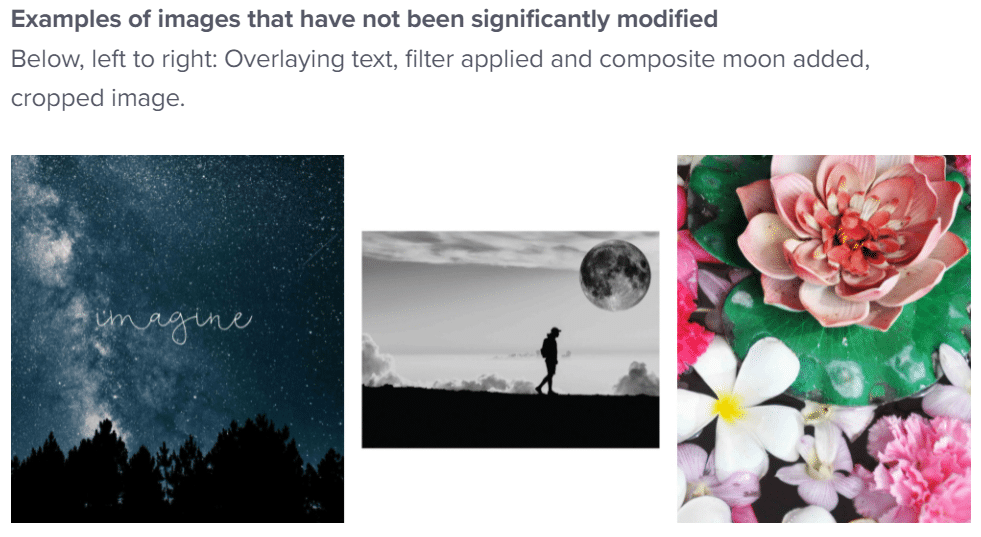 Thus, you couldn't take an image from Unsplash, just add text and make that your book cover. You would need to modify the image to some degree or risk violating the Unsplash license (which I wouldn't recommend). Other popular stock photo sites like Pixabay and Pexels have very similar wording in their licenses.
For a different example, here are some terms from the Vecteezy license: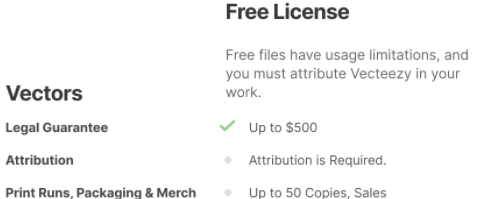 Thus, if you used a free vector image from Vecteezy, then you would need to attribute Vecteezy and, once you sold more than 50 copies (e.g., of your book), then you would need to pay for an upgraded license.
As you can see, royalty-free licenses can vary quite a bit and it's important to check the terms before using imagery from royalty-free websites in your designs.
What is The Creative Commons?
Images in the Public Domain or that show up on royalty-free stock websites aren't the only kinds of images you can use for free.
Indeed, a lot of people take pictures that aren't for stock image websites and they have the option to give their images a license using the Creative Commons framework.
The Creative Commons is just a system for licensing creative work so that creators can easily specify how their work can be re-used.
The simplest CC license is CC0 which is the same thing as Public Domain, or as the CC0 license states, "You can copy, modify, distribute and perform the work, even for commercial purposes, all without asking permission."
The next simplest license is the Creative Commons Attribution (BY) license which allows one to share and remix (create derivative works), even for commercial use, as long as attribution is given.
Of the 7 common CC licenses, we only care about the 4 that allow commercial use (see table from Wikipedia below):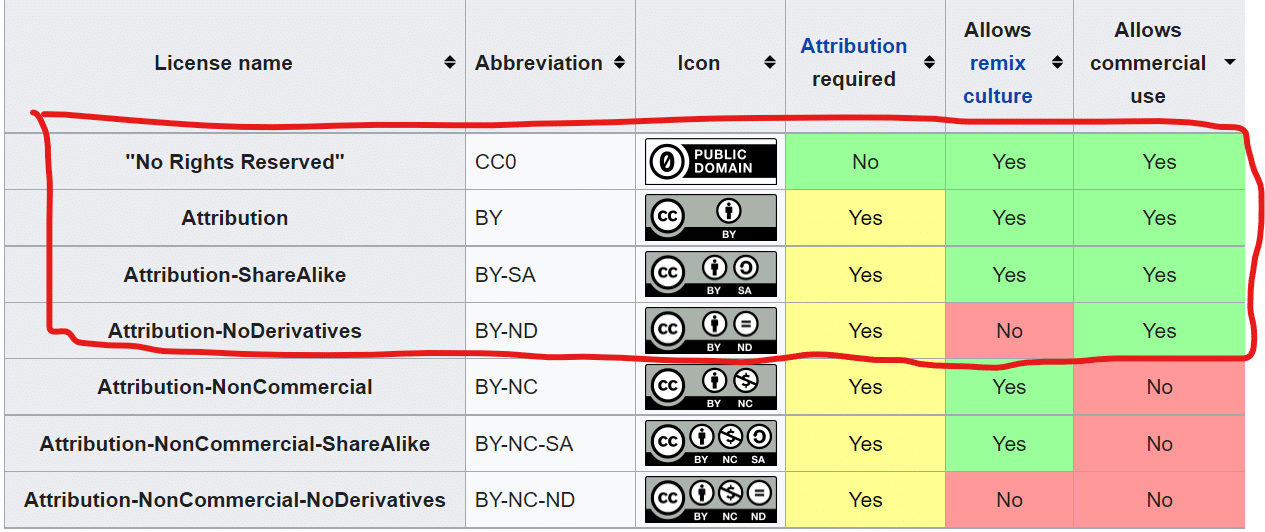 "NoDerivatives" means you can't alter the image in any way.
"ShareAlike" means that, in CC's language, "If you remix, transform, or build upon the material, you must distribute your contributions under the same license as the original."
As I understand it – and I am NOT a lawyer mind you – if you use an image with a ShareAlike license (e.g., in your book), then others can use it in exactly the way you have because your use of the image must also have a ShareAlike license. In theory, I think this means they could potentially copy your book exactly (or, at least the parts of your book that use the image), but I've never come across this issue. If that makes you uncomfortable then avoid CC images with a ShareAlike license.
How to Properly Attribute Creative Commons Images
The biggest difference between Public Domain images and images licensed under the Creative Commons is that you have to give credit to the author for images under any CC license other than CC0, and Creative Commons has a specific way you're supposed to do this.
In print books, it's simply:
"[Image Name]" by [creator] is licensed under CC [license abbreviations] X.0.
[link to source of image]
Where the license abbreviations are:
Attribution only: BY
Attribution + ShareAlike: BY-SA
Attribution + NoDerivatives: BY-ND
It sounds confusing if you've never done it before, but it's actually easy. Let me show you an example and that should make things clear.
Suppose I wanted to include this wonderful image of a tiger in one of my books (say a coffee-table-type book):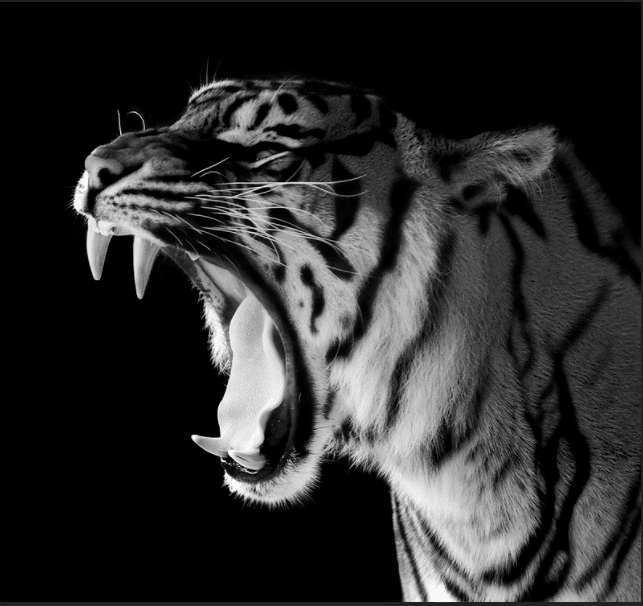 I got this picture from this Flickr page. Below the image, you can see it says "Some rights reserved" with a link.

Clicking on the link takes you to the license for this image:

So, all I have to do to use this image in my book is provide attribution. Following the guidelines above, I would do this as follows:
"My what big teeth you have in Black and White" by Steve Wilson is licensed under CC BY 2.0.
https://www.flickr.com/photos/26811962@N05/15674868358
And that's it! Now I can use this beautiful photo however I want in my book! (I typically provide attributions like this on the last page of my books)
Two Important Caveats When Using Free Imagery
When you download photographs, images, or vectors for use in your POD products, there are two things you should avoid:
Trademarks, logos or brands, since you don't have permission to use someone else's trademarked logo, even in a Public Domain image.
Recognizable images of people since most sites don't collect signed releases from the people in the pictures and you can't sell an image of someone without their permission.
For more details on these points, check out this blog post from friendlystock.com.
Where Do I Find Free Images and Vectors? 
Now that you know about copyrights, the Public Domain, royalty free licensing, and the Creative Commons, let's list out some free resources for images, vectors, and designs that you can use for your Print on Demand projects.
Special Mentions – Raw Pixel and The Noun Project
Lately, my favorite site for free imagery is rawpixel.com.
The site has a lot to offer, but what I like best is their curated section of Public Domain artwork. In particular, I love the organization and easy-of-use, which can be hard to come by when searching through Public Domain material (I also like that they link to original sources so I can double-check copyright status).
They group the work by artist, theme, or book of origin which I find to be helpful. Here's an example of some of the groupings of Public Domain resources: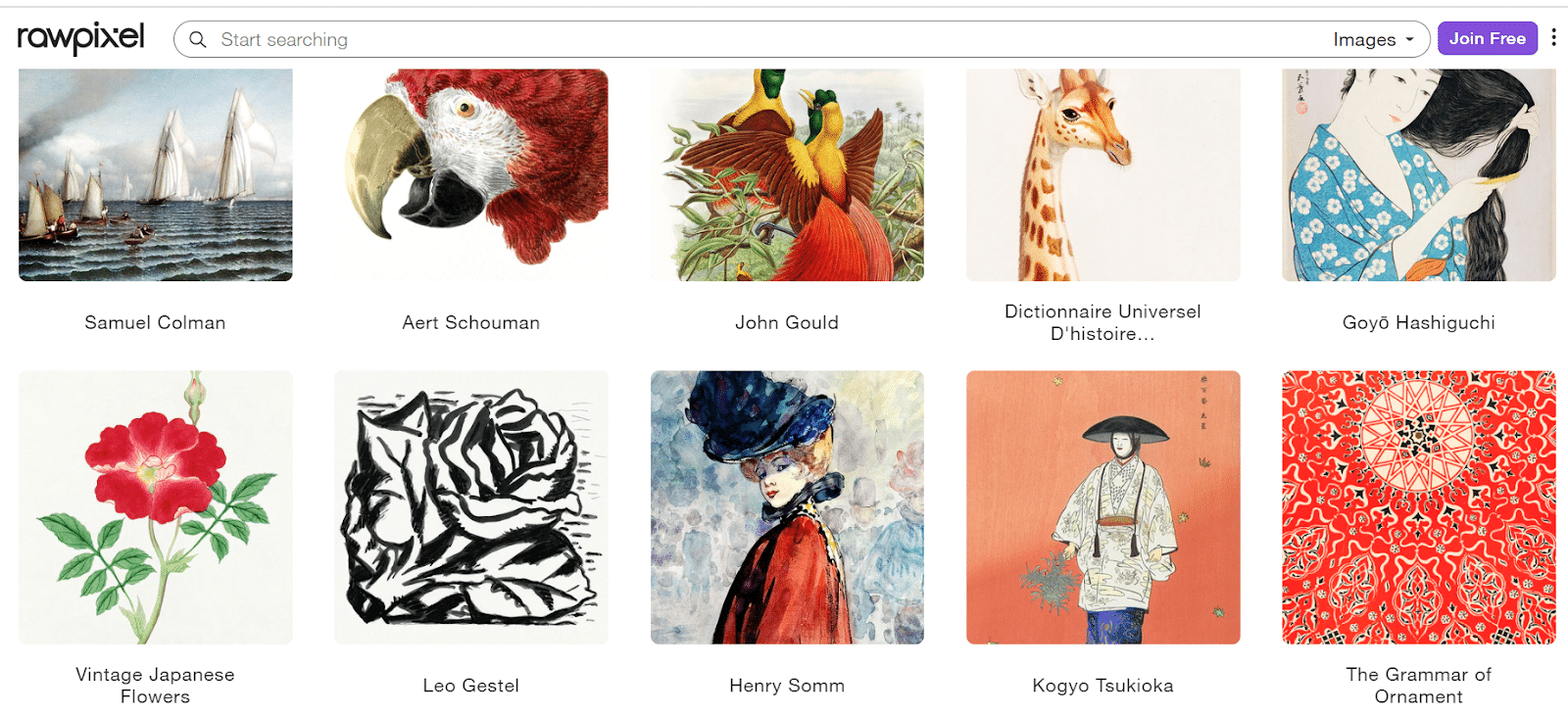 If you're looking more for icons or clipart style imagery and vectors, then you can't beat thenounproject.com. I use this site all the time to get icons for my book interiors.
The only catch is that you have to give attribution to use the icons for free which isn't such a big deal. Here's an example of a design I made – for a scissor skills Christmas activity book – using clipart from The Noun Project (I showed how I created this design in an issue of the EZ Pub Profits guide):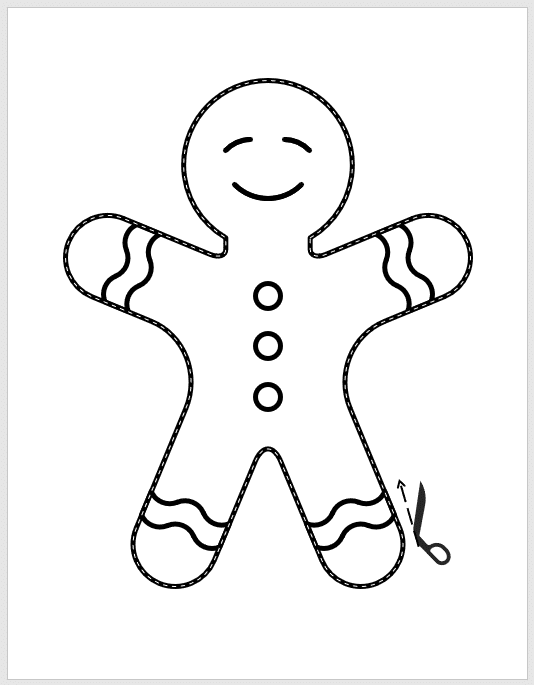 Then, for attribution, I would just have to include somewhere in my book:
"ginger man" by Danil Polshin from thenounproject.com
Special Mentions – Creative Fabrica, and Creative Market
I know, I said "free" resources, but I should at least mention the best of the paid resources and – in my humble opinion – these are the best:
Creative Fabrica and Creative Market are marketplaces for designers to sell their designs.
Of the two, Creative Fabrica is more affordable and more geared toward POD creators. In fact, they have a special "POD license" that is designed specifically for people who sell print on demand products (i.e., you and me), so you can be sure you won't have any legal troubles with designs you get from Creative Fabrica. You can even buy pre-designed book interiors. The pricing model is similar to Canva's in that you can either pay per design or pay a monthly fee for unlimited downloads.
Creative Market is a bit pricier and it's not geared as much to POD creators. You have to buy each design individually with a commercial license which is limited to 5,000 total sales.  BUT, there are some truly incredible things on Creative Market that you can't get anywhere else. For example, this add-on for Adobe Illustrator that allows you to create unique mandalas for coloring books.
Sources for Public Domain Material
As mentioned above, rawpixel.com is a great resource for Public Domain artwork. But this is just the tip of the iceberg. Read on for more great Public Domain resources, organized by the type of creative work.
Illustrations From Vintage Books and Drawings
These are some of my favorite collections and I use them often to get designs for book covers and interiors:
Heritage Library Free Vintage Illustrations: This is a particular favorite because it is well curated, well organized, and high-quality. Indeed, each image has been carefully removed from it's background. Some examples from their collections: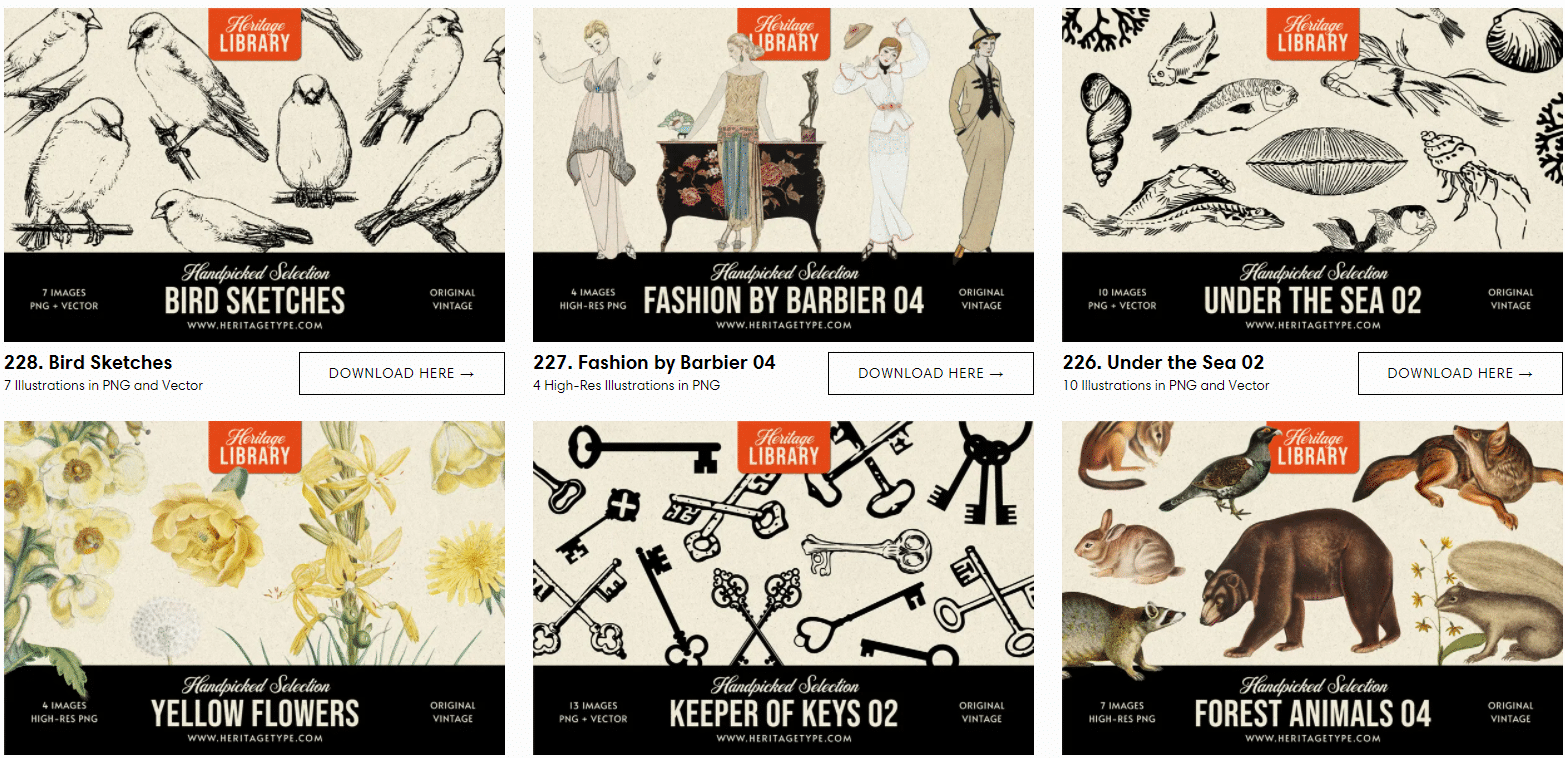 publicdomainreview.com: Wonderful collections of oddball vintage illustrations, but a bit more difficult to navigate and retrieve usable images.
oldbookillustrations.com: Also a weird and wonderful collection, but likewise more difficult to navigate and retrieve exactly what you're looking for.
freevintageillustrations.com: A smaller collection, but I've found great stuff on here, particularly for holidays like Halloween, Christmas, or Valentine's Day.
Public Domain Works of Art
We already talked about rawpixel.com in the special mentions and this is a great place to find a well-curated set of Public Domain artwork. But, there are plenty of other resources out there.
There has been a recent trend of museums, libraries, and universities providing high-quality digital scans of Public Domain artwork (something they have resisted in the past). This includes well-known institutions like the Smithsonian, the British Library, and the MET.
You can dive into the sites of these institutions if you like, but I prefer to start with sites that aggregate from these sources (like rawpixel.com). A few other good aggregator sites include:
For more discussion on this topic and a broader list of specific museums, libraries and universities with downloadable images of Public Domain artwork, check out these blog posts:
moma.co.uk – "Public Domain images for artists"
kevan.tv – "Best places to find high-resolution Public Domain art and illustration"
Free Stock Photography
Perhaps you would prefer a photograph for your book cover instead of an illustration or drawing. No problem. There are also plenty of free stock photo websites that feature Public Domain images (or licensing that allows commercial use without modification):
In addition to stock websites, there are also individual photographers who have decided to donate all their work to the Public Domain. This is often a good source for especially creative or unique images. Some examples include:
And then, of course, there are the photographers who choose to license their images under the Creative Commons, which typically means you can use them for free so long as you give them credit.
One of the best resources for CC images is Flickr. You can search for photos using keywords and, under "Any license" select "Commercial use allowed"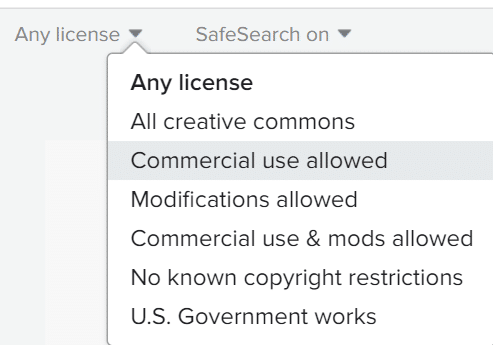 However, I have found that the search feature on Flickr doesn't always return what I'm looking for (even for images I know exist on Flickr).
There are a few other resources that mine Flickr and other sources for images in the Creative Commons:
See what works best for you.
Finally, a lot of the images you find on Wikipedia are licensed under Creative Commons, which can be particularly helpful if you want to use an image for something you are researching (on Wikipedia).
Public Domain Books
Last but certainly not least, there are a ton of books in the Public Domain and these can be great resources either for their illustrations or for their text.
For instance, in the November Issue of the EZ Pub Profits guide, I noted that The Richest Man in Babylon – one of the all-time great inspirational books on financial planning and personal wealth – will enter the Public Domain on January 1st, 2022. Thus, you could use the parables in the book as inspirational quotes in a financial planner or debt payoff planner.
The three best sources I know of for Public Domain books are:
Project Gutenberg – Well organized and easy to search with a ton of available formats, primarily of Public Domain books.
Internet Archive – This is actually much bigger than just books; it also includes free video, audio recordings, software, and is home to the Wayback Machine which catalogues the history of the World Wide Web. Note that not everything on here is in the Public Domain nor is necessarily marked as such, so you have to do a bit of research before using resources from this site.
HathiTrust Digital Library – A repository of digital books from over 90 research libraries, with over 10 million titles available.
Wrapping it Up
That wraps up my deep-dive on copyrights, the Public Domain, royalty free licensing, and the Creative Commons. Hopefully you got something of value! You may want to bookmark this page for future reference when looking for designs for your POD products.
If you like this kind of deep, insightful review of topics relevant for low-content book publishers, then check out the monthly guide I publish called EZ Pub Profits.
EZ Pub Profits
Are you trying to create low-content books but struggling with what kinds of books to make, what niches to cover or what keywords to use?
Then check out the EZ Pub Profits KDP Success Guide.
The guide comes out on the first of every month and provides niche ideas, keyword research, and custom book interiors for low-content book publishers. It's all based around upcoming holidays and events, in other words things we know people will be searching for.
To learn more, check out this post from the Book Bolt Blog where Neil talks about how one niche idea for the guide paid for itself 10 times over.