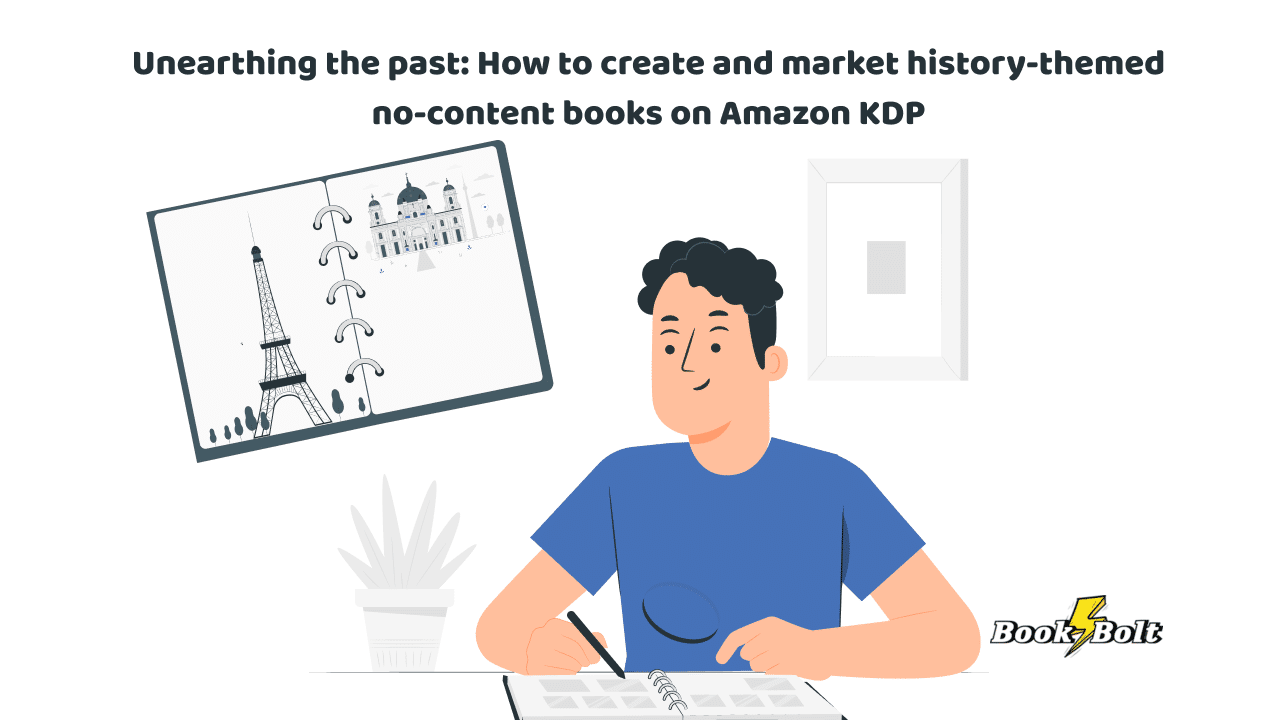 History is not just a collection of dates and facts. It's a treasure trove of stories, lessons, and inspirations.
But how can the richness of the past be captured in no-content books like journals and planners?
If you're fascinated by the bygone eras and want to creatively intertwine them with Amazon KDP, you've struck gold.
From ancient civilizations to revolutionary heroes, learn how to create and market history-themed no-content books that take readers back in time.
A brief overview of the market for history-themed no-content books
When it comes to history-themed notebooks, journals, and other no-content books, it's important to make one thing clear from the start. They're not all created equal.
There are two main paths that sellers can embrace in this market.
First, you can create history-based books tailored to embrace personal narratives. Often, these take the form of timeline journals, enabling users to forge their own family trees.
Using Book Bolt, we came across plenty of bestsellers in this space. Most of them utilize strategic keywords, like "centuries", "genealogy", "family", and "timeline".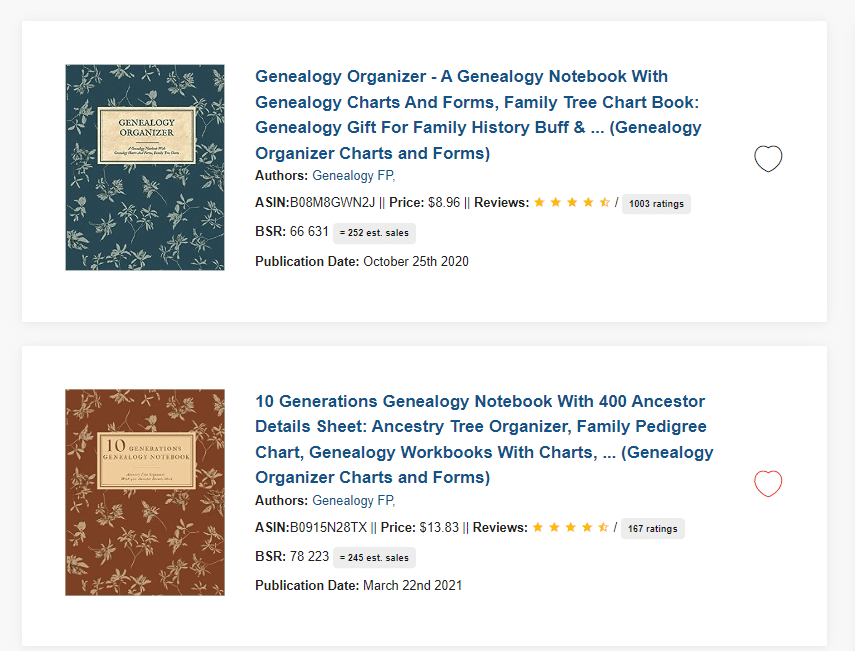 In the notebook category, for example, these listings have an average BSR of 245,679, revealing substantial sales potential.
For instance, the "History Timeline Notebook: A Book of Centuries to Record Historical Studies by schoolnest (Turquoise Doodle Series)" is the number one listing in this domain. It sells for $14.40 and has a BSR of 11,985.
This translates into roughly 382 sales per month and fruitful financial gains.

However, sellers can also take the second road or that of actual historical no-content books.
Now, you might be curious about the extent of historical information that can be communicated through a content-less book.
The good news is that book covers can be effectively utilized to convey historical messages or portray specific eras.
But what are the popular no-content book types here?
A quick browse through the niche shows that coloring books dominate as a category in this case. According to Merch Informer, top-performing listings in the history coloring book segment have an average BSR of 283,236. They unquestionably intrigue buyers and can be extremely rewarding.
For example, the "Steampunk Adult Coloring Book: A Relaxing Coloring Journey Through an Intricate Victorian Alternate History" bestseller costs $8.95 and has a BSR of 152,076. It achieves around 230 monthly sales and is fully optimized for success.

By featuring diverse keywords, like "victorian", "journey", and "history", the seller grabs the attention of specific, yet numerous target audiences.
The results? Higher visibility, more traffic, and satisfying sales numbers.
Tips on how to create history-themed books on Amazon KDP
Now that we've confirmed that history-themed no-content books are worth your time, let's get to the interesting part.
How can you create a stunning product in this market that will guarantee you the sales you're after?
An in-depth analysis of the space allows us to articulate some vital tips and tricks.
Selecting a concrete historical theme
No matter which path you choose to take in the history-themed no-content book saga, you'll need a specific niche.
Why? Because niching down empowers sellers to target the right audience and increase the visibility of their listings.
Luckily, with Book Bolt, this process won't take long.
Begin by researching historical periods, events, or figures that resonate with you. Whether it's the grandeur of ancient Egypt, the intellectual revival of the Renaissance, or the rebellious spirit of the American Revolution, find a theme that sparks interest.
Once you've chosen a topic, narrow it down to a specific niche. Remember, targeting a unique aspect of history can help you stand out in the crowded marketplace.
In your search for the right niche, take into consideration the following metrics:
Number of bestsellers in the niche
Average BSRs
Keyword search volumes
Average prices in the market
First, it's essential to identify whether there is an existing market of decent size. A well-established niche will be much easier to operate in, as consumers will be educated on the value of the product beforehand.
Use Book Bolt to check how many top-performing listings appear in the Cloud tool when typing in phrases like "history journals". Next, check the average BSRs of all results displayed.

A lower BSR will indicate a higher sales potential. Your mission is to discover a niche that has the lowest average BSRs.
The third step in your research should be focused on keyword analysis. Before deciding to tap into a market, it's vital to understand users' search behavior.
Why? Because this will give you insight into the types of products consumers are actively looking for.
For example, imagine you notice that "Victorian historical notebooks" has a monthly search volume of 10,000, while "Roman empire journal" only attracts 2,000 searches per month. In this case, the right choice is clearly "Victorian historical notebooks".
However, keep in mind that each keyword or phrase will be accompanied by a competition level.
Highly competitive words are much harder to rank for. Your objective is, therefore, to uncover keywords with high search volumes, yet low competition. This will enable you to quickly gain momentum in the niche and win an advantage over others.
Lastly, research different segments to understand the minimum, average, and maximum prices in the market. This is an incredibly useful approach to crafting your pricing strategy.
Our professional recommendation is to set a price that is slightly below the average in the niche.
Let's say that you've decided to sell Victorian historical notebooks and have identified that the average price in the market is $5.40.
Our advice is to position your product somewhere between $4.50 and $5.30. This will make your item appear more attractive from a price perspective and will give you a competitive edge over rivals.
Designing your no-content book
Once you've identified the specific type of product you're after, it's time to move on to the creative phase – cover and interior design.
Cover creation
Your cover is the first impression that you will make on your potential customers. And considering that it will be swimming in a pool of competition, it wouldn't be an overstatement to say that you only have one shot.
Utilize imagery, symbols, and fonts that evoke the chosen historical period. If you're not a professional designer, don't worry. Book Bolt offers reliable designer tools that can help you quickly and easily craft the perfect cover in no time.
Interior design
Next, consider what the insides of your no-content book will look like. Just because text won't dominate your pages doesn't mean that you're stuck with no options for creativity.
For example, for journals and planners, you can include quotes, illustrations, or prompts related to your theme. This will help you bring the specific historical era to life and capture the attention of your shoppers.
Optimizing your listing
So far so good. You've identified a profitable niche and you've created your book design.
Now you can move on to the step that will dictate your product's performance – listing optimization.
When it comes to listing optimization, there are two core elements to consider – keywords and pricing.
Keyword optimization
Keywords are a fundamental component of your listing's title and description. They establish how visible your products will be.
Amazon's algorithm displays search results based on keyword relevancy, making this part of your optimization efforts crucial.
Choose niche-related keywords that are bound to boost your discoverability. Include phrases linked to both history and no-content books. Don't forget to select options that have high search volumes and low competition levels, as recommended in the previous sections.
Pricing strategy
Next, create a winning pricing strategy that will equip your listing for high sales volumes. Consider your target audience and competitors when setting the price.
As suggested above, use the market's lowest, average, and highest prices for orientation. A competitive pricing strategy can make your book more appealing, while the wrong price can have detrimental effects on your performance.
For example, underpricing your history-themed no-content book can suggest a low-quality product. This can instantly discourage consumers from completing a purchase.
How to market history-themed POD books on Amazon KDP
After you've optimized your listing, there's only one thing left to do – score sales via proper marketing and promotion.
Luckily, your promotional activities don't have to be limited to Amazon.
Although you can take advantage of Amazon Advertising to quickly increase your traffic, you can also utilize external marketing platforms.
Social media
Social media channels like Twitter, Pinterest, Instagram, Facebook and TikTok offer plenty of options for spreading the message about your new history-themed no-content books.
Create and share engaging content related to your theme and build a community of potential shoppers.
Be active in relevant groups and share as much information as possible about your products.
Collaborate with educators and historians
For this market specifically, we also recommend reaching out to teachers or historians who might find value in your no-content books. Some experts might choose to recommend your products to students and friends.
Collaboration can lead to mutual promotion and increased credibility, enabling new sellers to quickly gain popularity in the market.
Build an email list
Contrary to popular belief, e-mail marketing remains an incredibly powerful marketing tool that can come in handy for Amazon KDP sellers. An email list can keep your readers engaged and informed about new releases or promotions.
You can use different tactics to grow your email subscribers, like freebies, discounts, games, and more. Once your database is sufficient, notify your readers about new history-themed no-content book gems that can be found in your Amazon profile.
Conclusion
Wrapping up, we can conclude that history-themed journals, notebooks, and other no-content books are a pot of gold on Amazon KDP.
They provide sellers with the chance to channel their creativity while simultaneously earning a supplementary income.
Use the tips and tricks shared above to create successful products in this category and take full advantage of the features and capabilities of Book Bolt throughout your journey. This combination will equip you for outstanding results.