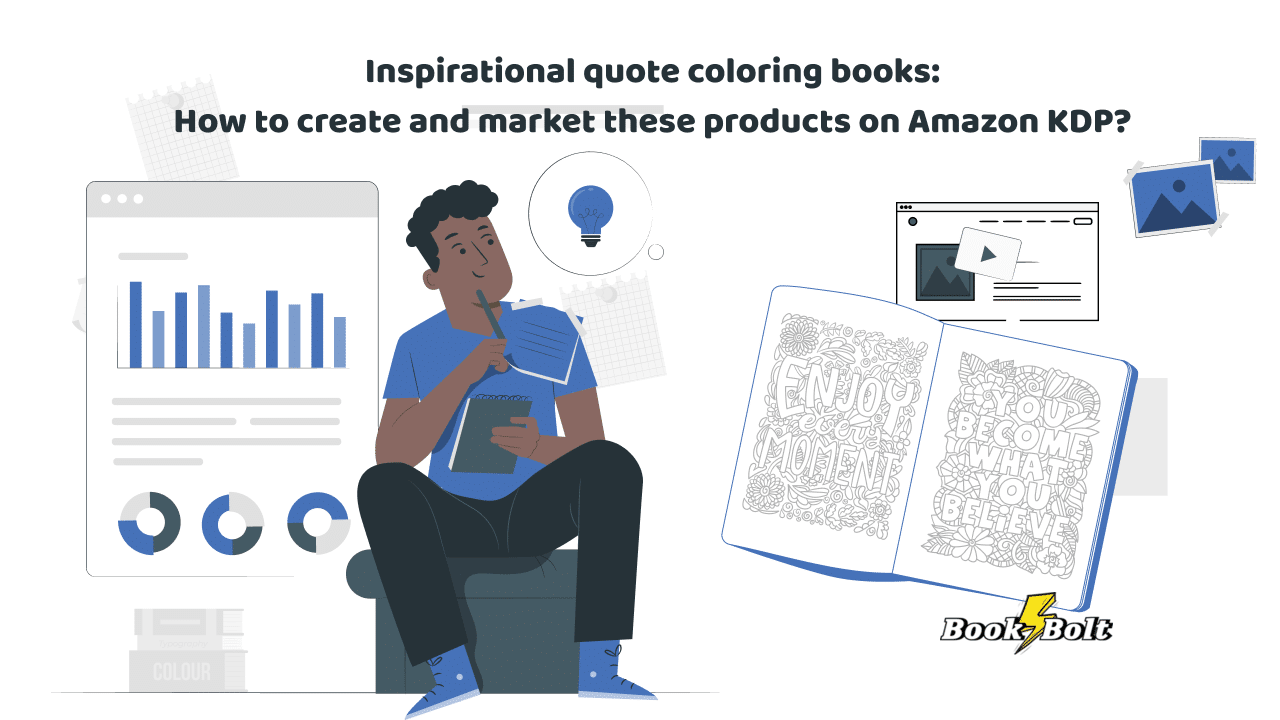 Coloring books have been a cherished pastime for people of all ages, providing a creative escape from the hustle and bustle of everyday life.
A specific niche in this category has been gaining traction among Amazon KDP shoppers – inspirational quotes.
In the following sections, we'll take a deep dive into the essential components of creating inspirational quote coloring books that sell.
Why inspirational quote coloring books?
But why should you focus your time and energy on creating coloring books with inspirational quotes in the first place?
You'll find the answer in the following sections.
The demand on Amazon KDP
With thousands of active listings in the space and a total of 387 top performers, inspirational quote coloring books are undoubtedly an established niche.
We used Book Bolt's keyword research tools to identify the buyer demand for this product type.
Here are our findings:
inspirational quotes – 36,624 – low
inspo quotes – 13,617 – low
coloring book inspirational quotes – 1,339 – high
inspiration quotes coloring book – 1,161 – no data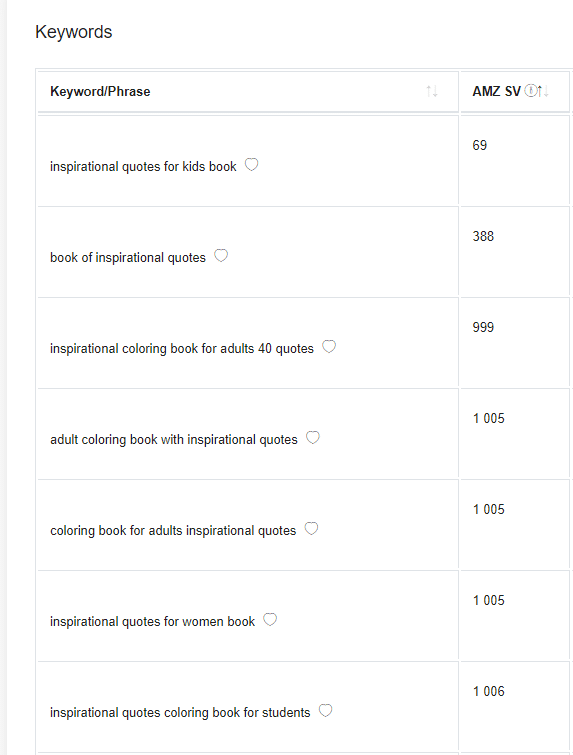 Next to each phrase you can see its monthly search volume and competition level.
Unsurprisingly, general keywords like "inspirational quotes" are extremely popular, generating more than 36,000 searches per month.
In comparison, specific phrases such as "inspiration quotes coloring book" appear to be under the radar. However, nearly 1,200 users browse for these products per month. In addition, the competition level is "no data", which usually translates into no competition at all.
This ultimately means that entering this space with a bullet-proof strategy will quickly yield results.
The diversity
The inspirational quote coloring book domain also enables Amazon KDP sellers to unlock their creativity and target different audiences.
With plenty of sub-niches to explore, the segment can be described as extremely diverse.
For example, some of the most frequently used words among bestsellers include "stress", "relaxation", "relief", "motivational", "gift", positive", "affirmations", and more. All of these represent individual sub-niches.

By merging these topics with main keywords (like "inspiration quotes coloring book"), sellers can position listings competitively and enjoy higher visibility. This will ultimately result in more traffic and sales.
Profitability
Coloring books with inspirational quotes can also be very rewarding from a financial perspective.
According to Book Bolt, the average BSR of bestsellers is 487,096, which is much lower than that of other niches. And the lower the BSR, the higher the sales numbers.
Additionally, a look into the prices in the segment shows us the following:
Lowest Price $3.66
Highest Price $20.00
Average Price $8.07
It's worth noting that higher market prices will generate higher per-sale royalties.
Now, imagine that your 50-page inspirational quote coloring book is priced near the market average (in this case $8). Using an Amazon Royalty Calculator we can see that your earnings per sale will be $2.50.
Assuming that you land 500 sales per month (based on the performance of bestsellers), your monthly royalties will be $1,250 from this product alone.
Creating inspirational quote coloring books
Now that we've caught your attention, let's get to the heart of this article – how to create inspirational quote coloring books.
In the next sections, we offer a step-by-step guide on bringing your first coloring book with inspirational quotes to life.
Idea generation
To get the ball rolling, we recommend investing some time in brainstorming and idea generation. This will allow you to select the most appropriate niche and theme for your coloring book.
During this phase, it's essential to consider these tips:
Understand your audience – Identify the age group and interests of your target audience. Are you creating a book for children, adults, or both? This will help you produce an attractive design, but will also come in handy for listing optimization later on.
Identify market trends – Explore current trends in the inspirational quote coloring book market. Understanding what consumers typically purchase can help you create a book that appeals to the right audience.
Niche down – Don't stop at inspirational quote coloring books. To be competitive, niche down and penetrate specific markets. Although we've offered some suggestions above, we suggest using Book Bolt to discover more lucrative spaces.
Designing the cover and interior
Once you've made an informed decision based on research, it's time to put your creativity to use.
Designing a stunning cover and interior for your inspirational quote coloring book doesn't have to be a hurdle. If you're less experienced with graphic design, use Book Bolt's Designer tools for quick and easy designs.
Here are some valuable tips.
Cover creation
Think of your book's cover as your product's visual ambassador.
Use vibrant colors and captivating illustrations that represent the essence of your creation. Ensure that the title and subtitle (if any) are prominent and easy to read, even as a small thumbnail.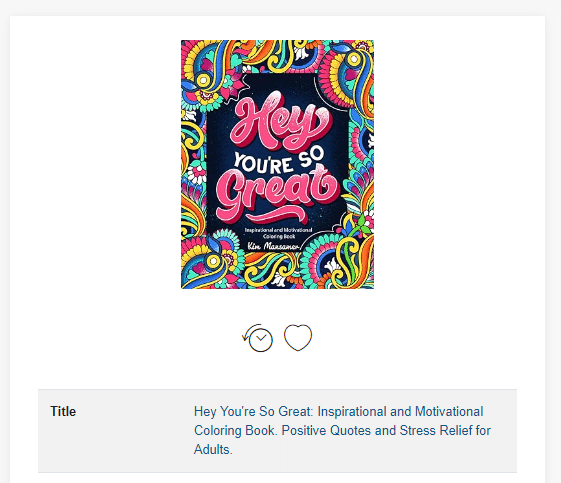 Don't forget to incorporate niche-related components across the cover to attract specific buyer groups.
Book interior
When designing your coloring pages, it's important to factor in style and complexity.
Make sure users can see a consistent style throughout your inspirational quote coloring book. This means that your pages flow smoothly and look cohesive.
It's also vital to decide on the complexity level of your illustrations. For adult coloring books, intricate designs are often preferred, while children's books usually have simpler drawings.
Lastly, try to position your inspirational quotes strategically. Opt for a perfect balance between text and coloring shapes, which brings us to the next recommendation.
Making your book stand out with quotes
The quotes you choose to display to your audience will influence the performance of your listing.
Ensure that the selected citations align with the theme of your book. Ideally, the quotes should complement the coloring experience.
It's also key to attribute quotes to their authors to avoid legal conflicts. If a quote is in the public domain, you can use it without attribution, but it's still a good practice to acknowledge the source.
Marketing your inspirational quote coloring book
After your coloring book design is complete, it's time to gear your product for sales via listing creation and marketing.
Optimize your Amazon KDP listing
The first step to attracting sales is optimizing your book for maximum visibility. And when it comes to Amazon, think of your listing as your digital storefront.
Listing optimization refers to enhancing components like keywords, descriptions, price, and imagery.
Use tools like Book Bolt's keyword features to identify relevant words and phrases for your niche. We've provided some examples above, but the right choices will ultimately depend on your theme, audience, and other factors.
Amazon KDP Book Publishing Optimization And Questions Answered
Incorporate keywords with high search volumes and low competition levels into your book's title and description. This will help your listing rank higher, making them easily discoverable by consumers.
Make sure to craft a compelling description. Rather than offering a brief overview of your product, entice potential buyers with its benefits and features. Use imagery to further support your description and attract users visually.
Last but not least, set a price that is somewhere around the average in the niche. This tactic is applied by most bestsellers on Amazon KDP. It prevents overpricing or underpricing, and makes your item attractive from an affordability perspective.
Leverage Amazon Advertising
One of the most efficient ways to quickly popularize your Amazon KDP inspirational quote coloring book is through Amazon Advertising.
How to Run Amazon Ads for KDP – Low Content Book Ads in 2023
The platform offers a range of promotional opportunities, like Sponsored Products and Sponsored Brands.
While this marketing method delivers instant results, it also accumulates additional expenses.
Build an author platform
To avoid investing in ads, some sellers choose to establish a strong author presence instead. This approach can help you build your book's credibility and reach.
For example, it's recommended to create a dedicated website or blog where you can showcase your inspirational quote books, share coloring tips, and engage with your audience.
In addition, use social media platforms to connect with your readers. Share images, videos, and coloring tips to keep your audience interested in your Amazon KDP listings.
It's important to note that Amazon Advertising and building an author presence don't have to be mutually exclusive. The best way to market your listings is to utilize both options strategically.
Ask for reviews and feedback
Customer reviews are considered a ranking factor by Amazon's algorithm. Positive buyer feedback can, therefore, significantly impact your book's success.
Encourage readers to leave reviews by including a polite request at the end of your book or in your listing description.
Receiving exceptional feedback from your clients will help you strengthen your reputation. It will also serve as proof to Amazon shoppers that your listings deliver on their promises.
Wrapping up
Creating and marketing inspirational quote coloring books on Amazon KDP requires dedication, creativity, and continuous effort.
By implementing the best practices we've shared above, you can increase your odds of creating successful listings and reaching a broad audience of coloring enthusiasts.
Use Book Bolt to your advantage and make informed, data-backed decisions throughout your journey as a seller.